DeluxGear Launches New LensBumpers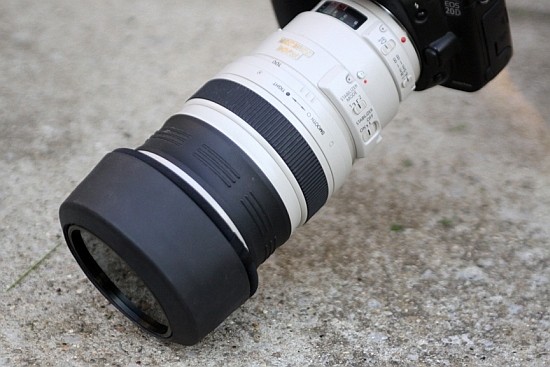 OmegaBrandess has partnered with DeluxGear to introduce a new line of protective covers for camera lenses. The new patent-pending Lens Bumper absorbs impact and prevents scrapes, scratches, dents and cracks to the lenses, for a fraction of the cost of the lens itself. The Lens Bumper is encased in a tough 0.08" santoprene outer cover, and its cushiony, water-resistant inner core is made of 0.25" thick closed cell neoprene. This combination was first introduced with DeluxGear's Lens Guard product - but unlike the Lens Guard, the Lens Bumper gives you the added convenience of keeping this protection on your lens while shooting, and of keeping your lens hood on your lens, too. Lens Bumpers come in 7 sizes, with suggested list prices ranging from $24.99 for the Small and Medium, to $74.99 for the "Giant."
Omegabrandess Press Release
Bumperize Your Lenses with the New Lens Bumpers DeluxGear launches new product line to protect your lenses while you shoot

Lexington, KY — OmegaBrandess announced today that they are teaming up with DeluxGear to introduce a new line of protective covers for camera lenses. But, these are no ordinary covers. 
The new patent-pending Lens BumperTM absorbs impact and prevents scrapes, scratches, dents and cracks to the lenses so photographers can walk through the woods, wade through wedding reception tables, or accidentally drop their lenses, without worrying about the lens being harmed.
"For a fraction of the cost of your lens, the Lens Bumper gives you convenient, inexpensive insurance," states Tom Nickell, the CEO of DeluxGear. "It provides far more protection than lens caps, filters, or hoods, and can be used with them."
The Lens Bumper is encased in a tough 0.08" (2mm) santoprene outer cover, and its cushiony, water-resistant inner core is made of 0.25" (6mm) thick closed cell neoprene, which is the same material used in diving suits. This potent combination, already introduced with DeluxGear's Lens GuardTM,  provides SLR lenses with powerful impact protection against even the hardest of hits. But, unlike the Lens Guard, with the Lens Bumper you have the added convenience of keeping this protection on your lens while shooting, and of keeping your lens hood on your lens, too.
The Lens Bumper easily slides over the end of your lens or hood for a snug fit. Or, reverse your hood over the lens and slide the Lens Bumper over the inverted hood.  When photographing, keep the Lens Bumper on the lens all the time.  For additional protection if rain or dust kicks up, put the lens cap or a filter on the lens through the front opening of the Lens Bumper.  On lenses with built-in hoods, like the popular Nikon 14-24mm fisheye, mount a filter on the Bumper.
Lens Bumpers come in 7 sizes, to fit lenses and hoods from 2 7/16 inches (6 cm) in diameter all the way to 8 1/8 inches (20.5 cm).
"DeluxGear now has a solution for every photographer, and for nearly every lens size," according to Jeff Seidel of OmegaBrandess. "Use a Lens Guard for full lens protection when not shooting.  Use the Lens Bumper if you want to protect the lens while shooting, or if you want to keep your hood on the lens all the time."
All Lens Bumpers are Made in the USA. Suggested list prices range from $24.99 for the Small and Medium, to $74.99 for the "Giant."
For more information……..
About DeluxGear
DeluxGear is a Lexington, Kentucky-based manufacturer and marketer of innovative camera accessories. DeluxGear was founded in May of 2007 by Michael and Sandra Dowell.  Mr. Dowell is a professional photographer and inventor of the patented Lens Cradle TM, Lens Guard TM, and PinPoint TM. DeluxGear products are available through resellers all over the world.
About OmegaBrandess
OmegaBrandess has manufactured and distributed photographic and imaging products for over 75 years. A privately held company, OmegaBrandess supplies the photography industry with over ten thousand products from dozens of branded lines. For more information about OmegaBrandess and its represented brands, call 410-374-3250 or visit www.omegabrandess.com.
Your Comments