Driven Creativity Competition 2011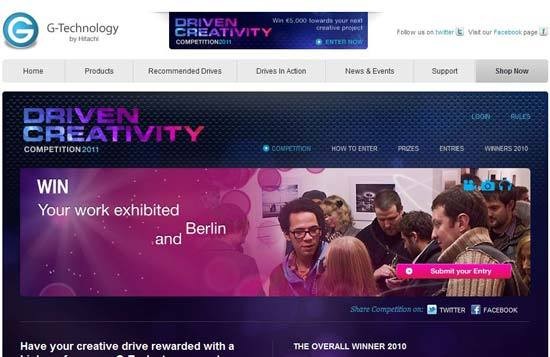 G-Technology have launched the Driven Creativity Competition 2011. Winners and runners-up will be awarded stylish G-Technology hard drives and the overall winner will receive €5,000. To enter, simply upload a photo with a brief description. Using an online peer voting system, a shortlist of 15 professional and amateur finalists will be compiled before being judged by a panel of creative experts
G-Technology Press Release
G-Technology have launched the Driven Creativity Competition 2011. Open to talented professional and non-professional photographers, entrants will have the chance for their hard work and creative ambitions to be recognised and rewarded.
Winners and runners-up will be awarded stylish G-Technology hard drives and the overall winner will receive €5,000 – all to further drive their creativity.
The first year of the competition in 2010 saw hundreds of entrants from all over Europe entering their work across the fields of filmmaking, photography and music - both in professional and amateur categories.
To enter, simply upload a photo with a brief description to www.g-technology.eu/competition
Using an online peer voting system, a shortlist of 15 professional and amateur finalists will be compiled before being judged by a panel of creative experts including renowned photographer Tim Flach and National Geographic photographer Stefano Unterthiner.
The competition's terms and conditions support the Artists Bill of Rights, so submissions will only appear on the G-Technology website and social media channels. G-Technology will not use submissions for anything else, without the permission of the creator, or release submissions to 3rd parties.
Throughout the competition, jury members will contribute their expert advice and feedback, with exclusive content being placed on G-Technology's Facebook, Twitter, YouTube and Flickr channels. We urge you to subscribe to each of our channels and keep an eye on the entries as the competition progresses.
Last year's winners – including Iain Weir in the professional category and Patty Palmtree in the amateur category – had their work presented at London's famous Brick Lane gallery. This year, the winners will have the opportunity to be part of a week-long exhibition in October in the cutting-edge Strand Gallery in the heart of London, janinebeangallery in Berlin and 0fr in Paris. 
Entry is FREE and at www.g-technology.eu/competition and from June 7th until the end of August 2011.
Your Comments