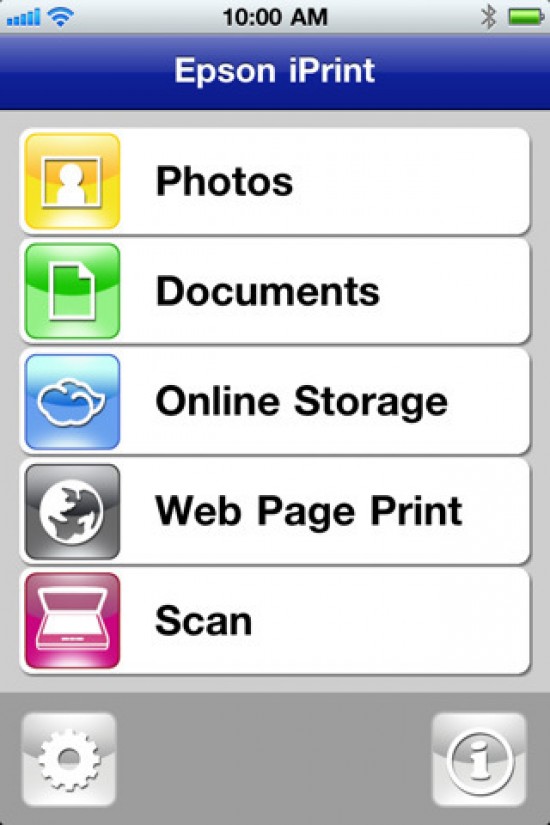 Epson America has announced a new version of Epson iPrint, an iOS app optimised to print photos and web pages from an Apple iPad, iPhone or iPod Touch to any wireless Epson All-in-One device. Advanced features include the selection and batch printing of multiple photos, borderless printing, easy switching between colour and greyscale printing and more. Epson iPrint is free and available worldwide on the Apple App Store.
Epson Press Release
Free Epson iPrint App Outperforms Competition with Latest Upgrades

LONG BEACH, Calif. June 21, 2011 – Epson America, Inc., a leading provider of superior performing desktop printing solutions, today announced its new version of Epson iPrint (v2.0) for iOS mobile printing app optimized to print web pages and documents from an Apple iPad™, iPhone® and iPod Touch® to any wireless Epson all-in-one.

"Epson is committed to superior mobile device printing solutions for performance printing on-the-go," said Kristi Lanzit, product manager, consumer ink jets, Epson America, Inc.  "Epson's new iPrint app offers unmatched printing and scanning capabilities including the ability to print photos, web pages and documents any time to any nearby wireless Epson all-in-one, making it unbeatable in performance versus competitors' printing apps."

In addition to photos and web pages, Epson's iPrint app allows users to print files including Microsoft® Word, Excel®, PowerPoint® and PDF documents.  Users can even scan, save and share their files.  The new Epson app also supports online cloud services like Box.net, Dropbox, Evernote® and Google® Docs.

Epson iPrint – Additional Key Features:
·      Print documents, e-mail attachments and stored files
·      Access and print online files from Box.net, Dropbox, Evernote, and Google Docs
·      Use the built-in web browser to find and print a web page
·      Easily configure print options including paper size and type, number of copies and page range
·      Scan from an Epson all-in-one and share a file (save to device, send via email or save online)
·      Check printer's status and ink levels
·      Get help with a built-in FAQ section
Advanced Features:

·      Choose and print multiple photos
·      Print with or without borders
·      Switch between color or monochrome printing
·      Select different scanning resolutions and image types
·      Optimize print quality
·      Buy ink and supplies
Epson iPrint makes it easier than ever to print directly from Apple devices to a variety of Epson printers within your wireless network.  The following Epson printers support iPrint (v2): Epson Artisan® 700, 710, 725, 800, and 810; Epson Stylus® NX420, NX510, NX515 and NX625; Epson WorkForce® 325, 520, 600, 610, 615, 630, 633, 635 and 840.
Availability
Epson iPrint (v2) is free and available worldwide at the Apple App Store.

About Epson
Epson is a global imaging and innovation leader dedicated to exceeding the vision of customers worldwide through its compact, energy-saving, high-precision technologies, with a wide lineup ranging from printers and 3LCD projectors for business, and the home, to electronic and crystal devices. Led by the Japan-based Seiko Epson Corporation, the Epson Group comprises nearly 75,000 employees in 100 countries around the world. Epson is proud of its ongoing contributions to the global environment and the communities in which it operates and has been named to the Dow Jones Sustainability World Index, an indicator for leading companies in economic, environmental and social criteria, for the third year in a row. Epson America, Inc. based in Long Beach, Calif. is Epson's regional headquarters for the U.S., Canada, and Latin America. To learn more about Epson, please visit: www.Epson.com. You may also connect with Epson America on Facebook (http://www.facebook.com/EpsonAmerica), Twitter (http://twitter.com/EpsonAmerica) and (http://twitter.com/EpsonEducation) and YouTube (http://www.youtube.com/EpsonTV).
Your Comments