Epson PictureMate 500 is announced today by Epson UK. The PictureMate 500 is an updated version of the original popular PictureMate which offers several improvements. Most notable is the addition of a 2.4 inch colour LCD screen for previewing and editing your photos (the lack of a colour LCD was something that I criticised in my review of the original PictureMate). There is also a new battery option which makes the PictureMate 500 truly portable. The PictureMate 500 can now print more quickly - Epson claims 40 percent faster than the original PictureMate. The PictureMate 500 will be available by June 2005 for a suggested retail price of £179.
Editor's Note: This product was announced earlier today by Epson USA, where it is known as the Epson PictureMate Deluxe Viewer Edition.
Epson UK Press Release
PictureMate 500, the latest personal photo-lab from Epson
Visits to high-street photo labs promise to be a thing of the past, as Epson introduce their new PictureMate 500. The 10x15cm photo printer offers a colour LCD screen, fast print speeds and an optional battery for improved portability.
June, 2005: As digital cameras continue to be favoured over the traditional film camera, the number of photos printed at home continues to increase.  In light of this change, Epson's easy-to-use home photo printer range just gets better.  The PictureMate 500 is the latest 10x15cm photo printer providing professional lab quality photos from the comfort of your own home. It makes home photo printing even quicker and easier with the addition of a 2.4" LCD screen, optional battery for improved portability and faster print speeds.  You can now enjoy high quality photos, minutes after they are captured.  At 29p a photo1 it rivals the cost of most high-street vendors.
The LCD screen provides step-by-step instructions which makes printing a photo real easy, even for those with little technology experience. It also allows you to apply a range of fun effects, for example, borders can be added to your photographs, black & white or sepia tones applied.  You can also zoom in on a specific area of the photo, therefore cropping the rest of the image from your photo.
Printing your photos is now even more versatile. A new battery option means that those who wish to transport their PictureMate 500, can now do so, without having to worry about finding a suitable power source.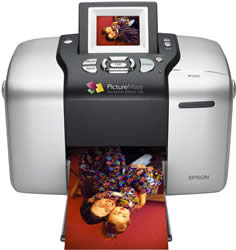 Faster than its predecessor, the Epson PictureMate 500 prints quality photographs in just over a minute. The photos are water, smudge and fingerprint resistant for worry free handling. And according to Wilhelm Research Laboratory they resist fading up to 100 years3 which is about two to four times longer than the leading brands of photo lab prints and about four to 20 times longer than prints from other dedicated 10x15cm digital photo printers.
Like its successful predecessor, the Epson PictureMate 500 is compatible with more digital cameras than any other photo printer. Images can also be transferred via the USB interface, or even with the optional Bluetoothtm adapter, allowing you to transfer images from your camera phone. 
Another of PictureMate's key advantages is its low cost per photo. Designed to make purchasing consumables easy and hassle-free for consumers, the PicturePack contains a PictureMate photo cartridge and PictureMate photo paper to print approximately 100 glossy 10x15cm photos. At only £0.29 per photo1 the PictureMate PicturePack continues makes purchasing consumables convenient and easy.
Richard Baylis, Sales and Marketing Manager, Consumer Products, Epson UK says, "With the Epson PictureMate 500 we can offer customers a true alternative to developing their photos on the high-street. It is frustrating taking photos of that special moment, be it a birthday party, wedding or night out, only to have to wait for them to be printed by someone else. With the PictureMate 500 you can have stunning quality photographs, without having to connect to a computer, in seconds. It is truly a product that anyone can use, whatever their background, even allowing complete novices to do some simple editing of their photographs."
Epson PictureMate 500 key features summary:
·      High quality 10 x 15 cm photo lab style photos using Epson's unique Micro Piezo technology
·      6-Colour Epson Hi-gloss inks for borderless, high-quality, durable photographic output, up to 5760 dpi print resolution and microscopic droplets of 2.5 pl
·      The handle and the optional battery make the Epson PictureMate 500 portable, for use anytime, anywhere. RRP inc VAT £49.99
·      PicturePack consumable pack for an affordable low cost-per-photo of £0.291
·      Highly durable photo prints lasting up to 100 years3
·      High connectivity: Includes slots for all popular memory card formats2, PictBridge, USB Direct Print, DPOF and Print Image Matching
·      Optional Bluetooth adapter for printing from compatible camera phones or other compatible Bluetooth devices
·      Various print options such as cropping function or printing photos in black and white or sepia
·      Back up function from an integrated memory card directly to externally connected devices such as CD-R writers or zip drives
·      Compact and stylish design which makes PictureMate fit into your home
·      Epson PictureMate 500 RRP inc VAT £179
1 The cost per photo is based on estimated average use conditions. Actual yields will vary based on images, colour balance, environmental conditions and frequency of use. Based on RRP of €29 including VAT for the PicturePack.
2 Supported memory card formats: SD™ memory card/MultiMedia Card™, Memory StickÒ, Compact Flash™ type I and II, SmartMedia™, Secure Digital, MMC, xD and Microdrive.
3 Using the PictureMate Photo Cartridge and PictureMate Photo Paper, prints are predicted to last up to 100 years in a glass frame in indoor display conditions. See www.wilhelm-research.com for test conditions. Actual print stability will vary according to image and storage or display conditions. Epson does not guarantee the longevity of prints.