Epson Stylus Photo R360 and Epson Stylus Photo R265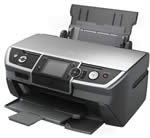 Epson UK Press Release
The Epson Stylus Photo R360 and Epson Stylus Photo R265 are Epson's latest A4 photo printers, featuring a new dye ink formulation – Claria Photographic Ink for high quality, low cost printing. It also includes PhotoEnhance, the photo expert inside your printer and Advanced Variable Sized Droplet technology for smooth tones and fast print speeds.  Both printers are ideal for any home where superior print quality is required. 
5th September 2006 – Epson features its latest ink technology innovation - Claria Photographic Ink, for superior photo quality, in its two new 6-colour photo printers. The Epson R360 and Epson R265 also feature Epson PhotoEnhance technology, a photo expert inside your printer that ensures you produce bright and vibrant photos every time.  As with all of Epson's new consumer printer range for 2006, both new models also offer cost-effective printing with individual ink cartridges from only £6.99 each. You only need to replace the colour you have used.  You won't have to wait long for your photos either as you can print a 10x15cm photo in just 13 seconds.
The Stylus Photo R360 allows you to print, edit, crop and remove red-eye from your photos without a computer.  Simply insert your digital camera memory card and preview your photos from the colour 3.5" viewer. It is ideal for those ready to experiment with their digital photos.  The Stylus Photo R265 includes Epson Easy Photo Print, making it easy for you to edit and print your photos from your computer.  It is ideal for those new to the photo printing experience.
Epson Claria ink technology has been specifically formulated for photographic printing. When combined with Epson glossy photo paper, it delivers superior quality, glossy prints with the highest levels of durability.  The six colour inkset includes; cyan, magenta, yellow, black, light cyan and light magenta.  It offers 200 years durability in album storage, so your family photos can be shared for many generations to come.  Claria ink is available in individual cartridges from only £6.99 each for cost effective photo printing.
With Epson PhotoEnhance technology, images featuring skin tones, landscapes and skylines are detected automatically and reproduced with enhanced colour settings to improve the overall tones and contrasts. It is particularly useful when the subject in your photo is darkened by shadow. You don't need to be an expert in software manipulation to get the best out of your photos.
The Stylus Photo R360 and R265 feature the latest in Epson's Advanced Variable Sized Droplet Technology (Advanced VSDT).  With five different droplet sizes the printers can use the smallest droplet of 1.5pl for areas where fine detail is required and larger droplets where there are blocks of colour in your image.  As well as allowing Epson to provide fast printing speeds, Advanced VSDT works in harmony with the Epson Micro Piezo™ print head to produce premium quality photos with smooth gradations and tonality.
Printing your photos from your computer is simple with the Epson Easy Photo Print software.  Available in both printers, it enables you to further improve your photos using the crop and red-eye removal features.
You can get creative with your Stylus Photo R360 and R265 thanks to a range of additional printing features, for example, print directly onto inkjet printable CDs or DVDs to personalise your digital albums for gifts or storage. You can also experiment with a variety of presentation formats.  Choose from colour, black and white or sepia photos, or insert a fun-frame to your image.  If you want to make something more artistic, select the poster printing option, which adds a 'tile' effect to your photos.  Flexible printing options and a range of compatible Epson glossy photo paper enables you to print your photos in a range of sizes, including 10x15cm (4"x6"), 13x18cm (5"x7") and A4. 
Martin Godfrey, Product Marketing Manager, at Epson UK says, "Epson has become renowned for its photo printing technology and Claria Photographic Ink, our latest innovation in ink technology, marks a new milestone in home photo printing.  The Stylus Photo R360 and R265 are premium quality, cost-effective photo printers for the home, ideal for those who want to upgrade their existing photo printer or for those who are starting their home photo printing journey. Both are packed with features to ensure they are easy to use and make the process of collecting photos of special events fun for all the family."
Epson Stylus Photo R360 and Stylus Photo R265 key features summary:
Low cost printing with individual ink cartridges from only £6.99
More Value Multipack available
Exclusive Epson Claira Photographic Ink System
6 Colour for Premium quality photo prints
CD/DVD Printing functionality
Print photos direct from PictBridge
Borderless photos up to A4 size
Your photos will last 200 years1 in your album
Achieve premium quality prints every time with Epson PhotoEnhance technology
Print your photos quickly - a10x15cm in 13 seconds (draft), 31 seconds (default), up to 30 pages per minute text printing (A4 black or colour)
Achieve vivid, life-like images with 5760x1440dpi
Creative printing with Epson Easy PhotoPrint
Stylus Photo R265 RRP £89.99 including tax
Epson Stylus Photo R360 additional features summary:
Preview your photos from the colour 3.5inch LCD viewer
Print, edit, remove red-eye, add fun-frames and crop your photos direct from your digital camera, no need for a computer
Direct connection with CD/DVD drive
Print direct from your mobile phone with an optional Bluetooth® adapter Compatible with all leading digital camera memory cards
Stylus Photo R360 RRP £149.99 including tax – available from October 2006
Preservation condition: Print stored in an album
Temperature: 23?
Humidity: 50%RH
Paper type: EPSON Premium Glossy Photo Paper or EPSON Premium Semi-gloss
Photo Paper
About Epson
Epson is a global leader in imaging products including printers, 3LCD projectors and small- and medium-sized LCDs. With an innovative and creative culture, Epson is dedicated to exceeding the vision and expectations of customers worldwide with products known for their superior quality, functionality, compactness and energy efficiency. Epson is a network of 90,701 employees in 120 companies around the world, and is proud of its ongoing contributions to the global environment and to the communities in which it is located. Led by the Japan-based Seiko Epson Corp., the Group had consolidated sales of 1549.5 billion yen in fiscal 2005.