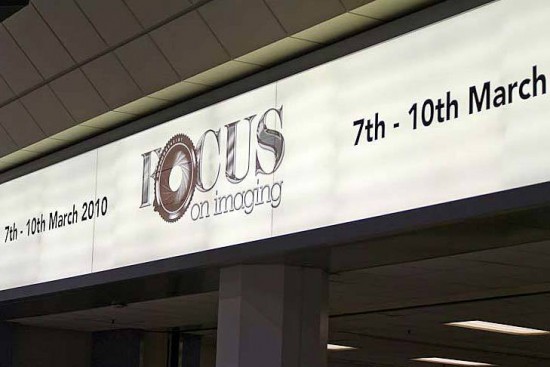 Focus on Imaging is Europe's biggest annual photography show, and this year's event is currently being held at the NEC in Birmingham, England. Open to both trade and the public, business seemed brisk as we made our way around the show floor, perhaps indicating that the worst of the global recession is behind the photography industry - or at the very least that photographers are window-shopping again. Read on for our Focus 2010 show report.
Most of the big manufacturers were present, with the notable exceptions of Olympus, Samsung, Leica and Hassleblad, who have all recently announced significant new products but chose not to showcase them at Focus. That left the way open for Panasonic to steal the show with the worldwide launch of the new Lumix G2 and G10 Micro Fours Thirds cameras, which we extensively covered here, here and here on Sunday. Panasonic's stand was dominated by a giant-sized Lumix compact, a play on the big zoom that small cameras like the TZ10 and ZX3 offer. We also spied prototypes of three new Micro Fours Thirds lenses due out in 2010 and in true Panasonic style, a G2 split open to reveal all of its component parts.
All of the other major products on display at the show had already been unveiled either at CES or PMA earlier in the year. Sony were showing off their new A450 DSLR camera behind glass,  the new Bloggie camcorder (think Flip rival) complete with 360 degree attachment, and the intriguing TransferJet technology which automatically uploads images onto a compatible device simply by placing the camera on a docking station. Canon were focusing on the new, keenly-priced EOS 550D, available for just £599 body only at one of the show retailers, while Nikon revealed their new "I Am Nikon" ad campaign and branding, complete with a UK-exclusive tie-in with none other than Robbie Williams (using the Coolpix S8000, which we've already reviewed). Kodak and HP had relatively small stands predominantly focused on their range of small and larger format printers, while Fujifilm had an early sample of the exciting HX10 mega-zoom camera, still several weeks away from launch in the UK and Europe.
There were big crowds flocking to the completely free expert tutorials offered by the likes of Adobe, onOne Software, Phase One and The Flash Centre, with keen learners often standing 20 deep or more. Finally, Focus wouldn't be complete without some friendly price competition between several of the UK's biggest photographic retailers, with Calumet, CameraWorld, Jacobs and others duking it out to attract the punters and most importantly their hard-earned cash.
We've got a gallery of 54 photos from the show floor at Focus on Imaging 2010, held at the NEC in Birmingham, England, to give you a taste of what it's all about.
Image Gallery
Click on a thumbnail to see the full version.
Your Comments