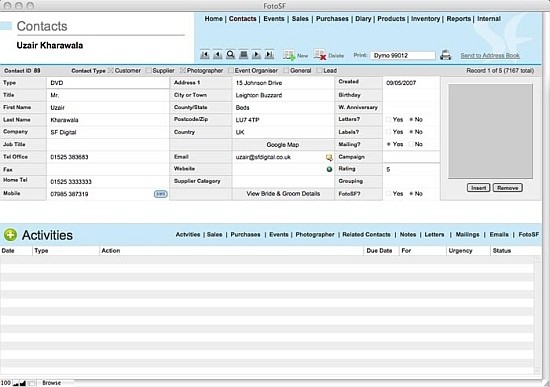 SF Digital has released version 4 of its Foto SF software. This update has a host of new features, improved and faster navigation, new modules including "Quotes," and eye-catching graphical reports. Pricing starts at $95 (£58 approx) for an upgrade and $145 (£90 approx) for Foto SF Lite.
SF Digital Press Release
The award-winning photography studio software Foto SF have just released their brand new version 4. This new version has a host of new features which makes running a photography business a breeze. Poweful new tools & reports including graphical charts allows photographers to keep a close eye on their business.
The creator of Foto SF, Uzair Kharawala explains "After almost 2 years of hard work and listening to our clients, we are proud to release Foto SF v4. The v4 is almost 60% more faster to use than v3 and allows the photographer to be more productive & organised like never before. A lot of time is saved with improved & faster navigation within the software, new module like the 'Quotes' allows the photographer to send out Quotations easily and eye-catching graphical reports gives a birds' eye view of the business in an instant.
Many photographers do not understand the importance of keeping control of their business. Buying new cameras & post-processing software will not lead to more lead generation, working out profit margins, cashflow, sales & purchases. These are just a few factors which need to be tamed & controlled. You would never drive your car without looking at the dashboard first? Unfortunately, many photographers are driving their business without a dashboard of key indicators. Foto SF allows you to move from the choas to total control of your business. This results in being more organised, more profitable and you will offer better customer service to your clients if you know the 'when, what, where' for your business. We've kept the price of Foto SF at such an affordable level that even the smallest & part-time photography business can afford it.
We want to thank all our clients for their continued support and we're working hard to make Foto SF the No.1 tool for studio management."
Pricing starts at an only $95 (£58 approx) for an upgrade and $145 (£90 approx) for the Foto SF Lite.
A 30-day free trial is available at www.fotosf.com
Your Comments