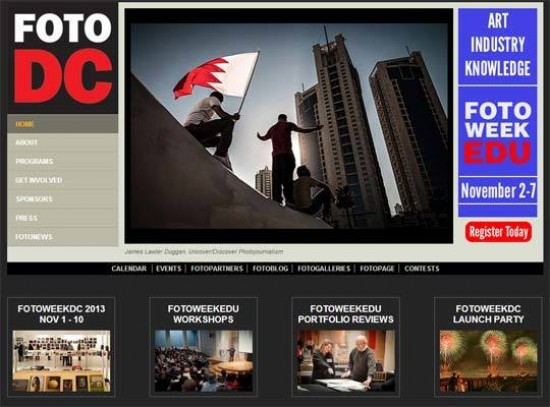 FotoDC has announced an extensive line-up of events in collaboration with more than 50 partners participating in FotoWeekDC 2013. Taking place from Friday 1st November to Sunday 10th November, FotoWeekDC 2013 encompasses more than 100 exhibitions and other events. Click through / read on for the details.
FotoDC Press Release
FOTODC ANNOUNCES FotoWeekDC 2013 FESTIVAL PARTNER EVENTS
FotoWeekDC Releases Line-up of Citywide Foto-Collaborations
WASHINGTON, DC — FotoDC is proud to present an extensive line-up of events in collaboration with more than 50 partners participating in FotoWeekDC 2013 by presenting more than 100 exhibitions, program and events, from Friday, November 1 to Sunday, November 10.
"Over the past six years, we have established important partnerships with photography collectives, museums, agencies and other groups—ranging from philanthropic organizations to major institutions such as the National Geographic Museum and Smithsonian," said Theo Adamstein, FotoDC/FotoWeek founder and executive director. "FotoWeekDC has grown into a citywide celebration of the photographic arts and inspired programming throughout the region."
For a full listing of events, visit https://www.fotoweekdc.org/index.php?option=com_ksadvertiser&view=categories&Itemid=81.
FotoWeekDC 2013 partner event highlights below:
Goethe Institut Opening Reception for Linger On!
Saturday, November 2; 6 p.m.–8 p.m.
Goethe Institut, 812 7th St. NW
Featuring photographs by Max Baumann, Iris Brosch, Reinhard Hentze, Carina Linge, Matthias Ritzmann and Robert Schlotter. Opening reception, followed by a party with German guitarist Conny Ochs. Capturing fleeting moments in time, these diverse works by six artists present extraordinary encounters with contemporary art. They range from documentary photography, which enhances reality through the deft use of framing and lighting to precisely staged productions. R.S.V.P. to http://www.goetheinstitutwashington.eventbrite.com
FotoNOMA Opening Party
Saturday, November 2; 7:30 p.m.–9:30 p.m.
FotoNOMA, 51 N St. NE
An opening party will be hosted at the FotoNOMA space on Saturday, November 2 from 7:30 p.m. to 9:30 p.m., including a DJ and an open bar with beer and wine. Tickets are $12 and $15 at the door. R.S.V.P. to http://fotonoma2013.eventbrite.com/. First-year FotoNOMA: The District Experience is an expansive 25,000 square foot exhibition of curated works selected from local photography organizations, on view during the FotoWeekDC festival. FotoNOMWA will represent the following acclaimed photography partners: American Photographic Artists (APADC), Critical Exposure, InstantDC, The International League of Conservation Photographers (ILCP), The Pulitzer Center, Silvercore Photography, Strata Collective, Washington School of Photography and Women Photojournalists of Washington (WPOW).
FotoNOMA After Party + Slideshow at Black Cat
Saturday, November 2; 10 p.m.
Black Cat, 1811 14th St. NW
The official FotoNOMA: The District Experience After Show and slideshow with DJ Matt Dunn presented by FotoDC and STRATA Collective will take place at the Black Cat Backstage at 10 p.m., admission $10 per person. R.S.V.P to http://www.ticketfly.com/event/385907-fotonoma-district-experience-washington/
Community Day at the Corcoran
Saturday, November 2; 10 a.m.-3 p.m.; FREE
Corcoran Gallery of Art and College of Art + Design, 500 17th St. NW
The Corcoran is going pop-up! Try printmaking, make a ceramic bowl to be donated to SOME (So Others Might Eat), check-out a 3D printing demonstration, and shop at the Community Art Fair, featuring fine arts and crafts made by D.C.-area artists. Do not miss artist talks, special tours, films, music and beer tastings all afternoon in the Biergarten sponsored by Muse Café. Gallery admission and activities are FREE; no advance registration required.
Nighttime Projections and Program
Projections: Monday, November 4–Friday, November 8
Program: Monday, November 4; 6:30 p.m.
United State Holocaust Memorial Museum, 15th Street SW (Raoul Wallenberg Place)
The United States Holocaust Memorial Museum presents Our Walls Bear Witness: The Plight of Burma's Rohingya. The Museum will project images of Burma's Rohingya, long considered among the world's most persecuted people, on its exterior walls from 6 to 10 p.m. from November 4-8. Taken by prizewinning photojournalist Greg Constantine, Holly Atkinson, Maung Tun Khin, past president of Physicians for Human Rights, and Maung Tun Khin, president of the Burmese Rohingya Organization UK. The program will be moderated by Michael Abramowitz, director of the Museums Center for the Prevention of Genocide. This exhibition is produced by the United States Holocaust Memorial Museum in association with FotoWeek DC 2013. R.S.V.P. at http://www.cvent.com/events/our-walls-bear-witness-the-plight-of-burma-s-rohingya/event-summary-5946fbead88d4219ba9f4dc609889994.aspx
Nighttime Projections: National Geographic's Serengeti Lions
Friday, November 8 – Saturday, November 9
16th Street façade of National Geographic headquarters, corner of 16th and M Street NW
Photographer Michael "Nick" Nichols and videographer Nathan Williamson were determined to break new visual ground when they made several extended trips to the Serengeti between July 2011 and January 2013. A remote-control toy car and a rugged robot tank gave them an unobtrusive way to make images up close and at low angles. Nichols shot 242,000 images and Williamson recorded 200 hours of video, often while lying on the floor of a specially outfitted Land Rover, for an August 2013 story in National Geographic magazine and a special build out on the web: http://ngm.nationalgeographic.com/serengeti-lion. The projection is a 20-minute loop of their work, offering a unique perspective of life in the Vumbi pride through stills and video
ASMPDC An Evening with Mary Ellen Mark "Nothing's More Interesting than Reality"
Tuesday, November 5; 6:30 p.m.-8:30 p.m. (Registration begins at 6 p.m., pre-registered participants arriving after 6:20 p.m. will be moved to the end of the waiting list) FREE
Nan Tucker McEvoy Auditorium, Smithsonian American Art Museum, 8th and F Street NW (G Street Entrance)
Join ASMPDC in celebrating FotoWeekDC with internationally renowned photographer Mary Ellen Mark as she discusses her work and career. Mark is an American photographer known for her photojournalism, portraiture, and advertising photography. Mark's photo essays and portraits have appeared in such publications as LIFE, New York Times magazine, The New Yorker, Rolling Stone, Vanity Fair and Smithsonian magazine. She has published 18 books, received numerous awards and exhibited her work in solo exhibitions in galleries and museums worldwide. The program is presented with generous support from the ASMP Foundation and the Smithsonian American Art Museum. Pre-registration is FREE at
https://asmp.org/education/event/register?venue_id=1086
Embassy of Austria Exhibition Opening of Moods: A Collective Exhibition
Tuesday, November 5; 7:30 p.m.-9:30 p.m.
Embassy of Austria, 3524 International Court NW
Over the past few years, art photography has vividly taken off in Austria. Interesting developments and approaches—along with new opportunities—are now part of this new generation of photography. The works of the Austrian artists selected for this exhibition examine, in a wide range of ways, the perception and manipulation of our daily surroundings. The show provides a cross section of young, enterprising artists shaping the country's contemporary photography scene with innovative technique, striking composition and stirring imagery. Photographers: Carmen BRUCIC, Irina GAVRICH, Severin KOLLER, Anja MANFREDI, Anita SCHMID, and Andreas WALDSCHÜTZ. Register at http://youngaustrianphotography.eventbrite.com/
Inter Vivos: Margaret Adams, Gabriela Bulisova, and Muriel Hasbun
Wednesday, November 6; 12 p.m.-1:30 p.m.; Reception 5 p.m.-7 p.m.; FREE
Corcoran Gallery of Art and College of Art + Design, 500 17th St. NW
Join photographers Margaret Adams, Gabriela Bulisova, and Muriel Hasbun as they discuss their exhibition, Inter Vivos, an installation of photographs, objects, and sound art on view in Gallery 31 through November 17. Curator of the exhibition and gallerist Michael Mazzeo joins the conversation.
American Society of Picture Professionals: Inside the Mind of National Geographic Traveler's Director of Photography Dan Westergren
Wednesday, November 6; 6:30 p.m.–9 p.m.
US Navy Memorial-Heritage Center, 701 Pennsylvania Ave. NW Suite 123
Spend an evening with Dan Westergren as he discusses how he chooses images for the iconic National Geographic Traveler magazine. He will describe why he loves these particular images and the photographic thinking behind them. In addition, he will show a short selection of images from the North Pole, his personal favorite place. Online registration required at http://aspp.com/dcsouth-event-november/
French Embassy Opening Reception for Broken Roots: Illegal Immigration into the U.S.
Thursday, November 7; 7 p.m.–10 p.m., on view through December 12
La Maison Francaise, Embassy of France, 4101 Reservoir Road NW, 20007
As part of this year's FotoWeekDC programming, the Cultural Service of the Embassy of France presents Broken Roots: Illegal Immigration into the U.S., a photography exhibition by José Hernández Claire. This compelling selection reflects the many perils of those immigrants who struggle to cross the border into the U.S. Reservation only. R.S.V.P. to https://hernandezclaire.eventbrite.com/
2013 Nature Visions Expo
Friday, November 8–Sunday, November 10
Hylton Center for the Performing Arts, 10960 George Mason Circle, Manassas, VA
Nature Visions Photo Expo features 15 outstanding photographer-educators, two free exhibits and 27 local and national vendors of equipment, supplies and instruction. Entry to see the exhibitions and vendors is FREE.  Online registration is required and seats for educational presentations are limited: www.NatureVisions.org.
Embassy of Sweden: Storytelling Through the Art of Photography
Friday, November 8; 7 p.m.–10:30 p.m.
House of Sweden, 2900 K Street NW (Georgetown waterfront)
Join the Embassy of Sweden, Capitol Pecha Kucha and FotoWeekDC for an inspiring evening of 20x20 presentations that will feature storytelling through the art of photography, including presenters from Sweden and the U.S. Take this opportunity to also view the stunning photo exhibition Different Distances: Fashion Photography Goes Art, part of FotoWeekDC, showcasing a new generation of Swedish fashion photographers. The images in the exhibit are a game of balance between art and fashion photography, rooted in cultural history as well as personal experiences. They overcome the difference between the intimate and the distant, creating atmospheres that bewitch us. More on the exhibition at: swedenabroad.com/washington. Tickets are $15 through http://embassyofsweden.eventbrite.com. Cash bar.
Open Studio: Fashion Shoot with WORN Magazine
Saturday, November 9; 7–9pm
Leica Store, 977 F St. NW
The Leica Store Washington, DC will host an "Open Studio" event with models from WORN Creative.  We will provide the cameras and lighting set-ups for an evening of shooting. Images can be processed on-site or taken with you. Cameras provided include the Leica S, M (Type 240), X-Vario and X2. Space is limited. R.S.V.P. to rsvp@leica-store-dc.com
FOTOWEEKDC PARTNER EXHIBITIONS
Women of Vision: National Geographic Photographers on Assignment
Every day from 10 a.m. to 6 p.m. through March 9, 2014
National Geographic Museum, 1145 17th St. NW
Highlighting the influential photography of 11 award-winning female photojournalists, the exhibition features nearly 100 photographs, including moving depictions of far-flung cultures, compelling illustrations of conceptual topics such as memory and teenage brain chemistry, and arresting images of social issues like child marriage and 21st-century slavery. In honor of FotoWeekDC, visitors will receive $2 off regular admission from November 1-10; adults $11. The National Geographic Museum courtyard will also serve as "FotoWeek Central" throughout the festival, with an outdoor exhibit featuring the work from FotoDC programs and competitions. More info at: http://wovexhibition.org/
Shaping a Modern Identity: Portraits from the Joseph and Charlotte Lichtenberg Collection
Tuesdays-Saturdays, 10 a.m.-5 p.m., Sunday, 11 a.m.-6 p.m. through January 12, 2014
The Phillips Collection, 1600 21st St. NW
Featuring images by Ansel Adams, Tina Barney, Chuck Close, and Imogen Cunningham, the photographs span more than 80 years and depict subjects ranging from well-known artistic and literary figures to anonymous men and women from all walks of life. More info at: http://www.phillipscollection.org/exhibitions/2013-10-24-exhibition-shaping-modern-identity-lichtenberg.aspx
Crystal City Interior Walkways: Fotowalk Underground
Crystal City Interior Walkways, 2450 Crystal Drive / 220 20th Street
Photographs will be featured including winners of the 2013 FotoWeekDC competition and selected FotoWeekDC favorites. More info:
http://www.crystalcity.org/artful/exhibitions/fotoweek-dc
ABOUT FOTOWEEKDC
FotoDC returns with world‐class photography exhibitions and programming for the 6th Annual FotoWeekDC Festival from November 1–10, 2013. As DC's only nonprofit 501(c)(3) solely dedicated to serving photographers and photography lovers, FotoDC has partnered with the National Geographic Museum to present an intriguing festival to the region. The best in fine art photography, photojournalism and new programming will be on view at FotoWeekCentral at National Geographic's DC headquarters. In addition to a selection of outstanding exhibitions, FotoWeekDC is comprised of a variety of satellite locations, special events and receptions, including workshops, seminars, lectures and portfolio reviews, throughout more than 100 partner events in the DC, Maryland and Virginia.
FotoWeekDC is made possible by support from the following generous foundations and sponsors: the DC Commission on the Arts and Humanities, National Endowment for the Arts, The PNC Financial Services Group, The National Geographic Museum, Goethe-Institut Washington, Squarespace, the Morris and Gwendolyn Cafritz Foundation, the ASMP Foundation, B&H Photo Video, The Washington Post and Leica.
Your Comments