Fuji X10 Pricing & Availability Announced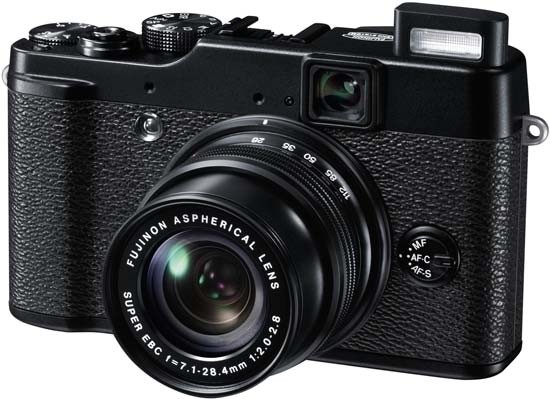 Fujifilm has unveiled the MSRP and availability of the Fujifilm X10 digital compact camera. Not to be confused with the popular, large-sensor Fujifilm X100, the new Fujifilm X10 is a 12-megapixel compact with manual controls, a 2/3" type EXR CMOS sensor, a 28-112mm (eq.) f/2.0-2.8 lens and a newly developed Optical Image Stabilisation mechanism. The new sensor also offers all the usual EXR shooting modes that allow the user to give priority to signal-to-noise ratio, dynamic range or resolution depending on the individual requirements of each shot. The Fujifilm X10 will be available from early November at a price of $599.95.
Fujifilm Press Release
FUJIFILM ANNOUNCES PRICING AND AVAILABILITY FOR THE NEW PREMIUM COMPACT FUJIFILM X10 DIGITAL CAMERA
Valhalla, N.Y., October 7, 2011 – FUJIFILM North America Corporation said today that the all new premium compact FUJIFILM X10 digital camera first announced on September 1, 2011, will have a retail price of $599.95 and will be available in early November.
Building on the tremendous success of the sophisticated FUJIFILM X100 digital camera, the new premium compact FUJIFILM X10 is the latest addition to the growing FUJIFILM X-series of advanced digital cameras.
The FUJIFILM X10 features a new larger 2/3" 12 megapixel EXR CMOS sensor and a bright high-definition FUJINON1 F2.0 wide-angle to F2.8 telephoto 4x manual zoom lens (28-112mm)2 that produces superb image quality from edge to edge. The FUJIFILM X10 has a beautiful blackout and retro design that includes a traditional optical viewfinder with a wide 20° field of view for exceptional image composition. For more information, go to http://fujifilm-x.com/x10/en/.
The FUJIFILM X10 will be on display and available for all to see at the upcoming PhotoPlus Expo at the Jacob K. Javits Convention Center in New York City on October 27 through Saturday October 29.
1 High quality FUJINON lenses are used widely in the broadcasting industry worldwide. For more
information please visit: http://www.fujifilm.com/products/digital_cameras/fujinon/
2 35mm equivalent
About Fujifilm
FUJIFILM North America Corporation, a marketing subsidiary of FUJIFILM Holdings America Corporation, consists of five operating divisions and one subsidiary company. The Imaging Division sells consumer and commercial photographic products and services including film, one-time-use cameras, online photo services and fulfillment, digital printing equipment and service. The Electronic Imaging Division markets consumer digital cameras. The Motion Picture Division provides motion picture film, and the Graphic Systems Division supplies products and services to the printing industry. The Optical Devices Division provides binoculars, and optical lenses for closed circuit television, videography, cinematography, broadcast and industrial markets. FUJIFILM Canada Inc. markets a range of Fujifilm products and services. For more information, please visit www.fujifilm.com/northamerica, or go to www.twitter.com/fujifilmus to follow Fujifilm on Twitter. To receive news and information direct from Fujifilm via RSS, subscribe at www.fujifilmusa.com/rss.
FUJIFILM Holdings Corporation, Tokyo, Japan, brings continuous innovation and leading-edge products to a broad spectrum of industries, including electronic imaging, digital printing equipment, medical systems, life sciences, graphic arts, flat panel display materials, and office products, based on a vast portfolio of digital, optical, fine chemical and thin film coating technologies. The company was among the top 16 companies around the world granted U.S. patents in 2010, and in the year ended March 31, 2011, had global revenues of $25.8 billion*. Fujifilm is committed to environmental stewardship and good corporate citizenship. For more information, please visit www.fujifilmholdings.com.
* At an exchange rate of 86 yen to the dollar.
Your Comments