Fujifilm FinePix S4500 and S4200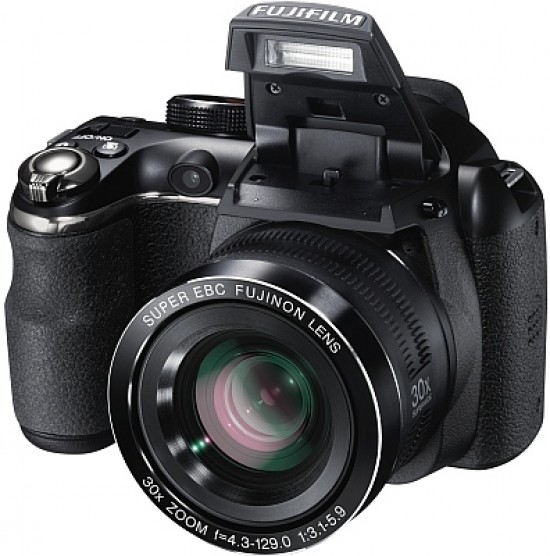 The Fujifilm FinePix S4500 (pictured) and S4200 are two new, AA-powered 14-megapixel superzoom cameras with 30x and 24x Optical Power Zoom lenses, respectively. Inside these FinePix S-series cameras is a 1/2.3-inch CCD sensor with CCD-shift anti-shake functionality. Manual shooting mode, accessed via the mode dial, gives photographers full control over exposure. Photographs can be compased using a 200,000-dot electronic viewfinder or the 230,000-dot rear screen. Other highlights include a 2cm supermacro mode and 720p HD movie capture.
Fujifilm Press Release
Power, flexibility and creative control with the FinePix S4500 and S4200
The FinePix S4500 and S4200 are the highlight models of the 4 new cameras set to feature in the S-series long-zoom bridge camera range in spring 2012.
Specifically designed for users who want maximum reach without compromising image quality or convenience, the S4500 and S4200 feature high-quality 30x and 24x Fujinon optical zoom lenses respectively, while also offering advanced features in compact, robust, easy to use bodies. In addition, these cameras also offer key performance improvements in speed and functionality to ensure photographers have all they need to capture high quality images in a wide range of shooting conditions.
Get close to the action
The Optical Power Zoom lenses make them ideal for wildlife enthusiasts, keen travellers or sports fans – anywhere that a longer zoom length will help users capture better images. And for the FinePix S4500, fast and accurate framing is made by easier with a precise 45-step zoom control.
The Fujinon' lenses have the company's hallmark level of expert engineering to minimize chromatic aberrations and distortions. They offer edge-to-edge sharpness and exceptional clarity in images. The S4500 and S4200 also offer a Super Macro mode that focuses down to just 2cm for detail-filled close-ups.
Designed for performance
Inside these FinePix S-series cameras is Fujifilm's unique 1/2.3-inch 14 megapixel CCD sensor offering the renowned image quality that users across the world expect from Fujifilm's award-winning cameras. In low-light situations, users can adjust the ISO from 64 up to 6400*¹ and use Fujifilm's proprietary CCD-Shift image stabilisation to help keep images sharp.
As well as high-quality stills captured as both Fine and Normal quality JPEGs, the S4500 and S4200 offer 720p HD movie capture at 30fps for smooth movies that will impress friends and family – especially when the HDMI output is used to connect the cameras to an HD ready TV for instant playback.
Manual shooting mode, accessed via the mode dial, gives photographers full control of manual shooting such as shutter priority mode or aperture priority mode. In addition to the new technological features offered by the S-series cameras, they have been optimised for faster start-up, improved speed of Auto Focus and an upgraded response time. All this combines to ensure that users won't miss a shot.
*ISO3200/6400 is effective in S mode.
See the whole picture
Users of these S-series cameras can choose between composing their pictures using the 200,000 dots Electronic Viewfinder (EVF), and the 3.0 -inch LCD screen on the rear of the camera. The 230,000-dots LCD screen has been redesigned to make it simple to play back stills and movies, navigate the cameras' menus and frame pictures – even when in bright sunlight. The cameras' rear screens have an improved brightness over previous models to ensure details stand out and colours appear more realistic.
In addition, Face Detection technology is included to automatically lock onto faces appearing in scene, and Fujifilm's SR Auto modes will make light work of any situation, capturing the very best quality pictures no matter how technically challenging the exposure.
These S-series cameras have fully controllable exposure modes for the more advanced photographer. There's even the option to Date Stamp images to ensure users never forget when they captured their new favourite photographs.
Shooting with convenience
Ergonomically designed to fit comfortably in the user's hand, even throughout long shooting sessions, these super-zoom cameras offer impressive levels of technology considering their compact size. For convenience, power is provided by four widely available AA batteries, making them ideal for travellers or holidaymakers as there are no bulky chargers or plug adapters to carry around. With the innovative improvements and the wide-reaching zoom ranges, either model will prove to be a rewarding choice for all keen photographers.
*¹ ISO3200/6400 is effective in S mode.
Fujifilm FinePix S4500 and S4200 key features
1/2.3-inch 14MP CCD sensor
24mm wide-angle-super-zoom lens
200,000 dots EVF
3-inch 230,000 dots LCD
4x AA batteries
720p HD movie capture
Focusing down to 2cm in Super Macro Mode
Date Stamp
Your Comments