Fujifilm Wins Three TIPA Awards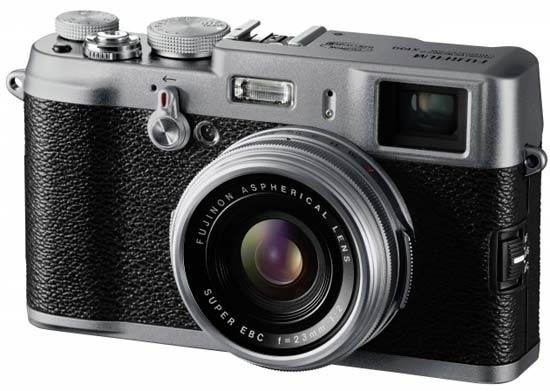 The Technical Image Press Association has honoured the Fujifilm FinePix X100 large-sensor digital compact camera, the Fujifilm 3D print service and the Frontier DL600 minilab with TIPA awards. The X100 has been recognised as 2011's best premium camera, the Fujifilm 3D print service has been deemed the best photo service, while the Frontier DL600 has won the accolade of 'Best Finishing System'. Adrian Clarke, Director of Fujifilm's Digital Products said "The TIPA awards are the most coveted photo awards in Europe and for Fujifilm to win three awards is a massive achievement."
Fujifilm Press Release
Fujifilm scoops top honours at Europe's prestigious TIPA awards 2011
Fujifilm FinePix X100 wins best premium camera
Fujifilm 3D print service wins best photo service
Fujifilm Frontier DL600 wins best finishing system
London, 26th April 2011: Fujifilm's commitment to outstanding quality and innovation, in all areas of camera and image reproduction technology, has received critical recognition with the award of three gongs at the Technical Image Press Association (TIPA) 2011 awards.
The first Fujifilm award was for the FinePix X100 which was voted best premium camera by the TIPA Jury.
Adrian Clarke, Director of Fujifilm's Digital Products said "The TIPA awards are the most coveted photo awards in Europe and for Fujifilm to win three awards is a massive achievement. Fujifilm is dedicated to developing cutting edge photo products that offer the very best in image quality. The FinePix X100 is a camera that Fujifilm is extremely proud of, and we are delighted to receive this highly-esteemed award which recognises its quality."
The FinePix X100 has been the talk of the industry since being first announced at the Photokina Exhibition in Cologne, Germany, in September 2010 creating exceptional consumer interest right up to and beyond its launch in March 2011.
The FinePix X100 was recognised by TIPA for its unique combination of high performance and innovation, in a statement the judges said "Fujifilm's FinePix X100 offers unrivalled image quality for a compact camera, thanks to its APS-C format CMOS sensor and Fujinon 23mm f/2.0 lens. The Hybrid Viewfinder uniquely combines the 'bright frame' window-type optical viewfinder found in high-end film cameras, and the electronic viewfinder system of fixed single lens or digital compact system cameras, offering the user 'the best of both worlds'. Added to the package is a newly-developed EXR Processor, which combines all the latest Fujifilm image processing technology."
The result is image quality that has been generally accepted as being a new reference for its segment, particularly when capturing tricky shots in low light levels. Fujifilm is delighted that the camera has been recognised for being the best in its field.
Fujifilm has also been the pioneer for 3D technology since introducing the world's first 3D stills compact camera, the FinePix W1, in 2009. Since then, the range of services and products has grown as Fujifilm has uniquely developed a total 3D system to allow consumers a complete range of choice of how they enjoy their 3D world.
TIPA has recognised the depth and quality of work Fujifilm has implemented by naming the 3D print service as the best photo service. The Fujifilm service allows consumers to receive true 3D stereoscopic prints of 3D photos taken on their Fujifilm W1 and W3 cameras, which they can then send to friends and family or enjoy at home – all without the need for 3D glasses. The printing service helps to complete the 3D experience, and has been recognized as hugely important to the format's progression.
A printed image is the best way for everyone to enjoy photographer's best shots, so it's crucial to create quality prints. Fujifilm is therefore delighted to be awarded the best finishing system award for the Frontier DL600.
This unique printer was developed in response to the growing demand from small and medium sized photo shops for a versatile and inkjet-based printing production unit. Capable of delivering prints at up to 1,440dpi, the printer gives professional lab operators and first-time users alike the ability to produce incredible quality prints so photographers can experience and show their best shots to anyone.
For information about Fujifilm and its products, please visit www.fujifilm.co.uk or call 0844 553 2322
About Fujifilm
Fujifilm is a global leader in imaging technology, products and services including digital cameras, photofinishing, digital storage and recording media, consumer and professional film, motion picture film, professional video, printing systems, medical imaging, office technology, flat panel displays and graphic arts. The company employs more than 73,000 people worldwide, with 178 subsidiaries stretching across four continents.
Uniquely placed to be a market leader in digital imaging, Fujifilm develops and manufactures its own sensors, lenses and processing technology. In addition to its production plants and R&D operations in Japan, the company has key manufacturing facilities in Europe and the USA for core products such as colour film, colour paper, single use cameras and CTP printing plates, and has further factories in Brazil and China. It has a global turnover in excess of £13 billion.
In the UK, Fujifilm has been supplying the imaging, printing and graphics industries, as well as consumers, professional and enthusiast photographers, with high quality, innovative products and services for over 25 years. Fujifilm UK currently employs more than 450 people and has become one of the country's most popular photographic and imaging brands.
Your Comments