The X-Pro1 is Fujifilm's first compact system camera, and we saw an almost-complete prototype, one of only two in the world, at Fujifilm UK's HQ back in December 2011. This is our detailed preview of the Fujiflm X-Pro1's design, features and accessories.
Building on the success of the fixed lens X100 and zoom lens X10 models, the X-Pro1 has been in development for three years and features a sensor designed and controlled (but not manufactured) by Fujifilm.
Launching in March, the X-Pro1 will be available body only for £999 / $1699, putting it firmly into prosumer DSLR territory and costing the same as the current most expensive CSC, the Sony NEX-7, at least in the UK.
Fujifilm are positioning the X-Pro1 as the ultimate interchangeable lens camera, be that CSC or DSLR, and it certainly has a premium design and build quality that goes some way to justifying the price.
Key highlights of the X-Pro1 include:
 
X-Trans CMOS image sensor  
X-Mount  
XF Fujinon Lenses  
Hybrid Multi Viewfinder  
New User Interface
X-Trans CMOS Sensor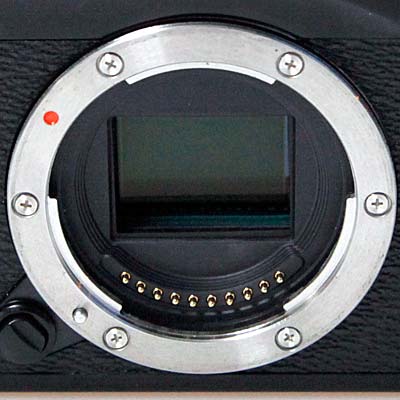 Fujifilm have torn up the rule book to create a completely new kind of image sensor which is unique to and patented by the company. Bayer pattern sensors have to use an optical low pass filter to prevent moire occurring thanks to their regular 2x2 pattern, resulting in a lowering of resolution. The X-Pro1's sensor uses an irregular pixel pattern in the 6x6 format, with RGB pixels in all lines of the sensor, acting more like irregular siler halide film.
This means that no optical low pass filter is required on the X-Pro1, resulting in better image quality that Fujifilm claims will be as good as or even out-perform the Nikon D7000 and Canon EOS 5D Mk II. A brave claim indeed for what is an APS-C sized sensor - can it really beat a full-frame camera?
XF Lenses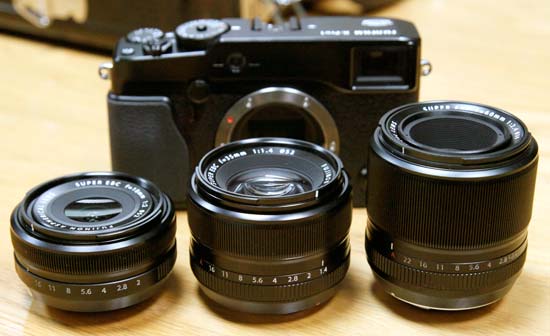 The X-Pro1 launches with three prime Fujinon lenses - the X-Pro1 18mm F2.0 lens ($499.99), X-Pro1 35mm F1.4 lens ($499.99) and the X-Pro1 60mm F2.4 Macro lens ($599.99). In turn they provide a 35mm equivalent focal length of 27mm, 52mm and 90mm. Note that there is no 35mm equivalent lens, which means that the X-Pro1 doesn't step on the toes of the popular X100 fixed-lens camera just yet. The X-Pro1 has a flange-back of just 17.7mm, shorter than the Sony NEX system's 18mm, limiting light loss and maximising image quality and sharpness.
Hybrid Multi Viewfinder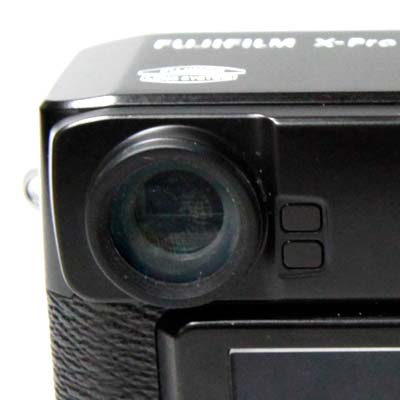 Like the X100, the X-Pro1 has a hybrid optical / electronic viewfinder. The optical viewfinder has a built-in magnifier to accomodate the different focal lengths of the three new XF lenses, automatically recognising which lens is fitted and providing magnifciation of up to 0.6x. It won't work with a zoom lens, which may explain why no zoom is available on launch. As you'd expect, the electronic viewfinder offers 100% frame coverage.
LCD Screen / New GUI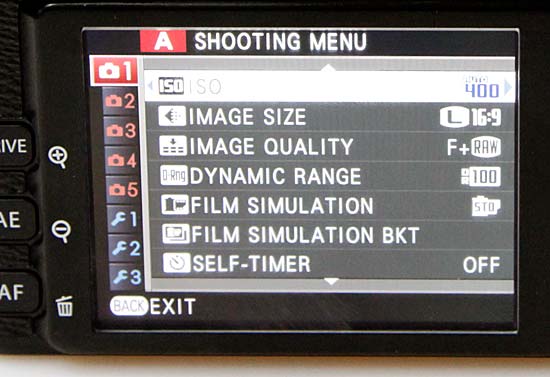 Conventional LCD screens typically have an average reflection measurement of around 0.70%. The new X-Pro1's screen has a rating of 0.18%, which should make it more visible in bright sunlight, although we suspect most owners will use the Hybrid Multi Viewfinder almost exclusively.
The above picture also shows the updated menu system, which now uses a multi-tabbed list of sub-menus to help avoid endless scrolling through the X-Pro1's multitude of options.
Other Improvements
Fujifilm haven't rested on their laurels since the launch of the X100, making numerous improvements to the usability of the X-Pro1. Two new JPEG-only film modes, Pro Neg.S for portraits and Pro Neg.H for , are included, alongside a multi-exposure mode. There's a lock on the shooting mode dial, the exposure compensation button is recessed into the body, there are less buttons on the back for a cleaner interface, the new Q.button opens a Quick menu on both the LCD and EVF, the main menu has more tabs to reduce scrolling, and there are no less than 7 Custom shooting modes.
Accessories
In addition to the X-Pro1 body and three XF lenses, a range of accessories will be available for Fujifilm's compact system camera. The EF-X20 is a new smaller external flashgun, while 52mm and 39mm filters will be availble to protect the lenses. There's also a leather case which fits the 18mm and 35mm lenses (but not the larger 60mm macro), as well as an Assist Grip which adds more shape to the front of the camera (but no additional controls).
Your Comments