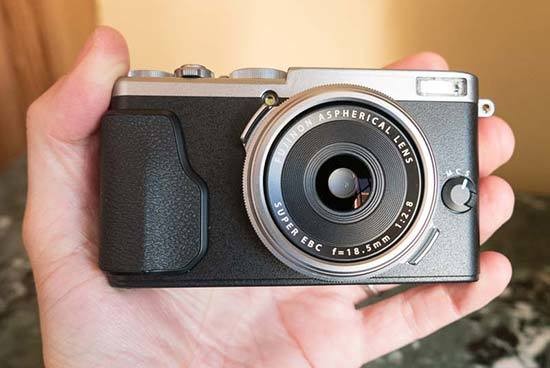 The Fujifilm X70 is almost the same camera as the flagship X100T model, with a much smaller body and a total weight reduction of 100g that's mainly achieved by omitting an optical viewfinder. Instead, an external OVF accessory will be available complete with 21/28mm frame lines - it remains to be seen if the smaller, lighter body outweighs not having an OVF built-in - Fujifilm certainly seem to think so.
Sharing the same 16 megapixel, EXR II Processor as the X100T, the new X70 features a wider-angle 28mm lens with a maximum aperture of f/2.8, a big point of difference when comparing the two camera. The X70 is also the first X-series camera to feature a 180-degree tilting LCD screen, perfect for those endless selfies, and it's a touchscreen model to boot, again a first in the range.
The Fujifilm X70 is capable of shooting at 8fps, has the same auto-fous system as the X-T1, and a control ring around the lens, similar to the one found on the X-30 and X-Q cameras. In addition to the external OVF, a 35mm wide conversion lens all also be available on launch. With two colour variants on offer, all-black and silver/black, the X70 will be available in early February.
Want to see exactly what the new Fujifilm X70 camera looks like in the flesh?
Check out our hands-on gallery of photos of the Fujifilm X70 camera, including a side-by-side comparison with the X100T, the optical viewfinder accessory, and the WCL-X70 wide-angle convertor lens.
Image Gallery
Click on a thumbnail to see the full version.
Your Comments