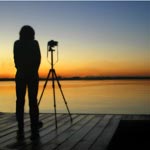 This week's Gary's Parries topics are:
1. I've Just Seen A Face
2. Can't See The Forest For The (Whitewashed) Trees
3. Perfect Pocket/Portrait/Wedding Camera
4. Get Well Nick In Japan
Introducing this week's Gary's Parries column. Everything you always wanted to know about digital cameras, but were afraid to ask. No question too difficult, or too easy. As a Senior Principal Software Engineer, and a former Assistant Professor of Computer Information Systems, as well as a recording studio owner/operator, inventor, and now, a digital camera enthusiast, GARY has more digital camera knowledge in his entire brain than most people have in their little finger. In the unlikely event that GARY would not know the answer to your question, he will answer it anyway, true to the spirit of the word "Parries", a fencing term which, in this context, implies "cleverly evasive answers". So let your imagination run wild. Email all your nagging digital camera questions to: garysparries@photographyblog.com , and then, En Garde!
You may also attach to your email an ORIGINAL PHOTO of your choosing. A preview of the photo will be displayed with your question, and a full-sized version will be just a click away. No personal information will be published with your question unless you specifically include it in the text or attached photo of your email, which may be further edited for grammar, content, or other reasons.
***
*** QUESTION 1—- I'VE JUST SEEN A FACE
***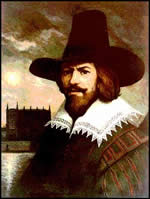 Hi Gary,
I have to tell you that your column is the first thing I turn to when I get on the computer (although once I was temporarily distracted by an amazing White Tiger photo). Anyway, thought you'd like to know.
As the photographic cartoonist in the UK's Amateur Photographer magazine since 2004, I too was delighted to hear from a reader that they went straight to the cartoon every week before starting on the serious stuff.
My question: what does a camera do when it detects a face? No one seems to have mentioned that (in the October 22, 2006 Gary's Parries, Question 1—- Face Detection For All Colors). Does it immediately apply essential cosmetic repairs? Report suspicious characters by Wi-Fi to the nearest police station? Add that face to photos of the same person in a particular folder?
With regard to your Gary's Parries column intro, I particularly enjoy your parries to the occasional correspondent that comments, "I think you meant to say that you have more digital camera knowledge in your 'little finger' than most people have in their 'entire brain'!" I wonder what it's like for those people to be totally lacking in any sense of humour?
All good wishes,
Geoff Oakshott
***
*** ANSWER 1
***
Geoff, thank you for the kind words and wishes. It is certainly nice to hear when your work is appreciated. As for the occasional correspondent that offers their correction to the Gary's Parries column intro, I often wonder, could it be that it is 'their' humor that is going over 'my' head?
In the October 22, 2006 Gary's Parries, we discussed how a camera might perform face detection, but as you pointed out in your question, we never discussed what the camera would do with that information. The answer is, it depends on the camera.
For example, the Fujifilm FinePix S6000fd (a.k.a. S6500fd) was the first digital camera to feature 'hardware'-based face detection. Upon its simultaneous detection of up to 10 faces, the camera prioritizes them, and then adjusts its settings for the proper focus and exposure of the highest priority face(s). The camera also tracks the face(s) to ensure they remain focused throughout their movement in the frame. And because Fuji's face detection is totally hardware based, it can complete all this functionality within 40 ms.
There are also 'software'-based face detection systems for digital cameras. While these cannot equal the performance of hardware-based systems, they often provide more functionality due to the flexibility provided by the ease of programming these features in software versus fabricating them in hardware. FotoNation, a world leader in embedded digital camera software, has developed a face detection system, called Face Tracker, that not only ensures the proper focus, exposure, and tracking, but also the proper color balance for the detected faces.
FotoNation has also ported its Face Tracker to camera phones, and given it even more functionality. Not only do the camera phones automatically adjust focus, exposure, and color balance, all while tracking up to 8 faces with performance comparable to that of digital cameras, but they also feature "automatic image orientation, face cropping, and face thumbnail generation for use in the phone's contact address book."
As face detection algorithms continue to advance, and cameras continue to utilize more powerful processors, it is conceivable, as you suggest, that cameras may someday be able to automatically remove the wart from a person's nose. :)
P.S. I'll bet that you have some interesting cartoons for this day. Remember, remember the 5th of November.
***
*** QUESTION 2—- CAN'T SEE THE FOREST FOR THE (WHITEWASHED) TREES
***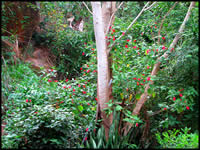 Gary,
I take a lot of pictures in the garden, and when I zoom back to get the forest, I get a lot of white reflection. The reflection is not visible to the naked eye, but you can see it before you take the picture, while viewing through the eyepiece or with the LCD screen of the camera.
Bert
***
*** ANSWER 2
***
Bert, I must admit, when I first read your question, my reaction was, how in the world am I supposed to answer this question with so little information? But then I saw that you had included this accompanying photo, and all was forgiven. :)
I see what you mean about the white reflections. It looks like someone took a paintbrush and literally whitewashed the tree trunk. If I were the suspicious type, I might even think this really was a whitewash, especially when you say that you can see it while VIEWING THROUGH THE EYEPIECE; however, since I have a trusting nature, I will take you at your word that the white reflection is NOT visible to the naked eye.
If that is the case, then the only other possibility is blown highlights from the sunlight reflecting off the tree trunk. If you look closely at the branches of the tree, you can see the white reflection there, as well. Since your photo had all its EXIF information intact, I was able to determine that you were using a Canon PowerShot S3 IS, which has been documented for problems with blown highlights in high-contrast scenes when using the camera's Auto mode (which you were using). The S3 also has an electronic viewfinder, which explains why you see the white reflections when viewing 'through' the eyepiece.
The remedy to this problem is to set your exposure compensation down, say -1 EV or so, in order to prevent the blown highlights. This could also result in some loss of shadow detail; however, since the scene has minimal shadow areas, that would be a reasonable tradeoff.
If you really want to get fancy, you can bracket your exposure (instructions for this can be found in the user's manual), and then use a post-processing program like PhotoShop to digitally combine the three images, utilizing only the properly exposed areas of each.
***
*** QUESTION 3—- PERFECT POCKET/PORTRAIT/WEDDING CAMERA
***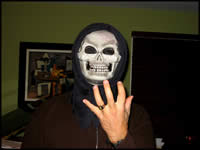 Hello Gary, and thank you for your time.
My name is Melanie. I need help with choosing an appropriate camera, one that will be suitable for both personal use and professional portraits. I've been saving a little money each month to purchase a digital camera; however, I am lost when it comes to choosing one. I have limited funds, but I still want a camera that will produce quality photos.
I have experience in the portrait studio industry, but was trained on a stationary SLR, so I haven't a clue as to how to properly work a handheld camera. I have always wanted to begin a photography business of my own, just taking portraits, and possibly pursuing wedding photography when I have time to learn more.
I have confidence in myself, and in my abilities to produce outstanding, high quality pictures; however, I do not know where to begin when it comes to choosing a camera. It seems that many people would rather discourage me than offer useful advice, and the sales clerks only want to make a high commission (can't say that I blame them).
I saw your Gary's Parries column, and thought that you might be able to help with my dilemma. Again, thank you for your time.
Sincerely,
Melanie Tanksley
***
*** ANSWER 3
***
Gary's Parries is the exclusive distributor for Leika Wan2B brand digital cameras. These cameras are perfect for everyday use, with a non-removable camera strap that enables you to hang the camera around your neck and take it with you wherever you go. They also happen to come with a tripod mount attachment that easily glues to the side of the camera for portrait orientation. As luck would have it, these cameras are also perfect for weddings, with preprogrammed songs such as the Wedding March, The Impossible Dream, Helter Skelter, and other favorites built right in. :)
Seriously though, Melanie, I see your dilemma. You want a great pocket camera that you can easily carry with you when you are out and about, but you also want a camera that has the image quality you need for professional portraits, and one that is versatile enough for weddings, as well. Not an easy order to fill.
What I can tell you is this: good portrait cameras make lousy pocket cameras, but a good pocket camera will do a reasonably good job with portraits and weddings. That is what I would recommend at this time, a good pocket camera. When it comes time to get more serious with your professional pursuits, you will probably want to get a specialized second camera. So keep saving your money.
Since you mentioned that you are familiar with the use of SLR-style cameras, I would recommend getting something more than just a simple 'point & shoot' pocket camera. I would recommend one that offers manual controls, as well.
The obvious choice is the Canon PowerShot G7. It has excellent image quality, is small enough to easily fit into a handbag or coat pocket, and offers full-manual controls for when you feel the need to go beyond its excellent point & shoot capabilities. If its list price of $600 is a bit more than you wanted to spend, the Canon PowerShot A710 IS, which lists for $400, is almost as good in every respect.
I have also seen many cases where people thought they wanted a camera with manual controls, but then ended up using it in auto mode all the time, mainly because auto mode does a good job with most shooting situations. If you think you can get by without manual controls, then I would recommend the Canon PowerShot SD700 IS, which lists for $500, but which is much more pocketable than the G7 or A710.
I am sure you've noticed that the three cameras I recommended are all made by Canon. This is not meant in any way to suggest that cameras made by Nikon, Fuji, Panasonic, and others would not be as good. To the contrary, there are many brands of cameras for your intended use, but I did not want to confuse the issue with too many choices. The three Canons I have recommended offer enough similarities that their differences will be easy for you to compare.
And that is also what I would recommend. Go to your local camera shop and compare the three cameras. See which one suits you best. See which one feels best. See which one looks best. They are all top-notch Canons, so you really can't go too far wrong with whichever one you choose.
Unfortunately, Gary's Parries does not receive any kickbacks from Canon, only from the Leika Wan2B's. :)
***
*** QUESTION 4—- GET WELL NICK IN JAPAN
***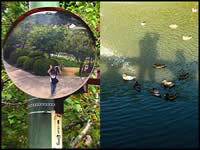 Hi Gary,
I am Sanae, Nick's wife in Japan.
Nick is in the hospital, and he is sorry that he can't correspond with you right now. He will have to be in the hospital for at least a week. He asked me to tell you that when he is in a lot of pain, he thinks of your humor, and that gives him power. As soon as he gets out of the hospital, he will write to you again.
Take care!
[Note: Since Nick is always with camera, we have seen many pictures of his family, but none of Nick himself. Here are two rare exceptions. – Ed.]
***
*** ANSWER 4
***
Sanae, thank you for letting us know about Nick's hospital stay. His presence is missed, not only on this thread, but throughout PhotographyBLOG. Please tell him that we wish him a speedy recovery, and we look forward to his return.
P.S. I would personally like to know which of his cameras he brought with him to the hospital, and how many of the nurses he has already photographed. :)
***
[Column photo "The Photographer" by Brenda LaFleur of Brenda LaFleur Photography.]