Gigapan Partners with Promote Systems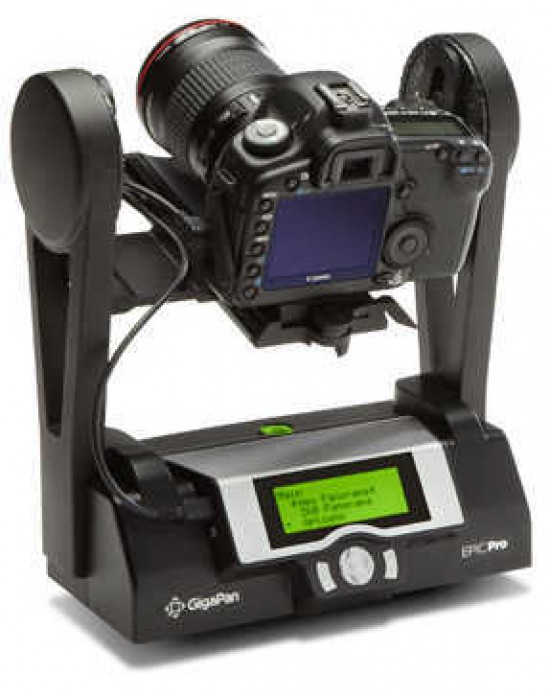 Gigapan and Promote Systems have united to help photographers simplify their workflow process when creating HDR and focus stacked gigapixel imagery. The Promote Control, an all-in-one, advanced remote control for digital SLR cameras, enhances the Gigapan EPIC Pro robotic camera mount (pictured) by increasing the flexibility in exposure bracketing needed to create high-quality images. "Combining the Promote Control with the EPIC Pro takes shooting HDR and focus stacked imagery to a higher level," said Josh Friedman, CEO of Gigapan. "It makes it immensely easier for photographers to capture stunning and highly technical shots with more control and options when shooting high-resolution panoramic images."
Gigapan Press Release
GIGAPAN AND PROMOTE SYSTEMS COLLABORATE IN CREATING HIGH-RESOLUTION IMAGES

Companies Offering Advanced Options for Gigapixel Photography

Portland, Ore. – July 17, 2013 – Gigapan and Promote Systems have united to help photographers simplify their workflow process when creating High Dynamic Range (HDR) and focus stacked gigapixel imagery. The Promote Control, an all-in-one, advanced remote control for digital SLR cameras, enhances the Gigapan EPIC Pro robotic camera mount by increasing the flexibility in exposure bracketing needed to create high-quality images.

The EPIC Pro and the Promote Control automatically capture high-resolution panoramas with almost any camera and lens combination. The Promote Control connects to both the camera and the EPIC Pro, allowing the EPIC Pro to manage the exposure time at each image location, while the Promote Control triggers the camera. The EPIC Pro automatically shoots hundreds or thousands of photos, as the Promote Control assists with HDR and focus stacking. The Promote Control also manages the camera's image capture and lens focal plane adjustment.

A new instructional video demonstrates the EPIC Pro and the Promote Control working together, and a new gallery on gigapan.com has also been added, featuring images shot using both technologies.

With the EPIC Pro and Promote Control, photographers have the ability to:

- Easily take up to 45 photos at an individual location during the capture process for HDR
- Control the camera to take up to 120 different focal planes at each location for focus stacking, creating an amazing image that is tack sharp from front to back
- Capture exposures anywhere from 1/8000 of a second up to several hours
- Automatically switch to Bulb mode bracketing for images longer than 30 seconds

"Combining the Promote Control with the EPIC Pro takes shooting HDR and focus stacked imagery to a higher level," said Josh Friedman, CEO of Gigapan. "It makes it immensely easier for photographers to capture stunning and highly technical shots with more control and options when shooting high-resolution panoramic images."

"In my desire to document the drastic changes the climate continues to have on the Columbia Icefield in the Canadian Rockies, I envisioned panoramic images that not only captured high resolution, but also allowed exposure brackets to shoot in HDR to show depth and clarity," said Joe Poulton, professional photographer, Columbia Icefield Gigapixel Project. "The combination of Promote Control and the Gigapan EPIC Pro helped create my initial image of the Athabasca Glacier. I will continue to capture aspects of the Columbia Icefield, as weather permits, using this combined system."

"The Gigapan EPIC Pro is a perfect companion for panoramic imaging professionals and amateurs alike," noted Artyom Kamshilin, inventor and chief designer of the Promote Control.
"When paired with a Promote Control, the combination offers unparalleled flexibility, reliability and ease of use for both HDR and focus stacked panoramas."

An instructional video on using both products together can be found at http://youtu.be/ppyKLTF_Npg. Joe Poulton's gigapan of the Athabasca Glacier can be viewed at http://gigapan.com/gigapans/132915.

ABOUT GIGAPAN
Gigapan provides a unique, integrated system, which enables users to craft, share, store, monetize and experience high-resolution imagery in a creative ecosystem of hardware, software, and viewers. Pioneered by NASA's Mars Rover Program in conjunction with Carnegie Mellon University and Google, the company commercially emerged in 2008 to bring gigapixel imagery to photographers, educators, and image creators. Gigapan offers a range of panoheads, a full suite of stitch software, flexible and customizable viewers and expansive sharing capabilities.

ABOUT PROMOTE SYSTEMS
Promote Systems is a well-known designer and manufacturer of the Promote Control, a leading multi-purpose remote control solution for digital cameras. Originally designed for extended HDR bracketing and time-Lapse, the Promote Control now also offers focus stacking and bulb ramping, and is an indispensable tool for thousands of professionals and amateurs alike.
Your Comments