Hama Caseman Bags Announced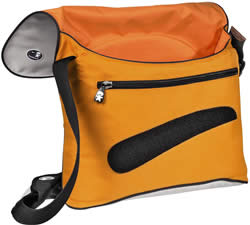 Hama Press Release
Caseman – the new case brand by Hama - Forward – Fresh – Functional
Whether laptop, digital camera or mobile phone – high-tech products require protection—however that doesn't mean they have to stick to traditional designs! In the Caseman range, Hama presents a new series which combines fashionable colours and designs with practical features. The Caseman range is divided into notebook, camera and mobile phone cases. All models are made of hard-wearing nylon in four fashionable colour combinations: grey-orange, black-brown, olive-brown and green-olive.
Hama offers cleverly equipped college-type shoulder bags for notebooks and so-called Covers - slim protective cases which still provide additional storage space for pens, business cards or small USB sticks. Both versions are available for 15.4 and 17 inch notebooks, and anyone who wants to remain flexible where space is concerned can combine the College Bag and Cover at will.
There are currently three case sizes for digital cameras and two case sizes for mobile phones. However, the range is being expanded step by step. The details of the camera and mobile phone cases leave you in no doubt as to their quality: The extended flap lid with the small pocket inside, the sophisticated design of the belt loop and the stretch inserts on both sides for a perfect fit.
Notebook
23916-19 Caseman Notebook Cover 15.4''
23920-23 Caseman College 15.4''
23924-27 Caseman Notebook Cover 17''
23928-31 Caseman College 17''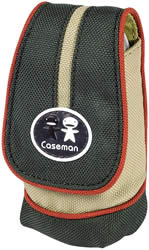 Top-loading camera cases
28294/28297/28300/28303 Caseman DF 10
Inner dimensions: 5.5 (W) x 2.5 (D) x 8.5 (H) cm
28295/28298/28301/28304 Caseman DF 20
Inner dimensions: 6 (W) x 3 (D) x 9.5 (H) cm
28296/28299/28302/28305 Caseman DF 30
Inner dimensions: 7.5 (W) x 4.5 (D) x 11 (H) cm
Top-loading mobile phone cases
75675/77/79/81 Caseman size 1
Inner dimensions: 5 (W) x 2.5 (D) x 9.5 (H) cm
75676/78/80/82 Caseman size 2
Inner dimensions: 4.5 (W) x 3 (D) x 11 (H) cm