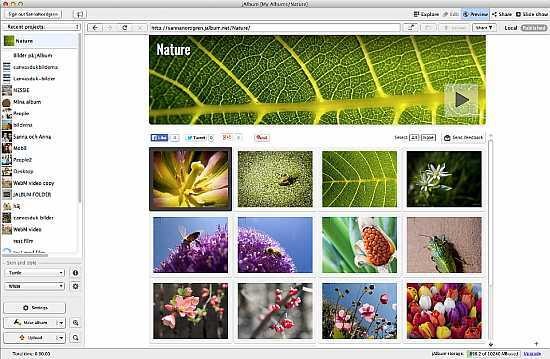 jAlbum has launched Version 12 of its desktop software. Founded in 2002 by David Ekholm, jAlbum is one of the world's most powerful web gallery creating applications. Version 12 is up to 5x faster in dealing with images loaded over network drives, has a redesigned user interface with an all-new "Effects" settings tab, and features an integrated Web browser. For more information visit the website below.
Website: jAlbum
jAlbum Press Release
jAlbum 12 brings cool new features
We're excited to tell you about the improvements that have been added to the long-awaited v12 release of our desktop software. It's been a year since the last major release, where we added support for 164 video formats. This version focuses on improving the user experience.
David Ekholm, Founder and CEO
Faster
jAlbum 12 is significantly faster in dealing with images loaded over network drives. A typical project that took 15 seconds to open over a network drive now opens in 3 seconds. Significant improvement during resumed build of previously interrupted albums . No unnecessary re-processing of images and videos anymore – jAlbum now remembers their build settings.
Integrated web browser
Web browser with classical browser functions for previewing a local album and viewing the final published album. Updates the local album in the background and reloads the display as you play with skin- and style changes.
New User Interface
The new user interface is designed to help you during the album work, with toned dowd cleaner icons that change vith view modes, a new notification center, better organized righ panel in edit mode, and separate preview buttons for the local and the uploaded albums.
Effects panel
New "Effects" settings tab allowing easy and detailed control of album-wide image effects like watermarks/texts, logos, grayscale, auto-correct and artistic filters via an easy to use interface. (Effects applies to all images unlike their "Image tools" counterparts).
jAlbum awards and reviews:
The European Business Awards engaged an amazing 17,000 companies this year! jAlbum National Champion in the European Business Awards
2013/14

jAlbum voted Sweden's National Public Champions
2013/14
Your Comments