Kristen Ashburn wins Canon Female Photojournalist Award 2004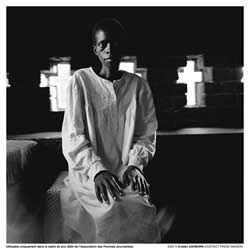 ?2002 Kristen Ashburn, Canon Female Photojournalist Award 2004, Agency: Contact Press Images
Canon UK Press Release 18/10/04
US photographer Kristen Ashburn has become the fourth woman to win the Canon Female Photojournalist Award, for her images depicting HIV in Zimbabwe and its impact on daily life, and the country's culture and economy. The award was granted by the French Association of Women Journalists (AFJ) at the 16th International Festival of Photojournalism Visa pour l'Image in Perpignan, France, on 3 September 2004.
The Canon Female Photojournalist Award, was initiated in 2001 by Guy Bourreau, Marketing Director of Canon Communication & Image in France and AFJ. It aims to support and highlight the work of female photographers around the world. "Women make up only 11% of the world's photojournalists," explains Bourreau. "Through its support and its technology, Canon is committed to meeting the needs of all photographers - male and female. With this award we are aiming to address the under-representation of women in this field and draw attention to the diverse work female photojournalists produce."
Supporting future work
Canon Europe joined forces with AFJ for the award, which has proven to be an immediate success. The numbers of entries received increase each year ? over 130 professional photojournalists entered in 2004. The last three years have demonstrated that the ?8,000 Canon grant paid to the award winner is money well spent. It not only rewards the photographer for past work, but also enables her to pursue a year-long documentary photography project on the subject of her choice. The winner is given the opportunity to present her completed project at the following year?s Visa pour l?Image.
2004 jury?s decision
The 2004 jury, comprising AFJ representatives as well as other first-class photography and press professionals, voted unanimously for Ashburn. ?During the deliberations, the jury was always coming back to Kristen Ashburn?s images. Those extraordinary photographs of AIDS in Africa tear our hearts in their agonizing simplicity,? explained Eliane Laffont, Editorial Director of Hachette Filipacchi Media US. Magdalena Herrera, Artistic Director of the French edition of National Geographic Magazine, described Ashburn?s images as ?full of tenderness and feelings for humanity.?
HIV in Zimbabwe
Ashburn joined Contact Press Images in 2001 and began to photograph the effects of AIDS in southern Africa; in 2002 she received the Marty Forscher Fellowship for Humanistic Photography for her work. Ashburn?s powerful and moving portfolio shows how Zimbabwe, with 35% of the population infected by HIV, deals with the absence of parents, teachers, workers and food. Ashburn intends to use the Canon grant to continue her work in Africa.
Kristen Ashburn ? humanitarian photographer
Ashburn was born in 1973 and is based in New York, working for Contact Press Images. In addition to her humanitarian photography work, she teaches photography to Rwandan orphans. She contributed to the book Day in the Life of Africa, published in 2002. In 2004 Photo District News named Ashburn one of the 30 Emerging Photographers to Watch. She will be a participant in the World Press Photo?s prestigious ?Joop Swart Master Class? in Amsterdam, The Netherlands in November 2004. Canon is a sponsor of World Press Photo.
To see Ashburn?s work on HIV in Zimbabwe, visit her website: http://www.kristenashburn.com