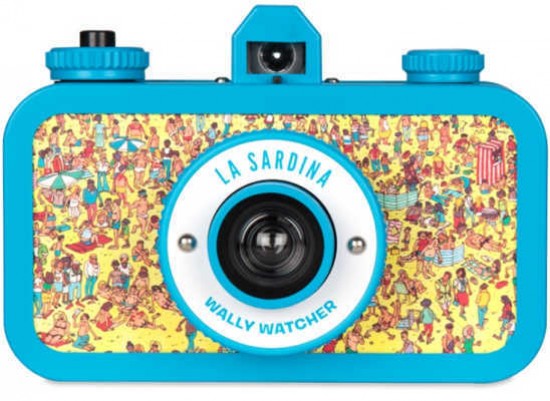 Lomography has released a special, limited edition version of its 'La Sardina' camera to celebrate the 25th anniversary of Where's Wally? (known in the United States and Canada as Where's Waldo?). Shaped like a humble sardine can, the La Sardina Wally Watcher 35mm film camera offers a 22mm wide-angle lens, double exposures and long time exposures. Also equipped with a Wally embossed lens cap, the La Sardina Wally Watcher edition is priced at £65.
Lomography Press Release
THE LA SARDINA WALLY WATCHER CAMERA

Capture your "I found Wally" Moment: Take your best shot of Wally ... if you can find him.

Childhood memories, film photography and finding Wally: Forgot about film photography? Or even worse, forgot about Wally?  
La Sardina Camera Collection: Lomography's La Sardina cameras are available in all kinds of fabulous designs and colours!
Price: £65

CAPTURE YOUR "I FOUND WALLY" MOMENT
After spending hours and hours of looking for Wally, selecting him from thousands of people, it would be a shame to find him and NOT capture this moment! And who would believe you found him if there's no photo as proof? No photo, no truth!
Our brand new La Sardina Wally Watcher Edition is the perfect camera for this occasion.  If you haven't found him yet, maybe you can see him through the viewfinder of the Wally Watcher. The funny printed La Sardina will help you to never lose sight of things again!
CHILDHOOD MEMORIES, FILM PHOTOGRAPHY AND FINDING WALLY
Big pictures with hundreds of people... finding Wally and his friends has always been an adventure for your kids, or even for you as a kid. It's the same as taking analogue Photos, loads of fun and always exciting. Now you can find one of these Where is Wally pictures on our brand new La Sardina Wally Watcher camera. This La Sardina is perfect as a gift for your little ones or your friends.
LA SARDINA CAMERA COLLECTION
The La Sardina camera collection has grown a lot since its introduction in 2011! You can now choose between multicolor or monochrome, black or white, plastic or metal and very fishy or luxury La Sardina camera editions! The more classy ones will prefer the metallic versions like the Czar, Belle Starr or Splendour edition, while the wilder ones will go for the bolder El Capitan, Orinoco Ochre, Quadrat or Grand Cru models. No matter how hungry you are for creative photography, La Sardina will satisfy your analogue appetite!
WHERE'S WALLY? SNAPPED BY LOMOGRAPHY

Analogue photography fanatics, Lomography, have collaborated on a special, limited edition version of its popular 'La Sardina' camera to celebrate the 25th Anniversary of intrepid world traveller, Where's Wally?

The La Sardina 'Wally Watcher' camera is packed with fun features. It shoots regular 35mm film, has a wide-angle lens and features a rewind dial so you can turn back frames at any time you want. It also has a Wally embossed lens cap to protect your photography companion when you are out and about on your travels.   

The special edition camera is destined to become a collector's item for creative analogue photo enthusiasts and Wally fans all over the world. 

Available in this very special beach scene design, fans can discover an ocean of analogue possibilities with the La Sardina 'Wally Watcher' today!

The La Sardina Wally Watcher camera will be available online from 22nd August at www.lomography.com.

It will also be available worldwide at Lomography Gallery Stores and select in-store boutiques from September.  

The camera will cost £65.00.
About La Sardina Wally Watcher Camera
Shaped like a humble sardine can, the La Sardina Wally Watcher camera offers everything an analogue camera can feature: Wide angle shots, double exposures and long time exposures. The 22mm wide angle lens makes this camera the perfect tool to snap away without being worried about the outcome – almost everything in front of the lens will find its way on the film inside the camera.  Simply load a regular 135 film and get stared.

Technical details:
Film Type: Standard 135 film
Exposure area: 36 x 24mm
Lens focal length: 22 mm
Aperture: 1:8
Angle of view: 88 degrees
Focusing range: 0.6m - infinity
Shutter speed: N (1/100), B (bulb)
Multiple exposure: independent MX switch
Flash contact: Unique Sardina flash contact
Tripod socket thread: Standard 1Ž4" tripod socket
Cable release: Universal cable release socket
Your Comments