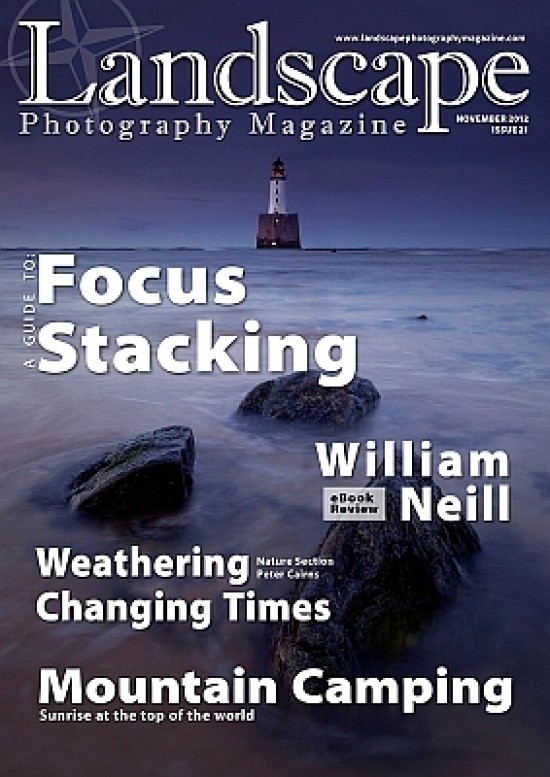 Issue 21 of Landscape Photography Magazine is now available to download.This edition includes a guide to focus stacking, written by Michael Breitung, a review of four ebooks by David Hay, an interview with William Neill, the portfolios of Austin Thomas, Richard Hurst and Tom Shapira, and much more. Do note that the full contents of Landscape Photography Magazine are available to subscribers only.
Website: Landscape Photography Magazine
Press Release
Landscape Photography magazine
Issue 21 of landscape photography magazine is out now.
Published every month, LPM and its accompanying website has over 160,000 unique visitors in more than 190 countries, making it a truly international photography magazine for the digital age. Packed with refreshing content, exciting features and stunning imagery from around the world - all provided by innovative professionals who share one passion - that of landscape photography. It makes no difference if you are using a large format or a compact camera, LPM welcomes everyone the same way. We are here to promote, educate, inspire; this is what we do, this is who we are.
This is what we have in store for you this month:
A guide to: Focus Stacking with Michael Breitung
Aperture: Better things come to those who wait with Fran Halsall
Addendum: Wild camping with Paul Allen
Book Review: David Hay is reviewing four ebooks written by William Neill
Boris Mar is back from Western Australia
Creative Notes: Icicles in the subway with Guy Tal
Expose: Chris Gomersall
Featured Artist: This month we display the work of nature photographer Austin Thomas
Foto Talk: The magic snow with Trevor Anderson
Hay Fever: A sense of tranquillity with David Hay
In Conversation: This month we are interviewing William Neill
Landscape Travels: Sunset, South China Sea with Keith Wilson
On the map: Abraham Lake, Canada with Bruce Smith
Pro Talk: Look behind you with Ian Plant
Portfolios: Richard Hurst and Tom Shapira.
Seven Tenths: Nungwi, Zanzibar with Jonathan Chritchley
Spotlight: Empty spaces with Dimitri Vasileiou
Tips & Tales: A Traveller's Tale with Simon Watkinson
Terra Fauna: Weathering Changing Times with Peter Cairns
Finally, this month we start our new series of gear test and we introduce the Olympus OM-D.
Note that the full contents of Landscape Photography Magazine are available to subscribers only.
And of course, some exceptional landscape and nature photography sent in by our readers. These are the subjects we are analysing in depth.
Landscape Photography magazine, a publication full of inspiration.
http://landscapephotographymagazine.com/
Your Comments