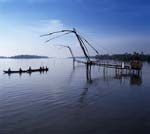 Light & Land has announced its 2009 photography tour dates. With over 50 tours planned for next year, whether you are looking for a one day workshop, a long weekend in the Lake District, a saunter round Santorini, or a trek across the Namib Desert, there's something for every photographer. Founder Charlie Waite said: 'Light & Land has clients from all walks of life and of all ages – you will often find there's an amazing bond which forms on many tours, a great sense of camaraderie and fun, as well as a shared interest in photography.'
Light & Land Press Release
Light & Land announces 2009 dates and NEW locations
3 November 2008
Light & Land has announced its 2009 tour dates and has added brand new locations to its extensive range of trips – full details of which can be found at www.lightandland.co.uk.
With over 50 tours planned for next year, whether you are looking for a one day workshop, a long weekend in the Lake District, a saunter round Santorini, or a trek across the Namib Desert, there's something for every photographer.
Charlie Waite - founder of Light & Land almost 15 years ago - will be leading brand new tours to Kerala in India during November 09. This 12 day tour begins in Cochin, the ancient gateway to Kerala with its historic Jewish quarter, and then moves on to the incredibly beautiful rolling hills and tea plantations of Munnar. The group will also experience true wilderness in The Periyar Tiger reserve, a thickly forested wildlife sanctuary teeming with wildlife including enchanting flying squirrels, herds of elephants and, hopefully, a glimpse of a tiger. In contrast to the wilderness, clients will then spend a couple of days cruising the tranquil backwaters aboard a beautiful traditional houseboat. The tour will finish with two nights at the wonderful Coconut Lagoon Resort, rated amongst the top 10 heritage hotels in the world.
There's also a new trip to Australia which will visit Kakadu National park. From magnetic termite mounds to crocodiles to aboriginal rock art, this outstanding tour is full of amazing opportunities for photography. The tour uses 4-wheel-drives to reach remote and less visited areas of this pristine wilderness region. Highlights include the Koolpin Gorge, only accessible by special permit, and nearby Nourlangie Rock which has some of the best aboriginal art galleries in Kakadu. The group also has the rare chance to spend three nights in the Mount Borradaile area, a remote, pristine wilderness environment unmatched in its beauty and diversity.
Charlie Waite said:  'Light & Land is built upon the reputation and unique ability of a select group of world class photographers who are passionate about their craft of photography. We all share the common objective of conveying this passion, coupled with technical knowledge and specialist 'know-how', to each and every person on our trips.
'We plan our own bespoke tours, taking in the best locations at the best times.  All levels of photographic experience are welcome and all emerge from a Light & Land workshop or tour feeling a renewed sense of determination and photographic inspiration.
'Light & Land has clients from all walks of life and of all ages – you will often find there's an amazing bond which forms on many tours, a great sense of camaraderie and fun, as well as a shared interest in photography.'
Tours which are coming up in 2009 include:
February Venice
Winter in Glencoe
March West Cornwall
Andalucia
May Snowdonia
Tuscany
Eigg
June Dolomites
Exmoor
Knoydart
Santorini
July Provence
For more information contact Jenny, Claire or David at the Light & Land office on 01432 839111 or visit www.lightandland.co.uk
Photo credit ©Charlie Waite 2008.
Your Comments