Lomography Belair X 6-12 35mm Back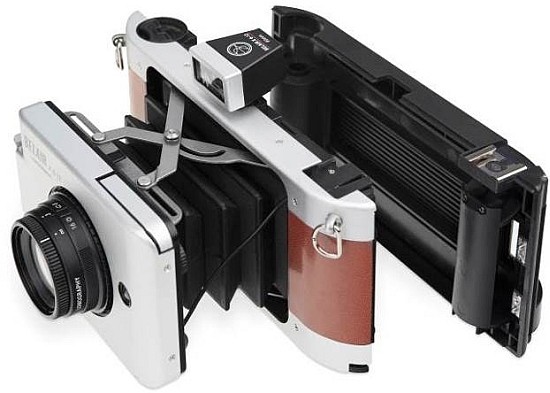 Lomography has launched a new 35mm film back for its medium-format Belair X 6-12 camera. With this adapter, users of the Belair X 6-12 camera can make impressive panoramic shots on regular 35mm film. The extensive exposure area of 104x33mm enables them to capture images with a rather extreme aspect ratio of 3.15:1. Available in the Lomography Online Shop, the 35mm back fpr the Belair X 6-12 camera retails for £55.
Website: Lomography Online Shop
Lomography Press Release
THE BELAIR X 6-12 35MM BACK
ENTERING A NEW DIMENSION: The Belair X 6-12 jets off to new analogue destinations with the brand-new 35mm Back.
LARGER THAN LIFE: An extra-long panoramic format for capturing everything in sight!
A VERSTATILE HIGH FLYER: Even more creative possibilities for the already flexible medium-format camera
NEW PANORAMIC PERSPECTIVES
Lomography's new medium-format camera just got even better. Exclusively designed for the Belair X 6-12, this 35mm Back now allows you to shoot ALL types of 35mm film with your medium-format Belair camera. This ingenuous accessory is fully interchangeable so it's super-easy to install and remove. An integrated exposure counters tell you the precise frame you're on. Simply attach it onto your Belair X 6-12, load your favorite 35mm film and start capturing the world in all its sprocket-filled glory!
The 35mm Back is now available in our Online Shop. Check out our interesting bundle promotions!
LARGER THAN LIFE
With this innovative adaptor you can make impressive panoramic shots on regular 35mm film. The extensive exposure area of 104 x 33mm will reward you with outstandingly sharp landscape and group portraits photos. Turned vertically you can now shoot jaw-dropping head-to-toe portraits or the Empire State Building in a single shot. Whatever angle you choose, you're sure to give your analogue creativity a new edge.
A VERSATILE HIGH FLYER
Our pioneering film camera brings Lomographers a unique lens quality on 120 and now 35mm film formats. The Belair X 6-12 brings together knock-out sharpness, interchangeable lenses, auto-exposure and multiple exposure features. In addition to our latest 35mm back innovation, we have also extended the Belair X 6-12 accessory range with two new 90mm and 114mm Russian-made Glass Lenses offering analogue photographers a whole new level of detail, sharpness and an incredibly narrow depth of field.
For more info, visit: http://lomography.com/belair
PRODUCT DETAILS
Camera Compatibilities: Lomography Belair X 6-12
Film: Standard 135 roll film
Exposure Area: 104 x 33mm
Exposure Per Roll: 11-12 exposures (On a typical 36 exposure 35mm roll of film)
Film Stopping: Yes
Flash Connection: Universal Hot-Shoe
PRICE
£55
Your Comments