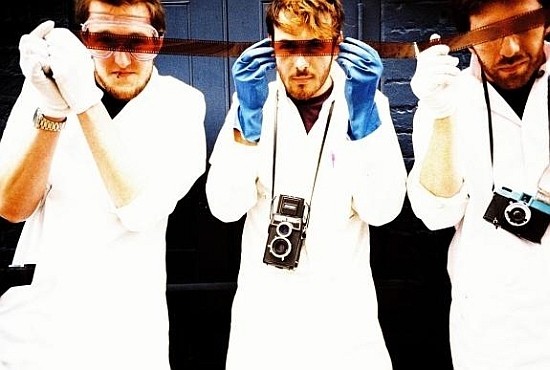 Throughout May Lomography will be celebrating the first anniversary of its first LomoLab in the United Kingdom. The Lomography Lab month will see each Lomography Gallery Store (Soho, East London and Manchester) run a series of promotions, workshops and in-store competitions. Click through / read on for more information on the promotions as well as the LomoLab itself.
Lomography Press Release
LOMOGRAPHY LAB MONTH!
Throughout May Lomography will be celebrating the 1st anniversary of its first Lomography LomoLab here in the UK with a month-long series of promotions and events.
Last March we proudly launched our very own photography lab in the basement of the Lomography Gallery Store East London.  We set up the lab equipment and gathered together a special team of Lab Rats with expert knowledge on all things processing. We gave them some crisp white lab coats, a pack of rubber gloves and set them to work.  One year later and the Lab is now in full swing. We have processed 13,926 rolls of film across our 3 UK stores and Online.
Here's what's on offer in each Lomography Gallery Store in the UK: Lomography Gallery Store Soho, Lomography Gallery Store East London and Lomography Gallery Store Manchester.
Promotions
Week 1: Ready, set, shoot: 10% off all standard 35mm & 120 film processing.
Week 2: Movie Madness: Process 5 LomoKino films get 1 processed free.
Week 3: Big It Up: Half Price Enlargements - 10x10, 10x8 from digital files only.
Week 4: Panorama-Rama: 10% off all panoramic camera processing: Spinner 360, Sprocket Rocket & Horizion services.
Workshops
Each Lomography Gallery Store will be running a series of in-store workshops and events focusing on different techniques for awesome results from processing. Check the Lomography Gallery Store's Facebook pages for more details.
Competition
Each Lomography Gallery Store will be running in-store competitions throughout May.
So head down to any of the Lomography Gallery Stores in May and take us up on some of these great events and promotions! See you soon.
What the Hell is a LomoLab?
www.lomographyuk.com/lomolab
LomoLab Equipment: We use a Fuji Frontier 375 printer, Fuji FP363SC film processor & Fuji SP300 scanner. We also use an Epson V700 flatbed to scan films that are shot on a Spinner 360.
Stats: We get through 1,116 meters of photographic paper each month. We also get through 300/400 litres of photographic chemistry a month, which is the equivalent of about 680 pints, PHEW!
Oldest of roll of film: This was a roll of Kodak Ektachrome that expired in 1985. That's older than all the lab staff!
Average amount of film scanned a day: On average we get 60-70 rolls done a day. Some days we've done 100+
Most popular service: Is develop, scan to CD & prints for 120 film for all three shops and online. This out-strips all other services by far. Second popular is the same service for 35mm film.
Famous people: we've seen pictures of John Malkovich, Alice Dellal, Mike Skinner, Ellie Goulding, Dudley O'Shaughnessy, The Man from Del Monte, Daisy Lowe, Guillemots, Bombay Bicycle Club & Two Door Cinema Club to name a few. We've also processed shoots for Wonderland Magazine, 1883 Magazine, Run Riot, i-D Magazine & Oh Comely Magazine.
What makes our lab different to other labs: It's the amount of time and care we put into each order. We look at each individual frame and make sure that it is the highest possible standard that it can be. We are all photographers/Lomographers so we understand the industry and what Lomographer's are looking for. We are one of the few labs in the country that is bucking the trend, lots of labs are closing down yet we are getting busier and busier!
Where the hell can I find Lomography in the UK?
www.lomographyuk.com
Lomography Gallery Store Soho
3 Newburgh Street
London
W1F 7RE
020 7434 1466
Lomography Gallery Store
East London
117 Commercial Street
London
E1 6BG
020 7426 0999
Lomography Gallery Store Manchester
20 Oldham Street
Manchester
M1 1JN
0161 228 2360
Your Comments