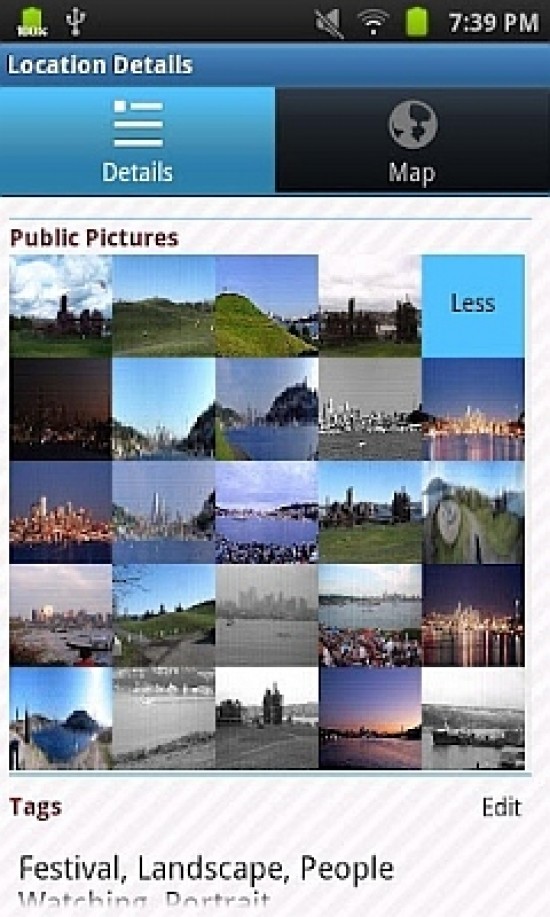 Map-A-Pic for Android has been updated to include a new feature called Public Pictures. "With the Map-A-Pic location scouting app, you can remember every great place you come across, so you can return to it later," the developers say. The app allows users to keep a database of their favourite locations, along with their pictures, notes and tags. The new Public Pictures feature, powered by Panoramio, lets you see the pictures taken by other people at any given place (where available). Map-A-Pic Location Scout is available as a free download from the Android Market.
Sea To Software Press Release
The Location scouting app Map-A-Pic just got better with Public Pictures!
The premium location scouting app for photographers, Map-A-Pic, just got better! With Public Pictures, you now have access to thousands of pictures of your locations, taken by other photographers.
PRLog (Press Release) - Jan 19, 2012 - As a photographer or a film maker, you know the importance of location scouting. Map-A-Pic for Android makes this process easy and intuitive. By keeping a database of all your locations, along with their GPS coordinates, as well as your pictures, notes and tags, Map-A-Pic makes sure you never forget another great location.
Today we're happy to announce an exciting new feature of Map-A-Pic: Public Pictures! For every location, you can now see the pictures taken by other people at that place (where available). This helps you get a fresh look at the place, discover new viewpoints, how it looks in different light and weather, and more. This service is powered by Panoramio™, a popular photo-sharing community that powers Google Earth™.
Map-A-Pic is created by a photographer for photographers. It is built as a tool that you will use again and again. Here are some of the great features of the app:
• One-tap saving of locations (you can add more details later)
• View your locations on a map or as a list
• Filter your locations by tags
• Add pictures to your locations (1 picture, or up to 10 if you purchase this premium paid feature)
• NEW! View public pictures taken by Panoramio™ users at your locations (premium paid feature)
• Get driving/walking directions to any location
• Update the exact location on the map by simply moving the marker with your finger
• Email your locations to yourself or a friend. The emails include all the pics and a link to Google Maps
• Automatically get the street address based on the GPS position of a location. You can edit the address yourself too.
Download Map-A-Pic for FREE from the Android Market: https://market.android.com/details?id=com.seatosoftware.mapapic
Learn more about the app at the official website: http://mapapic.com
Connect with us on Facebook: https://www.facebook.com/pages/Map-A-Pic/286695371375322
Follow us on twitter: @mapapic
Map-A-Pic and Sea To Software, LLC have no relationship or affiliation with, sponsorship, or endorsement by Google, other than their use of the Panoramio Service. Map-A-Pic has not been authored by, and not represents the views or opinions of Google or Google personnel.
Panoramio™ and Google Earth™ are the registered trademarks of Google Inc.
Your Comments