Meyer Optik Görlitz APO-Makro-Plasmat 105mm f2.7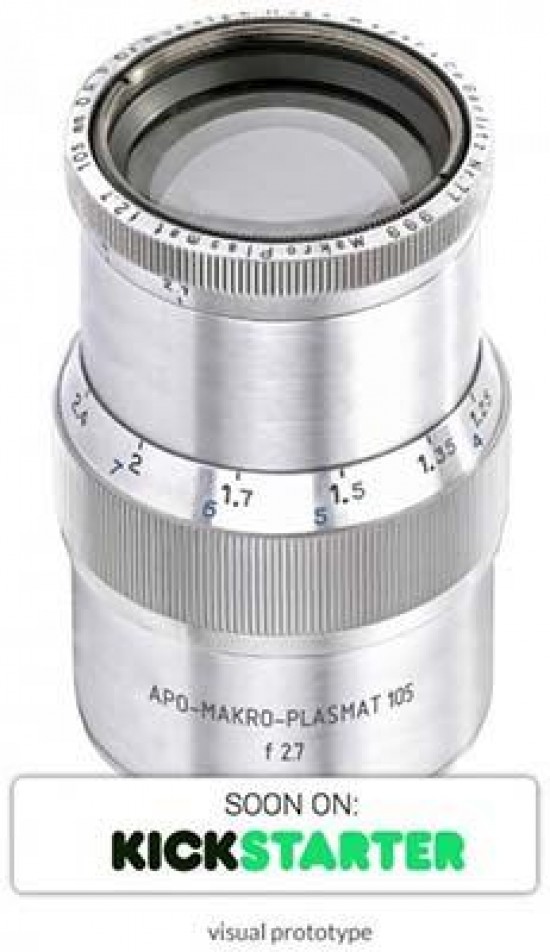 The APO-Makro-Plasmat 105 f2.7 is the latest lens from Meyer Optik Görlitz. The Plasmat lenses, especially the Makro Plasmat (Makro meaning for 35mm film), are probably the most famous lens of the Meyer portfolio. The Apo-Makro Plasmat will launch on Kickstarter on May 1st for $2999.
Meyer-Optik-Görlitz Press Release
Meyer-Optik-Görlitz launches new APO Plasmat 105 f2.7 on Kickstarter
Today the German lens manufacturer Meyer-Optik-Görlitz has launched a Kickstarter campaign to revive and modernize the legendary Plasmat 105 mm lens. The new lens, which is based on the original construction plans of famous Dr. Paul Rudolph, is known for its exceptional plasticity, depth and picturesque imagery from focus to bokeh. Only two hours after the project had started, the financing goal was overachieved by 140% and only few 'early bird' offers are left.
Koblenz, Germany // 4-19-2018
After a record breaking succesful five Kickstarter Projects Meyer-Optik USA has just launched its sixth Crowdfunding Project on Kickstarter to resurrect the legendary Plasmat 105 mm lens. Based on the original construction plans of Dr. Paul Rudolph, which date back to 1920, the lens has become famous for the spacious plasticity generated in the image.
Whilst the unique image quality is maintained, the company intends to carefully reinvent the lens by using best of class glasses from Schott in order to improve the lens to an APO-Makro-105 f2.7 lens. Furthermore, it will be available not only with mounts for Canon, Fuji X, Leica M, Nikon, Sony E but also for mirrorless medium format cameras from Hasselblad and Fuji.
Early backers on Kickstarter benefit from pricings starting at $ 1,049 for a modern version of a historical lens that is currently auctioned for more than $ 30,000.
To see the Kickstarter Campaign visit the following link: Visit the Campaign on Kickstarter
Technical Data:
Focal length: 105 mm
Aperture: f2.7-f22
Mounts: Canon EF - Fuji X - Leica M - Nikon F - Sony E
Medium Format Mounts: Fuji G - Hasselblad X1D
Angle of view: 12,5° / (22° medium format)
Minimum focusing distance: 1,1 m
Filter diameter: 52 mm
Optical design: 6 elements in 5 groups
Aperture blades: 15, steel, special anti reflex coating
Weight: ~ 350g
Rangefinder coupling for Leica M is not supported
Your Comments