Microsoft Changes Rules in Response to Collective Action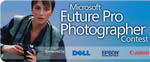 ASMP Press Release
After receiving complaints from ASMP and other trade associations, as well as from individual photographers, Microsoft issued a change in the rules for participation in its student photo competition, the Microsoft Future Pro Photographer Contest. Originally, the contest rules granted an unlimited-use license to Microsoft for ALL images submitted to the competition. The revised version restricts itself to the winners, and grants Microsoft a limited and reasonable use.
Specifically, the rule now reads:
"Submitting an entry does not assign or transfer any ownership or copyrights to Microsoft; those rights remain with the creator of the original work. However as a condition of accepting a prize, you agree to grant Microsoft an irrevocable royalty-free worldwide license to reproduce and display the image, credited with your first and last name, in print and on the web for the purposes of promoting this contest."
ASMP's contacts at Microsoft were very responsive to our concerns and changed the rules within hours of ASMP's communications.
Thanks to everyone who participated in this successful effort.
Details of the Microsoft contest are posted at http://prophoto.microsoft.avitivacorp.com/Site.aspx