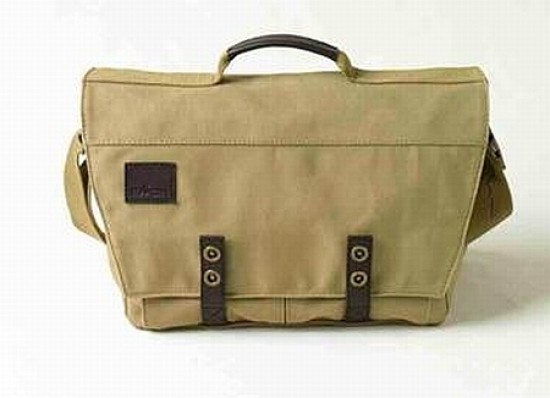 Millican's current collection features several bags that might be of interest to photographers. These include "Mark" the Field Bag (£95, pictured), "Stewart" the Courier Bag (£150), "Stephen" the Waistpack (£75) and "Dave" the Rucksack (£165), all of which are named after the entrepreneurs' friends. Designed - and partly manufactured - in Cumbria, England, Millican bags are distinguished through their casual style, weatherproof canvas exterior, wide shoulder straps and multiple pockets for cables/lenses/batteries and memory cards. For more information, head to the website below.
Website: Home of Millican
Millican Press Release
Millican bags as Camera bags…
We launched Millican in 2009 with the aim to create travel bags steeped in timeless values of honesty, craftsmanship, built to last quality with strong eco and ethical credentials.
We imagined them being used for all sorts of adventures and love hearing stories from customers about where they've been and what they've been up to with "the boys" (all our bags are named after friends here in The Lake District).
One fact that strikes us is how many customers use our bags as alternatives to the conventional camera bags, out there in the market. Feedback about our bags' performance is really positive, with people loving:
·      the casual style (so it's not glaringly obvious that they're carrying photography kit)
·      being Velcro free ( and hence noise free)
·      totally fit for purpose with strong weatherproof canvas outer, wide shoulder straps and multiple pockets for cables/lenses/batteries and memory cards.
Mark the Field Bag, Stewart the Courier Bag, Stephen the Waistpack, and Dave the Rucksack are winning as the photographers' bags of choice from the current collection.
Mark is compact, has easy access and multiple pockets - perfect for a casual day's shooting.
Stewart the Courier Bag is roomy enough to house a more traditional camera or lens bag whilst still providing great style. The roll top opening gives extra security whilst the side pockets keep smaller accessories close to hand. The nine internal pockets provide ample storage for everything you need.
We've been told by outdoor photographers that the best feature of Dave the Rucksack is the double entry access, making it easy to find their equipment quickly, so as not to miss that special shot. Dave is perfect for a long day's shooting, is extremely comfortable to carry and comes with a foldaway rain cover to protect valuable equipment from the inevitable rain showers.
Stephen the Waistpack is favoured by city photographers and particularly cyclists. With its extendable waist strap, Stephen can be worn either as a shoulder bag or as a waist pack (as shown in image above). The roll top access gives added weather protection and security, with an easy access interior and five pockets for storage.
Of course, this message wouldn't be complete without Ian the small Camera Case. Ian is padded with local Herdwick wool and with enough space for a small digital camera, mobile and spare batteries. A leather loop can be used to attach it to another bag or a belt.
Your Comments