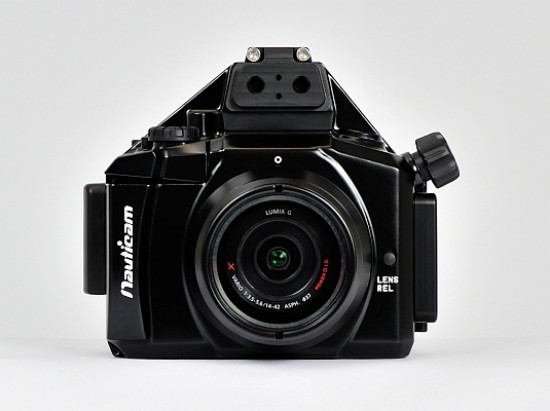 Nauticam has announced a new underwater housing for the Olympus OM-D E-M5 compact system camera. Weighing in at 1.1kg (2.4lbs), the Nauticam NA-EM5 housing boasts a 100m depth rating, and features Nauticam's patented port latching system, a threaded bulkhead port, a new rear mounted housing o-ring as well as a rugged machined aluminium case. To make the most of the E-M5's high-resolution EVF, Nauticam has crafted an optional rear acrylic display window that encompasses a mount for installation of Nauticam's 45º and 180º magnified viewfinders. In the USA, the Nauticam NA-EM5 housing is available for $1350-
Nauticam Press Release
NA-EM5 housing
Nauticam is excited to announce the NA-EM5 for Olympus' flagship Micro Four Thirds (m4/3) format camera, the OM-D E-M5. As the dominant force in mirrorless interchangeable lens camera housings, Nauticam continues to bring professional quality engineering to this rapidly expanding segment of the photographic community. The NA-EM5 should prove to be one of the most potent underwater imaging tools ever developed for this segment, proving once again that great things can come in small packages.
KEY FEATURES
Nauticam NA-EM5 Housing for the Olympus OM-D E-M5
Nauticam has more experience creating underwater housings for compact mirrorless cameras than any other manufacturer in the world. As the Olympus OM-D E-M5 represents a new standard of performance in the popular m4/3 format, Nauticam sought to create a housing that would exploit this new level of capability to the fullest. Designed by underwater photographers to maximize the essential features most important in these specialized circumstances, the new NA-EM5 meets and exceeds expectations in virtually every regard.
All Nauticam housings are designed for ease of use and maintenance and the NA-EM5 builds on this solid foundation. The groundbreaking features of previous housings are present such as the effortless (but secure) single rotating housing latch, rugged machined aluminum case, 100 meter depth rating and the patented port latching system. A new rear mounted housing o-ring makes maintenance easier than ever, while a threaded bulkhead port allows for an HDMI or electrical strobe synch bulkhead installation – advanced features often omitted by mirrorless housing manufacturers. Of course dual fiber optic synch ports are standard and take advantage of the supplied Olympus accessory flash. To make the most of the E-M5's excellent EVF, Nauticam has crafted an optional rear acrylic display window that encompasses a mount for installation of Nauticam's acclaimed 45º and 180º magnified view finders for the ultimate in composition and focus ability.
All controls on the NA-EM5 are engineered for optimal ergonomics. The Olympus Main and Sub dials are easily reached by thumb or forefinger with no need to release grip on the housing while adjusting aperture and shutter speed. The important Fn1 and Fn2 buttons are just as easy to reach and can be programmed for a multitude of functions. A few of the useful settings are AF Lock, One-touch White Balance, Manual Focus, ISO and Exposure Compensation. Switching between LV and the EVF is a snap and a quick press of the Info button can show or hide Olympus' new LV super control panel on the OLED screen for quick access to many critical settings. The mode dial can easily be turned through the typical P, A, S, M, Movie mode and some "easy shooting modes". Controls need to offer a proper "feel" and Nauticam's patented two-stage lever shutter release allows for natural, precise focus and shutter release activation. Every one of the features on the new NA-EM5 is engineered to the same exacting tolerances of Nauticam's now famous line of DSLR housings. That quality will surely be reflected in every picture taken with this remarkably powerful imaging system.
Ports for every Need
A big part of the Micro Four Thirds format's popularity is a great lens selection for both topside and underwater. Nauticam manufactures an extensive line of compact ports to accommodate many of the best lenses for m4/3. Lenses that are particularly well suited for underwater use include the Panasonic 8mm fisheye, Panasonic 7-14mm, Olympus 9-18mm, Panasonic 14mm, Olympus 14-42, Panasonic 14-42mm, Panasonic 45mm macro, 60mm macro (upcoming), new Olympus 12-50 w/ macro (Supported by a special new Nauticam port for power zoom and macro switch).
Nauticam Build Quality
Only the finest materials and cutting edge manufacturing processes are used to make Nauticam housings. The housing body is machined from solid aircraft grade aluminum, then hard anodized making it impervious to salt water and providing an impressive 100 meter depth rating. The large acrylic LCD window is treated with an anti-reflective, scratch resistant coating.
Light and Accessory Mounting, Trays and Handles
The optional Nauticam Flexitray provides a lightweight, compact mounting solution for strobe arms and the NA-EM5 housing. Nauticam uses a sophisticated over-mold process to produce extremely comfortable rubberized ergonomic handgrips. The soft feel and ergonomic design make the housing easy to grip and minimize hand fatigue on long dives. Both single and double handle configurations are available for complete customization, and each handle can be adjusted laterally allowing the user to dial in perfect fit. A hand strap is also available for those wishing an even smaller profile.
Nauticam offers a full range of mounting hardware arms, clamps, strobe adapters, and other specialized accessories. Mounting options on the NA-EM5 include mounting balls or t-plates on the tray handles, mounting on the housing, and an accessory cold shoe on the housing. There are myriad ways to mount just about any light or other accessory.
Your Comments