New Partnership for enlight photo & JP Distribution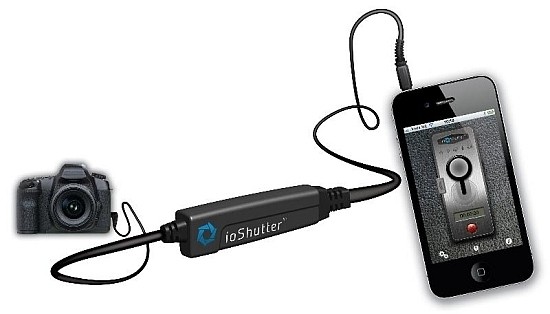 JP Distribution have been announced as new authorised distributors of enlight photo products in the UK. These include the Orbis ring flash (£179.99) and ring flash arm (£49.99), the Frio cold shoe (£9.99) and the ioShutter cabled SLR shutter release accessory for Canon and Nikon (£59.99, pictured).
Press Release
New Exciting Partnership For enlight photo And JP Distribution
JP Distribution announced as new authorised distributors of enlight photo products
enlight photo was founded by pro photographer James Madelin in 2006, and specialises in innovative products and creative apps for photographers.
The enlight photo Range
orbis® Ringflash

The orbis® ring flash transforms the harsh light from your SLR flash gun using patent-pending LightTunnels™ to create beautiful, shadowless photos quickly and easily, anywhere, every time. Conceived by a full-time professional photographer, inspired by the Strobist philosophy and developed by top optical designers, the orbis® is made from durable ABS plastic, weighs around 1lb (600g), is totally portable and works with your camera system's TTL metering.
orbis Ringflash - SRP: £179.99 inc VAT
orbis Ringflash Arm - SRP: £49.99 inc VAT
The frio™ coldshoe
The frio™ coldshoe mounts your flash and hotshoe gear safely anywhere, everytime and is the only universal hotshoe adaptor with patent-pending DualLock™ security in the world. Essential to securely connect all your favourite hotshoe gear to anything with a 1/4?-20 tripod stud – tripods, stands, rigs and grips. Whatever you fit to your frio™ stays there, but comes off in an instant when you want it to, safe and secure so you can get the shot. We call it Slip'n'Click™ technology.
frio Coldshoe - SRP: £9.99 inc VAT

ioShutterSLR
ioShutter™ Connects your SLR camera to iPhone, iPad and iPod touch. Use the intuitive interface to take photos and download the free app to include Timer, Bulb for long exposures, Time Lapse, ClapToSnap™ Sound Trigger and ShakeToTake™ additional download Pro App takes you to the next level.
ioShutter Canon - SRP: £59.99 inc VAT
ioShutter Nikon - SRP: £59.99 inc VAT
Your Comments