Nik Software Launches Vintage-Themed Online Photo Contest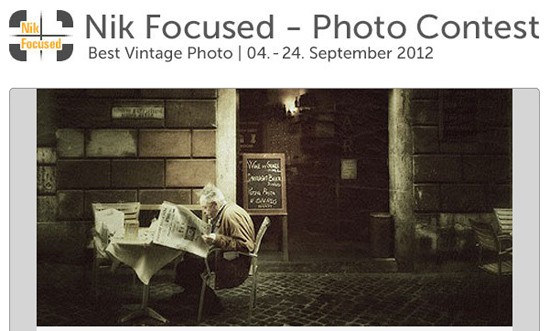 Nik Software has just launched the 'Nik Focused' online photo contest. Linked to the homonymous online event that runs parallel with the Photokina trade-show, the 'Nik Focused' photo contest invites photographers to submit up to five vintage-styled or -themed images to win one of 20 prizes. The submission deadline is 24 September 2012. You can enter your photos via the website below.
Website: Nik Focused
Nik Press Release
The Online "Vintage" Photo Contest Kicks Off on 4 September
As part of the Nik Focused promotion days, a photo competition will be running from 4 to 24 September 2012 with top prizes to be won
Hamburg, 3 September 2012 – The Nik Focused vintage-themed online photo contest starts at 7 a.m. on 4 September. Each participant can enter up to five pictures during the contest period from 4 to 24 September 2012. There are 20 top prizes to be won, including the latest generation of Nikon 1 and an Apple iPad.
Participants may only enter digitally via www.niksoftware.com/focused-vintage. Rankings are based on public voting.
The winners of first, second and third place will be selected from the best ten pictures by a jury of seven, including the six Nik Focused photographers – Robin Preston, Piet van den Eynde, Ole Jørgen Liodden, Brett Florens, Joel Tjintjelaar and Jürgen Held – and a Nik Software GmbH employee. You don't need go be registered to take part in the public voting, which is open until 30 September 2012. Photo contest winners will be announced on 8 October 2012.
About Nik Focused
Nik Software will also be focusing on photography during the photokina trade fair from 18 to 23 September. With the online "Nik Focused" event, Nik Software is collaborating with internationally successful photographers to offer daily special activities, information and special offers focusing on selected photography trends.
By registering at www.niksoftware.com/focused, participants have the opportunity to take part in exclusive, free, online workshops on topics such as street photography, black-and-white fine art, "dodge & burn" travel, nature, wedding and HDR photography. In addition to daily instant deals with significant discounts of up to 60%, there will also be a photography competition on "Vintage" and daily prize draws with prizes totalling € 7.500.
About Nik Software
Nik Software, Inc. develops award-winning desktop and mobile software solutions and technologies for the professional digital imaging and consumer photography markets. Established in 1995, Nik Software has become the recognized leader in digital photographic products and technologies, including its patented U Point® technology. The company's products have won over 100 top industry awards for quality and innovation. Its first ever mobile app, Snapseed received iPad App of the Year in the App Store Rewind 2011 and the International TIPA Award 2012 for Best Mobile Photo App. In 2011, the company earned the International TIPA Award for Best Photo Software for its Complete Collection of professional photography products, which includes Color Efex Pro, HDR Efex Pro, Sharpener Pro, Silver Efex Pro, Viveza, and Dfine. For more information, visit www.niksoftware.com.
More background information about Nik Software and pictures can be downloaded at www.niksoftware.com/press.
Your Comments