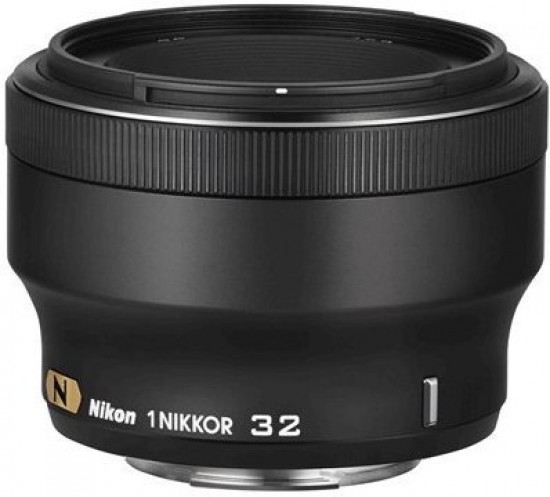 The Nikon 1 Nikkor 32mm f/1.2 is an ultra-fast short telephoto lens for Nikon 1 System cameras. The 85mm equivalent lens, whose development was announced last October, is ideal for portraiture and boasts a compact, contemporary design as well as a silent-wave auto focus motor. A seven-blade rounded diaphragm promises a pleasing bokeh, and this is the first 1 Nikkor lens to feature Nikon's Nano Crystal Coat, which is claimed to "greatly reduce" ghosting and flare even in backlit situations. Available in June, the 1 Nikkor 32mm f/1.2 lens can be yours for $899.95.
Nikon UK Press Release
1 NIKKOR 32mm f/1.2 – the fast and portable portrait lens
London, UK, 14 May 2013 Nikon today launches the ultra-fast 1 NIKKOR 32mm f/1.2 lens and brings large-aperture portrait photography to the Nikon 1 system.
With a focal length that's ideal for portraiture and a compact design, this impressive CX-format lens combines superior image quality with convenience. And, as the first 1 NIKKOR flagship lens to be announced this new lens marks an expanding line-up.
Lenses don't get much faster; whether indoors at a dinner party, or outside making the most of natural light, this lens allows you to capture striking portraits that you can be proud of. From candid shots to staged compositions, you can bring your subject into sharp focus with smooth bokeh, and capture crisp images and movies when you shoot in low light.
Simon Iddon, Product Manager for Nikon 1 Compact System Cameras, Nikon UK says: "Nikon 1 owners will enjoy exploring the creative effects of this new flagship lens and will appreciate the advantages that come with the f/1.2 aperture, such as shallow depth-of-field." He continues: "Nikon is dedicated to developing lenses that make the most of the Nikon 1 system and we're excited about the potential of this new 1 NIKKOR 32mm f/1.2lens that also gives serious portrait photographers a brilliant portable option".

Where the magic happens

Offering speed and range without sacrificing portability, this new 1 NIKKOR makes an excellent portrait lens. The 32 mm focal length is equivalent to approximately 85 mm in 35mm film format, a classic portrait length that allows for tight head and shoulder shots with extreme detail. The ultra-fast f/1.2 aperture enables super-smooth bokeh, so you can single out subjects beautifully, and creates a clear advantage in low-light situations. Ideal for everything from candid portraits to staged shots, this lens lets you catch the best of people in any situation.

Optical Brilliance

Comprising nine elements in seven groups, this lens offers superb image quality. A seven-blade rounded diaphragm opening ensures beautifully rounded bokeh and this is the first 1 NIKKOR lens to feature Nikon's Nano Crystal Coat, which greatly reduces ghosting and flare even in backlit situations. The dedicated Silent Wave Motor (SWM) enables smooth and accurate autofocus, and helps ensure quiet movie recording. For photographers that like to shoot in manual control, this is the first 1 NIKKOR lens to feature a focus ring that lets you control focus while looking into the camera's viewfinder or monitor.

Portraits from anywhere

Remarkably compact for such a large-aperture lens and boasting a high-quality metallic exterior, this lens is a stellar addition to the Nikon 1 system. Available in high-gloss silver and semi-gloss black, the compact new lens combines portability with high-quality performance for stunning portraits that can be captured on the go.
The lens is supplied with a front lens cap and the HB-N107 bayonet lens hood, which helps reduce stray light and minimise flare for images with better contrast and colour saturation. Optional accessories include the CL-N101 soft lens case.

1 NIKKOR range

1 NIKKOR lenses capture life with exceptional sharpness. Combined with the portability, power and speed of Nikon 1 cameras, the small size of 1 NIKKOR lenses truly sets the Nikon 1 system apart. Designed with active lifestyles in mind, the growing range currently includes nine lenses that cover a wide range of scenes, and each lens is optimized for movie recording. For photographers who want to use F-Mount NIKKOR lenses on their Nikon 1 camera, the dedicated FT1 Mount Adapter allows them to do just that.

Nikon U.S.A. Press Release
NIKON ANNOUNCES THE FASTEST 1 NIKKOR LENS YET: THE NEW 32MM f/1.2

The Newest Addition to the Nikon 1 System, the 1 NIKKOR 32mm f/1.2 Lens, Offers Superior Resolution and Incredible Depth of Field to Nikon 1 Shooters

MELVILLE, N.Y. (May 14, 2013) – Today, Nikon Inc. introduced the newest addition to the acclaimed Nikon 1 system, the 1 NIKKOR 32mm f/1.2 lens, a fast medium-telephoto offering for photographers who appreciate the speed and portability of the Nikon 1 System. With a fixed focal length of 32mm and a maximum aperture of f/1.2, the new 32mm lens is the fastest in the ever expanding 1 NIKKOR lens lineup. An ideal lens for portraiture, the 1 NIKKOR 32mm f/1.2 lens is capable of rendering breathtaking images that capture every detail.

The 1 NIKKOR 32mm f/1.2 lens (86mm equivalent in 35mm format) enables brilliant sharpness and is able to resolve intricate details in portraits such as hair, eyes and eyelashes, while also allowing for strategically precise image blur and bokeh. From flattering portraits to still-life art, this fast lens gives users the ability to emphasize a primary subject combined with a skillfully blurred background for a dramatic yet natural separation, and shoot with confidence in challenging light.

Additionally, core NIKKOR lens technologies have been carried over into the 1 NIKKOR series, as the 32mm f/1.2 is the first 1 NIKKOR lens to be equipped with a Silent Wave Motor (SWM), a manual focus ring and a Nano Crystal Coat -- all traditional staples of the NIKKOR line. Utilizing the Close-Range Correction System, the lens is able to provide high-resolution, realistic textures and minimized aberration, even during close-up shooting. The M/A (autofocus with manual override) mode lets the user to manually focus during autofocus operation for intuitive and fine adjustments while shooting. Additionally, the lens sports an elegant and portable design while Nikon's exclusive Nano Crystal Coat effectively reduces instances of ghost and flare for optimal image quality.

With the addition of the new 1 NIKKOR 32mm f/1.2 lens, the 1 NIKKOR lens lineup now offers nine total lenses for photographers seeking the ideal harmony of performance and portability.

Nikon will continue to expand the 1 NIKKOR lineup with lenses that make the most of the capabilities and performance offered by Nikon 1 advanced cameras with interchangeable lenses, while consistently offering new ways for users to express their creative vision.

Price and Availability
The 1 NIKKOR 32mm f/1.2 lens will be available in Black and Silver for a suggested retail price (SRP) of $899.95* in June 2013. For more information on the Nikon 1 system and other 1 NIKKOR lenses as well as other Nikon products, please visit www.nikonusa.com.

About the NIKKOR brand
With a comprehensive assortment of FX and DX-format lenses and focal lengths, from the ultra-wide 10-24mm to the new super telephoto 800mm VR, Nikon photographers have come to rely upon the NIKKOR core technologies that contribute to their optical superiority. NIKKOR is the brand name for Nikon's photographic lenses, which are precision crafted to the most exacting standards in Nikon's own glassworks. In 1933, Nikon marketed its first camera lens under the NIKKOR brand name, the "Aero-NIKKOR" for aerial photography applications. Since then, NIKKOR has been used as a brand name for Nikon's lenses that symbolizes durability, high image quality and optical excellence.

About Nikon
Nikon, At the Heart of the Image™. Nikon Inc. is the world leader in digital imaging, precision optics and photo imaging technology and is globally recognized for setting new standards in product design and performance for its award-winning consumer and professional photographic equipment. Nikon Inc. distributes consumer and professional digital SLR cameras, NIKKOR optics, Speedlights and system accessories; Nikon COOLPIX® compact digital cameras; 35mm film SLR cameras; Nikon software products and Nikon sports and recreational optics as well as the Nikon 1 advanced camera with interchangeable lens system. Nikon Corporation, the parent company of the Nikon Inc., recently celebrated its 80th anniversary of NIKKOR optics, and announced the production of over 75 million NIKKOR lenses in 2012, creating a new milestone in Nikon's heritage of superior optics.  For more information, dial (800) NIKON-US or visit http://www.nikonusa.com, which links all levels of photographers to the Web's most comprehensive photo learning and sharing communities. Connect with Nikon and other photographers on Facebook at http://www.facebook.com/nikon and get the latest news and information from Twitter by following @NikonUSA.
*SRP (Suggested Retail Price) listed only as a suggestion. Actual prices are set by dealers and are subject to change at any time.
Specifications, equipment and release dates are subject to change without any notice or obligation on the part of the manufacturer.
Image Gallery
Click on a thumbnail to see the full version.
Your Comments