Nikon and Getty Images Gallery Announce Partnership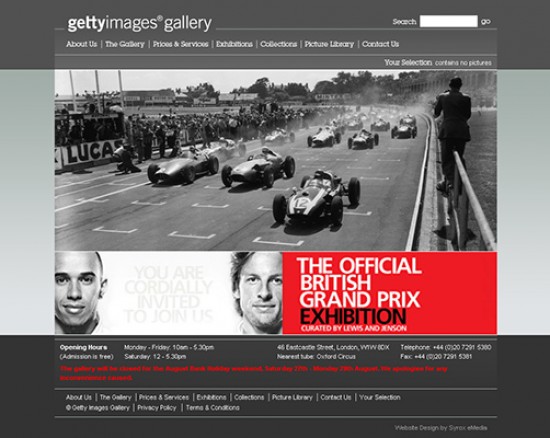 Nikon today announced its headline sponsorship of the world-renowned Getty Images Gallery in London. Founded in 1996, Getty Images Gallery is London's largest independent photographic gallery.  The Gallery's aim is to showcase the most memorable as well as rarely seen imagery, through its programme of exhibitions which are all open to the public throughout the year. Adrian Murrell, Senior Vice President, Getty Editorial said: "We are delighted to welcome Nikon as headline sponsor of the Gallery.  We are very excited about the forthcoming opportunities to partner together and showcase iconic content."
Press Release
Nikon and Getty Images Gallery Announce Partnership
London, 20 July 2011 – Nikon today announced its headline sponsorship of the world-renowned Getty Images Gallery in London.  The partnership reflects Nikon's dedication to supporting professional photographers and offers a platform to showcase and celebrate stunning, iconic imagery.
Takami Tsuchida, President, Nikon Europe, commented: "Our sponsorship of the Getty Images Gallery embodies Nikon's brand message, 'At the heart of the image'.  Nikon is committed to supporting and celebrating stunning imagery and is delighted to be working with Getty and such an established gallery. We look forward to supporting future exhibitions that showcase the creative possibilities of photography and champion the work of professional photographers."
Founded in 1996, Getty Images Gallery is London's largest independent photographic gallery.  The Gallery's aim is to showcase the most memorable as well as rarely seen imagery, through its programme of exhibitions which are all open to the public throughout the year.  As the appetite for iconic images continues to grow, the Gallery is superbly placed to highlight original photographs and content.
This new partnership with Getty Images Gallery reflects a strong synergy between the two brands: Nikon's philosophy focuses on providing customers with quality products that achieve outstanding results and the Gallery's aim is always to surprise, engage and highlight the very best imagery from both today to the early days of photography in the 1850's.
Adrian Murrell, Senior Vice President, Getty Editorial said: "We are delighted to welcome Nikon as headline sponsor of the Gallery.  We are very excited about the forthcoming opportunities to partner together and showcase iconic content."
Louise Garczewska, Getty Images Gallery Director added: "I am delighted to announce our new partnership with Nikon.  The Gallery has become a leading destination for photography enthusiasts, interior designers, as well as corporations looking for a venue which can help bring their brand alive and connect with key audiences.  This partnership with Nikon strengthens our ability to showcase dynamic and inspiring content over the coming years."
The two-year sponsorship will run from June 2011 to June 2013.
Your Comments