Nikon Coolpix S3600, S6700 and S2800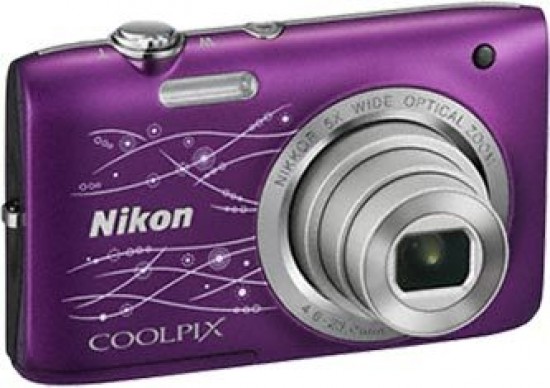 Nikon has added three new 20-megapixel cameras to its Coolpix S line-up. The Nikon Coolpix S3600 (£129.99 / €159.00 / $139.95) features a 25-200mm equivalent lens with lens-shift Vibration Reduction, Scene Auto Selector and 32 creative filter effects. The Coolpix S6700 (£149.99 / €180.00) offers 10x optical zoom, target-finding auto focus and 32 quick effects. Finally, the Nikon Coolpix S2800 (above, exclusive to Argos) has a wide-angle 5x zoom lens, Scene Auto Selector and again 32 digital effects. Because of the limitations inherent in the design of their CCD imagers, all of these cameras are limited to 720p resolution when it comes to shooting movies.
Nikon Press Release
NIKON INTRODUCES THREE NEW SLIMLINE CAMERAS TO ITS COOLPIX COLLECTION
Nikon today announces three new compact cameras in its COOLPIX line up, including the colourful COOLPIX S3600  with 8x optical zoom and 20-megapixels. Also announced are the high-zoom COOLPIX S6700 with 20-megapixels, a 10x optical zoom and Lens Shift VR (vibration reduction); and the COOLPIX S2800, a carry-anywhere camera with 20-megapixel image sensor and 5x optical zoom for detailed images at the touch of a button.
The Nikon COOLPIX S3600 – Become a stylishly sharp shooter
Designed for people looking for a discreet camera to suit their lifestyle, the COOLPIX S3600 is a stylish compact with 20-megapixels packed into a slim body full of features, making it the carry-anywhere camera that always gives you stunning shots.

An 8x optical zoom (25-200mm) with up to 16x Dynamic Fine Zoom* gets you close to the action and an extensive retouch menu means you can add fun effects or use Glamour Retouch to make sure everyone looks great. Scene Auto Selector optimises settings for you, so you can focus on framing fabulous photos, while Lens Shift VR counters the effect of camera shake for sharper images. 

A slender body enhanced by a high-quality finish comes in a selection of six fashionable colour variations while the rounded design ensures the camera fits comfortably in your hand.

The camera's 20-megapixel CCD image sensor with high megapixel count gives you sharp images with clear details – perfect for photo and poster enlargements – while a full retouch menu lets you try up to 32 different types of quick effects straight after you shoot, in a simple three-step process. Style meets substance as the camera also features a dedicated movie-record button that lets you record friends and family in motion with just one touch.

James Loader, Senior Product Manager for Consumer Products at Nikon UK comments: "The COOLPIX S3600 is packed with features that will help you to capture friends and family at their best. Portrait shots are enhanced thanks to the Smart Portrait System, with smile timer and Red-eye correction, and advanced Glamour Retouch, which allows you to choose between 12 different effects, including Whiten teeth. The slender design and extendable zoom lens with vibration reduction mean it will fit into your lifestyle as easily as it fits in your pocket."

The COOLPIX S3600 will be available in six trendy variations: blue, red, black, silver, pink and pink with line art.
The Nikon COOLPIX S6700 – Get closer to the glamour
Designed for enthusiasts looking for a high-zoom camera with great performance and a slim, lightweight body, the COOLPIX S6700 delivers flawless photos with ease. Its 10x optical zoom is extendable to 20x Dynamic Fine Zoom* to put you in the front row at even the most impromptu moments.

Lens Shift VR (vibration reduction) keeps your camera stable so your shots stay clear even at full zoom, while the 20-megapixel CCD image sensor gives detailed images in any light. Zoom in on the action when shooting movies in crisp HD and frame your films easily on the large 7.5cm/3.0-in LCD screen. Friends and family will always look fabulous with advanced Glamour Retouch ready to soften skin tones or even add make-up. A total of 32 quick effects, from Super vivid colour saturation to High Key brightening and Painting effects will make all your photos look like artwork. 

James Loader, Senior Product Manager for Consumer Products at Nikon UK, comments: "The COOLPIX S6700 ensures your memories are always picture perfect. Features like Target finding AF (autofocus) automatically identify and focus on your main subject, so you can concentrate on framing shots with the camera's impressive zoom capabilities. The sizeable LCD screen makes watching crisp HD movies, or editing your photos with the superb retouch options, a real pleasure."

The COOLPIX S6700 will be available in black and red.
The Nikon COOLPIX S2800 – For capturing life as it happens
Simplicity and style come together in the 20-megapixel COOLPIX S2800, making perfect pictures effortless. The COOLPIX S2800 is a slimline, carry-anywhere camera with a wide-angle 5x optical zoom lens to put you at the heart of the action. An impressive 20-megapixel CCD image sensor gives you brilliantly detailed images that are ideal for enlarging to poster size, whilst the range of filter effects available in playback, including 32 quick effects such as Selective Colour mean you can enhance your images in-camera.

The COOLPIX S2800 features a slim design, less than 20mm thin, that fits in your palm and your pocket perfectly and comes in six vibrant colours. Always catch friends and family at their best with Smart Portrait System to alert you when they smile or blink, plus advanced Glamour Retouch lets you whiten teeth or add a make-up effect. Scene Auto Selector optimises all the settings for you, so you can just point and shoot.

Turn children and pets into video stars with HD (720p) movie recording, with easy shooting and playback on the large 6.7-cm/2.7-in LCD screen. With one-touch movie recording you'll never miss that unforgettable video moment, from a child blowing out birthday candles, to an excited pet welcoming you home.

James Loader, Senior Product Manager for Consumer Products at Nikon UK, comments: "Small, stylish and comfortable in the hand, the COOLPIX S2800 fits into your lifestyle to make capturing great images and movies easy. The NIKKOR wide-angle 5x optical zoom lens makes group shots and portraits wonderfully straightforward, while the extensive retouch options make this cute camera an ideal blend of style and simplicity."

The COOLPIX S2800 will be available exclusively at Argos in in silver, black, red, pink and purple with line art.
Your Comments