Olympus C-480 Zoom Announced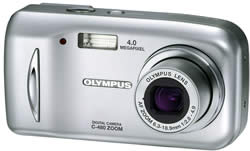 Olympus C-480 Zoom is introduced; a 4 megapixel digital camera with 3x zoom lens equivalent to 38-114mm and 15 scene modes. The C480 Zoom also has 14MB internal memory and a 1.8-inch LCD screen. The Olympus C-480 Zoom Announced will cost £159.99 and be available in March (called the D-545 in the USA).
Olympus Press Release
Eye-catching all-rounder is a great entry into digital photography
Introducing the Olympus C-480 Zoom
London, 17 February 2005
What's easy to use, takes excellent photos and also offers astounding value for money? The answer is the new C-480 Zoom from Olympus - a stylish camera that is perfect for those buying their first digital compact. The 4.0 million pixel model features a 3x zoom lens and incorporates the TruePic TURBO image processor, ensuring all shots come out brilliantly. While the camera takes care of most things automatically, its 15 scene programmes can also be selected to give the photographer creative options. Shots and movies are framed and viewed on the integrated 4.6cm LCD monitor and to top it all off, the camera offers great price-performance ratio.
Available from all Olympus stockists from March 2005 the camera will retail at an attractive £159.99 (inc VAT).
The camera is packed with fantastic features that will ensure your pictures impress with their sharpness and clarity.  A resolution of 4.0 million pixels gives images ample definition and complemented by a precision 3x zoom lens system (35mm equiv: 38-114mm) and TruePic TURBO image processor, this camera is not only fast, but the images produced are of a very high quality.
The C-480 Zoom is designed for straightforward, intuitive operation. In most cases, users can simply point and shoot, with the camera automatically determining the best exposure and focus settings. Alternatively, one of 15 scene programmes can be selected to match the current shooting situation – such as portraits, night scenes, or when photographing at the beach. A special help function assists users in selecting the best scene programme by displaying a corresponding sample picture. Added versatility is provided through the Super Macro mode that allows stunning close ups from as little as 2cm away.
Framing subjects is easy too. A large 4.6cm LCD monitor shows exactly the image that will be captured. As the camera is PictBridge compatible, images can be printed directly on any printer supporting this standard, such as the Olympus P-10. This means C-480 Zoom users don't even need to own a computer to enjoy the benefits of digital photography and the convenience of home printing.
The camera also incorporates an integrated 14MB internal memory, meaning the camera is ready to use as soon as it comes out of the box. In addition, a slot for xD-Picture Cards means that memory may be increased to as much as 1GB.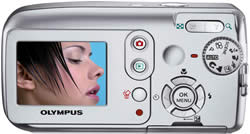 The Olympus C-480 Zoom – main features:
· 4.0 million pixels
· 3x zoom lens (35mm equiv: 38-114mm), 1:2.8-4.9
· 4.6cm/1.8" LCD monitor with 85,000 pixels
· 15 scene programmes (e.g. Candle, Portrait, Beach)
· Editing functions (Incl. Re-size with frame illustration)
· Movie recording function
· Super Macro shooting from 2cm
· PictBridge and TruePic TURBO
· 14MB internal memory plus xD-Picture Card slot
· Uses standard or rechargeable AA-size batteries and shipped with Olympus Master 1.1 software