Olympus Reveals Euro Zone Pricing for E-PL3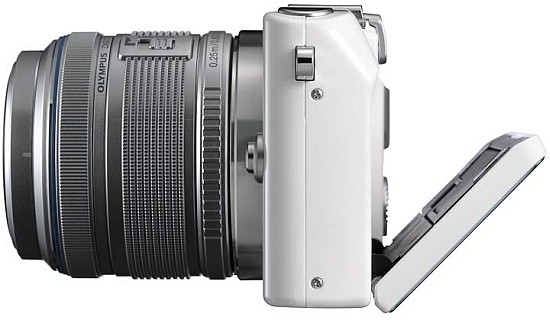 The twelve-megapixel Olympus E-PL3 Micro Four Thirds camera, which boasts a tilting LCD panel and ultra-fast auto-focus, has now been priced for the Euro zone. Following a similar announcement by Olympus UK, the Japanese manufacturer's European branch has announced that the Olympus E-PL3 PEN Lite will be available in August for €599 including a 14-42mm zoom lens.
Olympus Press Release
Chic PEN Lite hits the shops in mid-August. Compact comes with interchangeable lens for just €599
27.07.2011
Hamburg, 27 July 2011 – With the summer in full swing there's good news for anyone looking for a capable and compact system camera to capture their memories in the very best quality: because the wait is finally over for the new Olympus PEN Lite. Featuring the cute retro styling that has propelled PEN into the spotlight over the last couple of years, the PEN Lite is available with an M.ZUIKO DIGITAL 14-42mm 1:3.5-5.6 II R (28-84mm*) lens from mid-August, for just €599.
SLR-quality imaging made easy
The PEN Lite gives you all the creativity and image quality of an SLR camera but with none of the hassle and none of the bulk. Everything on the PEN Lite is that little bit faster, and a whole lot simpler to use. Like the tiltable 3-inch LCD that makes it easy to shoot great pictures even when you have to hold the camera at arm's length, for example to get a shot over a crowd.
Style and speed built-in
With its compact metal casing and chic design, the PEN Lite is a real head-turner. And for a camera of this size, the images it takes are nothing short of outstanding. Its ultra-fast autofocus combines with an M.ZUIKO DIGITAL 14-42mm 1:3.5-5.6 II R (28-84mm*) Olympus lens to generate excellent pictures. FAST AF gets your subject in focus in record time, giving you every chance of capturing your shot no matter how quickly the scene is changing. Thanks to the powerful new TruePic VI processor, there's also an impressive array of Art Filters that you can apply to 1080i Full HD movies and stills with just one touch.
You might see the PEN Lite in the shops under the alternative name PEN
E-PL3. It's available in black, white, silver or red.
* 35mm camera equivalent.
Your Comments