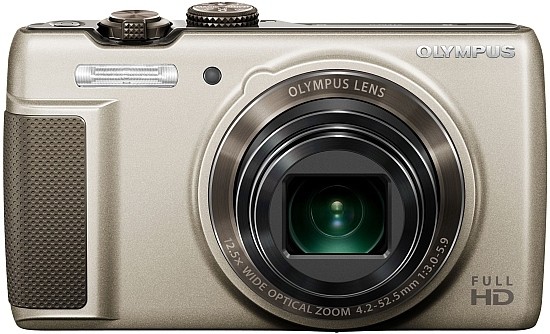 Today marks the European launch of the Olympus SH-21, an interesting camera with a 24-300mm equivalent lens, mechanically stabilised 16-megapixel backlit CMOS sensor and a 3" touch-sensitive LCD screen with a resolution of 460,000 dots. Hitherto only available in Japan, the Olympus SH-21 boasts a 7fps High-Speed Continuous Shooting mode and a special HDR mode that allows the camera to capture images with less noise and extended dynamic range. Other highlights include a Hand-Held Starlight mode, in which the SH-21 takes four different photos with one click of the shutter and merges them in-camera; and a Smart Panorama mode that makes it easy to capture 360° panoramas without the use of a tripod. In addition, the camera can also capture Full HD movies with stereo sound. The Olympus SH-21 is available in gold, red and black for €209 / £189.99 from early January 2012.
Olympus Press Release
Olympus launches SH-21 Traveller class compact in Europe to follow première in Japan
10.01.2012
Olympus nails the pocket-sized camera
16-Megapixel CMOS sensor & Touch Panel give SH-21 the edge
Hamburg, 10 January 2012 – Once in a while there comes a product that defines a segment, that ticks all the boxes at an unbeatable price. For pocket-sized cameras, the Olympus SH-21 could well be that product. If you need an inexpensive compact that you can rely on to get a great shot first time, there's no looking beyond this elegant and exceptional all-rounder.
What makes the SH-21 so special?
Rich colours, low picture noise, excellent contrast – the SH-21 is all about tremendous picture quality. The ultra-slim design ensures it never looks out of place at more sophisticated occasions and when you want to be sure to capture a one-off event like a wedding, it's good to know your camera has a 16-Megapixel Backlit CMOS sensor with the high sensitivity to perform in dim-lit interiors. For wide-angle shots, you can call on a high-grade super-wide 24-300mm** lens and there's a 12.5x optical zoom for razor-sharp close-ups.
When it comes to recording films, the SH-21 goes one better still. It captures 1080p Full HD movies in the best quality available in a pocket-sized camera today*, and Multi-Motion IS cuts out camera shake even when the user is moving. Even if you know next to nothing about high-end D-SLR-style imaging, the SH-21 makes it all wonderfully easy. Live Guide shows you in real time how fine tuning key settings will make (or break) your picture. Touch Autofocus tracks moving objects you tap on the LCD while Touch Shutter actually takes their picture for you.
The beautiful SH-21 is available in gold, red and black for €209 from early January 2012.
Outstanding features:
Image Quality:
• 12.5x super wide optical zoom (24-300mm**) for superb close-ups and group shots
• 16 Megapixel backlit CMOS sensor for high-resolution, superb-quality full-size movies, stills and prints, even in low light
• 1080p Full HD Movie with sound for capturing movies in the best image quality currently available in compact cameras*
• Multi-motion Movie IS for capturing Full HD movies with reduced blur while walking
• TruePic III+ image processor for ideal colour reproduction and low noise
• Dual Image Stabilisation for reducing blur with fast-moving shots
Usability:
• 3" touch-sensitive colour LCD (460,000 dots) for easily framing, reviewing and sharing shots
• Touch Shutter for focussing on the subject you touch on the LCD and taking the picture automatically
• Touch AF for focussing automatically on the subject you touch, even if it moves
• Advanced Face Detection and Shadow Adjustment Technology for capturing people's faces just as you want them
• HDR Backlight Adjustment for perfectly exposed pictures of inanimate objects even when shooting against the light
• Handheld Starlight Mode for shooting blur-free at night without a tripod
• Beauty Mode for hiding unwanted blemishes
• Intelligent Auto Mode (i-Auto) and AF Tracking for easy setting and focussing
• Live Guide for easy slide-bar adjustment of key settings in real time, including background blur, colour intensity, colour temperature and brightness
• Pet Detection Mode for automatically capturing dog's or cat's faces when they look at the camera
• Scene Mode for automatic settings that suit specific conditions (e.g., Landscape, Night)
• High-Speed Continuous Shooting for capturing up to seven full-size frames per second
Creativity and Flexibility:
• Eye-Fi Card compatibility for automatic wireless uploading of images to a website or PC
• 3D photo shooting mode for striking stills
• Magic Filters for adding creative effects to HD movies and/or stills: Punk, Pop Art, Pin Hole, Drawing, Fish Eye, Soft Focus, Sparkle (photos only), Watercolour, Reflection and Miniature
• Smart Panorama for capturing sweeping stills just by panning the camera
• Photo with Movie Clip for shooting movies while taking still photos
Other key features:
• Photo surfing and [ib] software for browsing, organising and viewing images by person, place, location or event
• HDMI technology for controlling your camera from one remote when it's connected to HD equipment
• ISO 80 to 3200
• SDHC and SDXC memory card compatible***
• Built-in flash
• In-camera manual and help guide
• USB charging
* As of November 2011.
** 35mm camera equivalent.
*** SD is a trademark of SD Card Association. UHS Speed Class is not supported.
Your Comments