Olympus SP-620UZ and SP-720UZ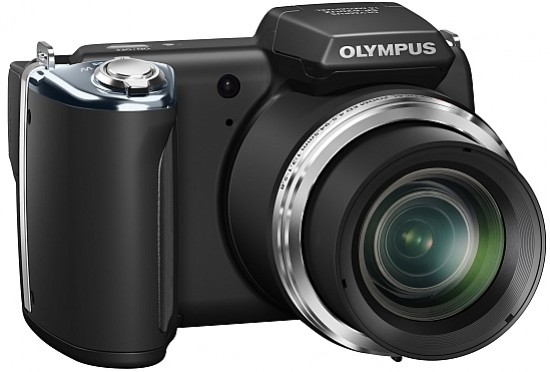 Olympus has announced two new ultra-zooms, including the Olympus SP-620UZ with a 16-megapixel CCD and 21x optical zoom, and the Olympus SP-720UZ with a 14-megapixel CMOS sensor and 26x zoom lens. Both cameras feature sensor-shift image stabilisation, a TruePic III+ image processor, Eye-Fi memory card compatibility, Magic Filters, in-camera panorama stitchning and 3D photo shooting. In addition, the Olympus SP-720UZ records Full HD videos, boasts an "HDR Backlight Adjustment" function and comes with a 460,000-dot rear screen, while the SP-620UZ shoots 720p HD movies, offers."Advanced Face Detection" and "Shadow Adjustment" technologies, and comes with a 230,000-dot display.  The SP-720UZ is available from late March for €249 / £229.99. The SP-620UZ goes on sale for €189 / £179.99 in mid-January.
Olympus Press Release
Olympus Ultra Zoom cameras set the benchmark. Again.
10.01.2012
Olympus lets its zooms do the talking
New UZ duo promise another decade of dominance
Hamburg, 10 January 2012 – An Olympus Ultra Zoom 'Traveller' camera wears its class on its sleeve – there's no mistaking the huge optical zoom lens on the front, nor the extraordinary character and quality of the images it delivers. That's what makes the new SP-620UZ and SP-720UZ Travellers the cameras of choice for anyone with the ambition to step up from a pint-sized point-and-shoot to a powerful, great-value, go-anywhere compact that can capture genuinely challenging shots. Both offer impressive wide-angle capability for shooting landscapes, interiors and crowds. But it's the extreme telephoto potential that really stands out. Notwithstanding its super-slim, compact design, the SP-620UZ comes with a 21x optical zoom while the top-of-the-range SP-720UZ delivers fully 26x magnification. That gives you the flexibility to zoom in and capture the expressive energy of wildlife, competitive sports and other unapproachable subjects without having to carry interchangeable lenses. The outstanding optics are matched by some of Olympus' very best automatic aids and components, including Multi-Motion Movie IS (on the SP-620UZ) and HDR Backlight Adjustment (on the SP-720UZ) that achieves perfect exposure when you're shooting against the light. The SP-720UZ is available from late March for €249. The SP-620UZ goes on sale for €189 in mid-January. Both cameras come in silver or black.
Performance to be proud of
More than ten years ago, with its first SP Ultra Zoom (UZ) camera, Olympus laid down a marker for first-class specifications, versatility and sheer telephoto performance. On the evidence of the latest editions to the Traveller family, in this specialist segment they remain the cameras to beat. The powerful optics are all the more impressive given the modest dimensions. In fact, they take up most of the camera, especially on the SP-620UZ, which is incredibly slender and light for a camera of this zoom potential. It comes equipped with a 21x wide-angle optical zoom lens (25-525mm*) while the SP-720UZ has a spectacular 26x wide-angle optical zoom (26-676mm*). In addition to close-quarter wide angles, expansive panoramas and nose-to-nose close-ups, these lenses give you the flexibility to experiment with intermediate zoom settings – from portraits to still lifes and holiday movies in Full HD (720p HD on the SP-620UZ). Image quality is excellent on both cameras, thanks in part to the 14-Megapixel CMOS sensor on the SP-720UZ and a 16-Megapixel CCD on the SP-620UZ. You can look forward to radiant colours, low noise and razor-sharp edges. Blur is conspicuous only by its absence.
Assistants you can trust
Olympus' Traveller Series has a history of ingenious electronic aids and the latest generation is again packed with technical wizardry. Like Multi-Motion IS on the SP-620UZ which cuts out camera shake even when the user is moving, allowing you to record movies in the best quality available in a compact camera today**. Another unique feature is HDR Backlight Adjustment (on the SP-720UZ) that captures the scene just as you see it, no matter if you're shooting against the light. Instead of recording just one shot, it takes multiple images very quickly at different exposure settings then creates a collage of ideally exposed photos, blended seamlessly into one perfect shot.
With a host of creative Magic Filters, Olympus again steals a march on the competition. Unlike most rival filters, the majority of these spectacular effects can be applied to movies as well as still photos. Eye-Fi card compatibility, 3D photo shooting and a 3" LCD are just some of the other features that make it simple to capture and share stills and HD movies with outstanding character and quality.
The SP-720UZ is available from late March 2012 for €249. The SP-620UZ costs €189 and comes out two months earlier.
Outstanding features:
Image Quality:
• 26x wide angle optical zoom lens with 26-676mm* for superb close-ups and group shots (SP-620UZ: 21x wide angle optical zoom with 25-525mm*)
• 14 Megapixel CMOS sensor for high-resolution, superb-quality full-size movies, stills and prints, even in low light (SP-620UZ: 16 Megapixel CCD sensor)
• TruePic III+ image processor for ideal colour reproduction and low noise
• 1080p Full HD Movie with sound for capturing movies in the best image quality currently available in compact cameras** (SP-620UZ: 720p HD Movie)
• Dual Image Stabilisation for reducing blur with fast-moving shots
• Multi-motion Movie IS for capturing HD movies with reduced blur while walking (SP-620UZ only)
Usability:
• Eye-Fi Card compatibility for automatic wireless uploading of images to a website or PC
• 3" colour LCD (460,000 dots) for easily framing, reviewing and sharing shots (SP-620UZ: 230,00 dots)
• HDR Backlight Adjustment for perfectly exposed pictures of inanimate objects even when shooting against the light (SP-720UZ only)
• Advanced Face Detection and Shadow Adjustment Technology for capturing people's faces just as you want them (SP-720UZ: regular Face Detection)
• Intelligent Auto Mode (i-Auto) and AF Tracking for easy setting and focussing
• Scene Mode for automatic settings that suit specific conditions (e.g., Landscape, Night)
Creativity & Flexibility:
• Magic Filters for adding creative effects to HD movies and/or stills: Punk, Pop Art, Pin Hole, Drawing, Fish Eye, Soft Focus, Sparkle (photos only), Watercolour, Reflection, Miniature, Fragmented (photos only) and Dramatic (photos and SP-720UZ only)
• Beauty Make-up Mode for adding fun make-up effects to three people and hiding blemishes before you shoot
• 3D photo shooting mode for striking stills
• Pet Detection Mode for automatically capturing dog's or cat's faces when they look at the camera
• High-speed sequential shooting for a dynamic series of fast-moving objects
• Macro shooting for beautiful, detail-rich close-ups (SP-610UZ: Macro Mode works as close as 10cm)
Other key features:
• Slim body for an attractive, highly portable design
• Photo surfing and [ib] software for browsing, organising and viewing images by person, place, location or event.
• HDMI technology for controlling your camera from one remote when it's connected to HD equipment
• In-camera Panorama for quick and easy panorama shots
• SDHC and SDXC memory card compatible***
• Built-in flash
• In-camera manual and in-camera help guide (SP-720UZ: in-camera help guide only)
• USB battery charging (SP-720UZ only)
* 35mm camera equivalent.
** As of November 2011.
*** SD is a trademark of SD Card Association. UHS Speed Class is not supported.
Your Comments