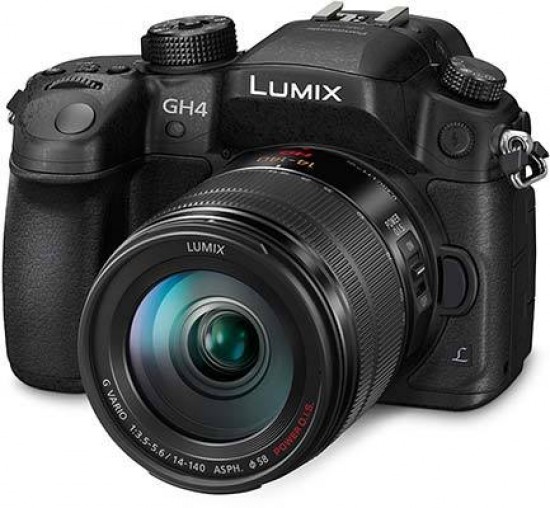 Panasonic has joined the list of exhibitors at The Big Photo Show, which will take place in Los Angeles from 17-18 May. At the show, Panasonic will be presenting its entire line-up of Lumix camera products, including the new Lumix GH4 (pictured), as well as the company's complete line of Micro Four Thirds compatible lenses for Lumix cameras. "Panasonic is excited to be exhibiting at The Big Photo Show and presenting our line of Lumix cameras and lenses, as well as our entire line of Adventure products," said Thomas Curley, Business Development Manager for Panasonic North America. "Our camera products are of interest to professionals looking for the latest in hybrid imaging or video production gear, as well as photo enthusiasts seeking a great picture taking solution for family or fun – and we think the Big Photo Show is the perfect place to be."
Press Release
Panasonic joins growing list of exhibitors at The Big Photo Show LA
Photo enthusiasts and advanced amateur photographers to discover Panasonic's Lumix camera line and other innovations at The Big Photo Show
Jackson, MI – PMA – The Worldwide Community of Imaging Associations announces Panasonic will be exhibiting at The Big Photo Show in Los Angeles, Calif., May 17-18. The Big Photo Show is a series of premier events for photo hobbyists, amateurs photographers and pros, offering the latest photography equipment; photography education, at both beginner/intermediate and advanced levels; live model shooting arenas, where attendees can shoot side-by-side with successful pros, who will offer tips and tricks; creative photo product displays, and much more.
Panasonic joins a growing list of exhibitors including Sony, Sigma, Fujifilm, Tamron, Samy's Camera, Popular Photography and dozens of others.
At The Big Photo Show, Panasonic will be presenting the company's entire line of Lumix camera products, featuring the G Series interchangeable lens mirrorless cameras. Thousands and thousands of photo enthusiasts in Southern California will discover Panasonic's leading camera technology, including the Lumix GH4, which captures video in 4K resolution, as well as the company's complete line of Micro Four Thirds compatible lenses for Lumix cameras.  
"Panasonic is excited to be exhibiting at The Big Photo Show and presenting our line of Lumix cameras and lenses, as well as our entire line of Adventure products," said Thomas Curley, Business Development Manager for Panasonic North America. "Our camera products are of interest to professionals looking for the latest in hybrid imaging or video production gear, as well as photo enthusiasts seeking a great picture taking solution for family or fun – and we think the Big Photo Show is the perfect place to be. See you in LA!"
About The Big Photo Show
The Big Photo Show is a series of photography events for the millions and millions of U.S. consumers who consider themselves photo enthusiasts. The Big Photo Show offers exhibits from top imaging suppliers, retailers and service providers; as well as an array of educational opportunities for attendees taught by renowned professional photographers, framers and other experts. Among many other things, attendees learn how to take better photos; what new innovations are available in equipment and services; and the coolest new ways to creatively display their images.
About PMA – The Worldwide Community of Imaging Associations
The mission of PMA® is to promote the growth of the imaging industry. With this single goal, PMA helps the worldwide photo imaging community achieve business success and adapt to new technologies. As a professional trade association, PMA's commitment to members in 100-plus countries is part of a 90-year legacy of connecting business owners to a network of knowledge and support. PMA furthers this purpose through the development of business resources, educational programs, marketing research, publications, and trade shows, including PMA@CES and The Big Photo Show. As a not-for-profit organization, any success PMA achieves in its endeavors directly benefits the industry, providing the means to continually develop services and activities for members.
Your Comments