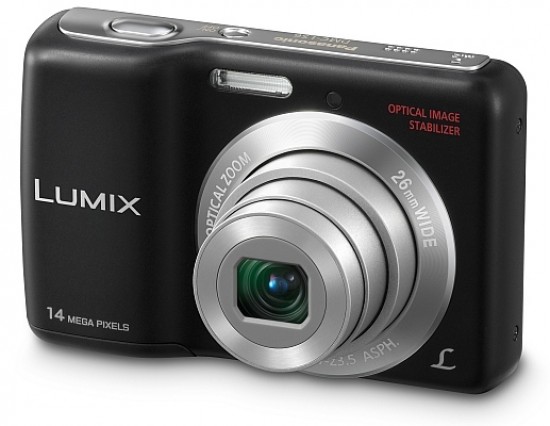 The 14.1-megapixel Panasonic Lumix LS6 is an AA battery powered entry-level camera featuring a 26-130mm equivalent lens, optical image stabilisation and 720p HD video recording. Other features include Face Detection, Intelligent Scene Selector and Intelligent Auto, as well as a large LCD screen and a built-in slimline flash. The bundled PHOTOfunSTUDIO 6.0 software allows users to sort and archive their photos and videos, and upload the best ones to Facebook and YouTube. The Panasonic LS6 will be available in a choice of black, silver and pink. Price to be announced.
Panasonic Press Release
The Smart and Easy 14.1-megapixel LUMIX DMC-LS6
Featuring O.I.S. (Optical Image Stabilizer) and iA (Intelligent Auto) Mode
Taking pictures has never been so simple thanks to Panasonic's new 14.1-megapixel LUMIX DMC-LS6 that features a high quality 26mm wide angle, 5x optical zoom lens (35mm camera equiv: 26-130mm) with F2.8 brightness and O.I.S.(Optical Image Stabilizer). Running on AA batteries, the DMC-LS6 offers an easy-to-hold grip and is fashionably styled with the colour of the lens ring matching the body colour.
Impressive Specification, Yet Still Inherently Easy To Use
The DMC-LS6 boasts a 26mm wide angle, 5x optical zoom high quality lens. The 26mm wide angle lens captures approx. 181% larger viewing space compared with that of standard 35mm camera, which excels in shooting vast landscapes or many subjects even at a short distance indoors. The 5x optical zoom draws subjects close without deterioration of image quality unlike using a digital zoom. A lens with F2.8 brightness is notable in this class of camera, and helpful to capture clear images even in dimly lit situations like nighttime or indoors.
The 14.1-megapixel large image sensor offers high resolution images so that it is still possible to crop the part you want to enlarge out of the picture even after shooting.
O.I.S. and iA Mode for Maximum Results and Minimum Fuss
For those looking for their first digital camera, Panasonic's LS6 is the perfect option. Packed with features, such as Panasonic's Optical Image Stabiliser (O.I.S) that is renowned for its high correction performance against blur caused by a hand-shake, the LS6 really has been designed with users in mind.  With the most frequent cause of misshot in any camera being handshake, Panasonic believes that O.I.S is indispensable for any LUMIX camera – whether it's a high end, mind range or entry level camera.  In contrast with the digital image stabilizer which is often found in this class of cameras, the optical image stabilizer compensates for the hand-shake more effectively without deterioration of image quality.
In addition to this O.I.S., LUMIX's popular iA (Intelligent Auto) powerfully assists in any shooting situation to get the best result. For example, human faces are captured in focus and appropriate exposure with the Face Detection. Unwanted red-eyes are digitally corrected and backlight compensation automatically activates if they happen. Intelligent Scene Selector, which automatically selects whichever of 5 Scene Modes - Macro, Portrait, Scenery, Night Portrait, Night Scenery - that best suits the shooting situation.  Every user can get all of these useful, convenient shooting-assist functions at a time to enjoy capturing clear, beautiful photos with ultimate ease.
Enjoy HD Video Recording and Share it Effortlessly
The new DMC-LS6 even records dynamic HD video in 1,280 x 720p at a smooth 30 fps, in addition to the standard VGA (640 x 480) and QVGA (320 x 240). It is enjoyable to view the video footage as well as the photos on the wide-screen HDTV. Those recorded on the SD Memory Card are easy to view on a Panasonic VIERA TV by simply inserting it into the "VIERA Image Viewer", a built-in SD Memory Card slot on VIERA TV, to playback your contents.
Designed with users in mind, it is also possible to sort and archive the images via a bundled software PHOTOfunSTUDIO Ver. 6.0 and upload them to the social networking services Facebook or YouTube on the sideways.
With the LS6, users can have confidence that they can capture the moments that matter with ease. The perfect camera for everyday use, the DMC-LS6 will be available in a choice of black, silver and pink.
Your Comments