Panasonic LUMIX DMC-FZ1000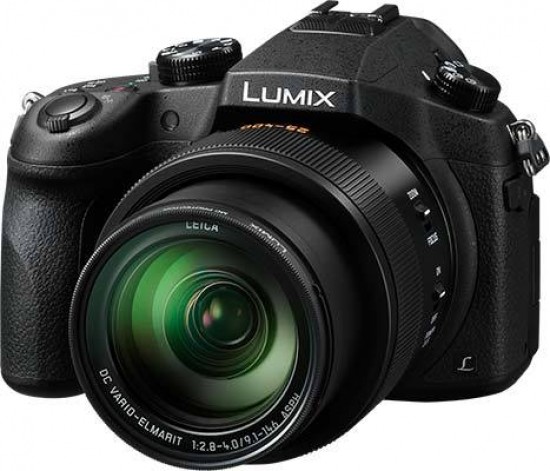 The Panasonic LUMIX DMC-FZ1000 is the world's first bridge camera to feature 4K video recording. The FZ1000 also offers a 20.1 megapixel 1-inch MOS sensor, 16x optical zoom lens which has an F2.8-4.0 aperture range, 0.09 second auto-focusing speed, a 2,359k OLED Live View Finder (LVF) and a 3-inch 921-K dot LCD display. The Panasonic DMC-FZ1000 will be available in July at a suggested UK retail price of £749.99.
Panasonic UK Press Release
Panasonic Announces World's First[1] 4K Video Recording Premium Bridge Camera with 1-inch MOS Sensor
Professional quality images enabled by 16x optical zoom LEICA DC VARIO-ELMARIT Lens, new Venus Engine and 20.1MP 1-inch sensor
12th June 2014 – Panasonic has today announced the LUMIX DMC-FZ1000, its most advanced bridge camera to date. With a solid, compact and high quality build the LUMIX DMC-FZ1000 boasts a number of firsts in its class, including a large 20.1MP 1-inch High Sensitivity MOS sensor and 4K video recording capability for unrivalled image and video quality. 
The camera incorporates a 16x optical zoom LEICA DC VARIO-ELMARIT which has an F2.8-4.0 aperture range and can produce stunningly beautiful defocus when combined with the power of the new Venus Engine and sensor.
Furthermore, the LUMIX DMC-FZ1000 features 4K (QFHD 4K: 3840x2160, up to 25fps (PAL) in MP4) video recording for the first time in a digital compact camera.  This enables the user to experiment with Panasonic's new photography proposition of cutting an 8MP equivalent image from 4K video footage.  
New technologies combine for unparalleled image quality
Panasonic's commitment to innovative imaging technologies, demonstrated across its LUMIX range, has taken a step further with the ground-breaking LUMIX DMC-FZ1000 bridge camera. An all-new sensor, redesigned Venus Engine and a stunning LEICA DC VARIO-ELMARIT lens combine to provide optimum image quality, resolution and colour reproduction that's usually associated with interchangeable lens cameras.
A large 1-inch, high sensitivity MOS sensor: The LUMIX DMC-FZ1000 features a newly developed 20.1MP 1-inch High Sensitivity MOS sensor approximately four times larger than the 1/2.3-inch sensor found in the majority of comparable cameras.  Panasonic's vast experience of cutting-edge sensor research has resulted in a significantly larger pixel size that enables more light to be received, providing highly sensitive image recording for remarkable low light performance and a dramatically improved defocus effect. Whatever scene is in front of the camera, users can rest assured that every detail will be captured in breath-taking detail.
High quality LEICA lens with 16x Optical Zoom: The LUMIX DMC-FZ1000 also benefits from Panasonic's long standing association with LEICA. The bright DC VARIO-ELMARIT lens with 16x optical zoom has gone through LEICA's stringent testing to ensure the device delivers exceptional optical performance with every single photo and video. The LUMIX DMC-FZ1000 is able to suppress distortion at the wide-end, and minimise chromatic abrasion at the tele-end. Furthermore, the high-end camera's F2.8-F4.0 bright aperture helps the user to take zoomed shots without the common issue of blurring. Also, with the fixed 16x LEICA DC VARIO-ELMARIT lens (35mm camera equivalent: 25-400mm) , users don't need to carry countless lenses and accessories, making those tricky vantage points that little bit easier to reach.
Enhanced Venus Engine: Panasonic's all-new Venus Engine dramatically improves on existing levels of optical sensitivity, resolution, gradation and colour reproduction to capture images and video more accurately and authentically than any other bridge camera available today. The engine's new random filter blends any unwanted noise into the image, creating more natural pictures, and a new aperture filter processes the finest details, such as hair and skin tone, at a higher range of frequencies, ensuring that photographs and videos incorporate the most subtle elements of each frame.  The Venus Engine also has a major impact on colour reproduction – hue, saturation and luminosity are divided into 16-axis, for subtle adjustments and accurate evaluation of each and every colour in the shot.
The world's first bridge camera with 4K capability
With the LUMIX DMC-FZ1000, Panasonic continues to blur the lines between high-end photography and videography. For the first time, the stunning benefits of 4K recording are now available using a bridge camera, allowing users to create realistic and immersive cinematic worlds, full of detail and true colour. With the additional options of Full HD and VGA recording, there's a video setting suitable for any situation.
World's first 4K bridge camera: Panasonic has redefined the compact camera, creating the very first to include 4K video, recording at four times the resolution of Full HD. The combination of 4K (QFHD 4K: 3840x2160, up to 25fps (PAL) in MP4), the large sensor and bright LEICA lens create video quality that has to be seen to be believed. Whether the content is viewed on a 4K or Full HD screen, the LUMIX DMC-FZ1000's 4K video capability makes each detail more accurate and every colour more authentic to the original. The LUMIX DMC-FZ1000 can also record in a variety of high quality video outputs – including MP4 and AVCHD – so budding filmmakers can transfer, edit and enjoy their movies quickly and conveniently. What's more, users can even take stills after capturing 4K video, creating a 4K image full of detail and depth.
Full HD high speed video: As well as up to 30 minutes continuous shooting in 4K[2], the LUMIX DMC-FZ1000's High Speed Video function allows users to capture Full HD at 100 fps (PAL) for smooth and seamless video recording.
Smooth zooming for seamless video: The LUMIX DMC-FZ1000 includes a number of features to ensure that users can capture the very best video content without the need for accessories. The combination of Hybrid 5-axis Optical Image Stabilisation[3], level-gauge and an easy to use zoom ring provides steady, vibration-free video recording that counteracts any hand movement and removes the need for a bulky tripod in the vast majority of situations.
Unrivalled ease of use, creativity and control
With a high quality and robust design that accentuates the large-diameter LEICA lens, alongside a host of AF and creative functions designed to offer unrivalled usability and responsiveness, Panasonic's latest LUMIX camera is the perfect, fixed-lens companion for any adventure. 
Faster and more precise AF: A new and improved AF function, powered by a liner motor system and Panasonic's Depth from Defocus technology, the camera achieves focus speeds that are 275% faster than the LUMIX DMC-FZ200 and the majority of conventional bridge models. With 0.09 second focus in wide mode and 0.17[4] second focus in tele mode when using the Live View Finder (LVF), even the fastest moving objects can by captured with unbeatable accuracy and precision. The LUMIX DMC-FZ1000 also boasts a rapid burst shoot mode, so users will have a dozen opportunities to catch that perfect wildlife picture every single second.
New focus options:
Full Area AF
The Full Area AF allows the user to set focus on any part of the field of view.
49-Area AF
The focus detect area has increased to 49 points which means that the Custom Multi AF mode enables the user to create a much more flexible composition by freely selecting any number of these 49 focus blocks. 
1-Area AF
The size of the 1-Area AF frame area can now be changed freely, not only in manual but also in auto focus mode.
Pinpoint AF
Pinpoint AF helps focus on a tiny area by magnifying the part that can be seen with a frame-in-frame window.
Low Light AF
Low Light AF gains a higher performance in a -4EV low-lit situation, which is equivalent to shooting under a starry sky with no other light source.
Focus Peaking
The Focus Peaking function gives the user more practical control over focusing by showing the focus position in MF and AF+MF modes. Users can see the peaking of focus while monitoring the subject in live view.
Eye Detection AF
Eye Detection AF automatically sets focus directly on the eye of human face and starts focusing as soon as the photographer looks into the LVF.
Crystal clear display: The LUMIX DMC-FZ1000 also incorporates dual rapid response, crystal clear displays to make framing and reviewing images and video more enjoyable than ever. Both the redesigned 2,359k OLED Live View Finder (LVF) and 3-inch 921-K dot LCD display offer outstanding resolution. With a reaction time 300% quicker than similar models – the view through the LVF is 100% true to the original. The camera also includes an industry leading start up time for a bridge camera, allowing the user to go from zero to shooting in just 0.66seconds.
Share your creativity: An array of filters provide complete creative control, so users can give their creations that extra special finish.  The LUMIX DMC-FZ1000 includes 22 different filters[5], from Sepia and High Dynamic to Soft Focus and Miniature Effect. Once the perfect image has been captured, the LUMIX DMC-FZ1000 has various connectivity options to share with friends and family.  The camera integrates Wi-Fi connectivity with NFC technology to offer the most flexible shooting experience as well as instant image sharing, even when you're away from home. What's more, with the use of a smartphone or tablet, users can remotely shoot both still images and video, as well as adjust zoom, focus, aperture and exposure.
[1] As of 12th June, 2014
[2] 4K video can be recorded up to 29 minutes 59second. Use SDXC/SDHC Memory Card compatible with UHS Speed Class 3 (U3) when using high bitrate video recording mode of 100 Mbps or greater.
[3] Not compatible in 4K video recording
[4] Panasonic in-house examination (infinity to 2m shooting time lag)
[5] Filters: Expressive / Retro / Old Days / High Key / Low Key / Sepia / Monochrome / Dynamic Monochrome / Impressive Art / High Dynamic / Cross Process / Toy Effect / Toy Pop / Bleach Bypass / Miniature Effect/ Fantasy / One Point Color
Photo only: Rough Monochrome/ Silky Monochrome/ Soft Focus / Star Filter/ Sunshine mode 
Image Gallery
Click on a thumbnail to see the full version.
Your Comments