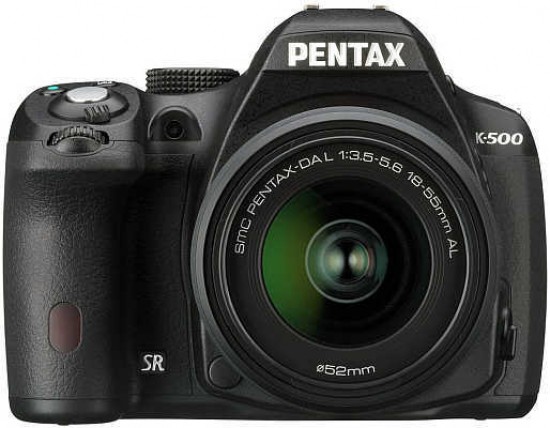 The Pentax K-500 is a 16.28-megapixel digital SLR camera that offers "sound specifications and outstanding value for money." Priced at £449.99 / $599.95 including a 18-55mm DAL lens, the Pentax K-500 has an APS-C sized CMOS sensor, body-integral Shake Reduction, 6fps continuous shooting, a pentaprism finder with 100% frame coverage and 0.92x magnification with a 50mm lens focussed at infinity, SAFOX IXi+ AF module and Full HD movie recording capability. The Pentax K-500 camera can be powered by a proprietary lithium-ion battery or four AA-size batteries. In the US the K500 will also be available in a dual lens kit including the DA-L 18-55mm and DA-L 50-200mm lenses for $699.95.
Pentax Press Release
PENTAX K-500

An easy-to-use digital SLR camera, offering high-quality performance and outstanding value for money

PENTAX RICOH IMAGING UK LTD. is pleased to announce the launch of the PENTAX K-500 digital SLR camera. With its sound specifications and outstanding value for money, this new model is designed to make high-quality digital SLR photography accessible to everyone.

The PENTAX K-500 has been developed to resemble the higher end PENTAX K-50 digital SLR camera. This lower cost model inherits features such as a compact, lightweight, easy-to-hold body; high-resolution image reproduction with approximately 16.2 megapixels; super-high-sensitivity shooting at ISO 51200; and high-speed shooting at approximately six images per second, making it an ideal camera for all levels of photographer.

The K-500 + 18-55 mm DAL lens will be available from the end of June. RSP £449.99.
                                    
Major Features

1. High-resolution, super-high-sensitivity shooting at ISO 51200
The K-500 features a state-of-the-art CMOS image sensor with a large image-capturing area measuring 23.7mm by 15.7mm, which gives high-speed image data readout. This image sensor is coupled with PRIME M (the same high performance imaging engine used in the higher end models), to deliver high-resolution, rich-gradation digital images with approximately 16.28 effective megapixels. The K-500 also offers high sensitivity shooting at a top level of ISO 51200, allowing the photographer to capture beautiful night time shots.

2. Innovative SR mechanism
The PENTAX-developed SR (Shake Reduction) mechanism compensates for camera shake to deliver sharp, blur-free images. This innovative mechanism works with almost all PENTAX interchangeable lenses — even those developed for film-format cameras.* It is also the key to some special functions, including the ASTRO TRACER mode that simplifies astronomical photography in combination with the optional O-GPS1 GPS Unit.
* Lenses compatible with this mechanism: PENTAX K, KA, KAF, KAF2 and KAF3 mount lenses; screw-mount lenses (with an adapter); and 645 and 67 system lenses (with an adapter). Some functions may not be available with certain lenses.
3. High-speed continuous shooting, at approximately six images per second
The K-500's high-speed continuous shooting function captures active, fast-moving subjects such as sport and wildlife, at speeds of up to six images per second (in the JPEG recording format).

4. High-quality movie recording
The K-500 records high-resolution, full HD movie clips (1920 x 1080 pixels) in the H.264 recording format, with a choice of frame rate (30, 25 or 24 frames per second). It also offers creative image-processing tools** like Custom Images, and movie recording features such as an interval movie recording function, for the production of more personalised movies.
** The frame rate may vary when non-standard image processing is required.
5. Optical finder with approximately 100% field of view
Despite being a compact size, the K-500 features a glass prism finder with nearly 100% field of view and approximately 0.92-times magnification (with a 50mm F1.4 lens at infinity) for ease of focusing and framing. Since it delivers a clear view of the subject even in bright sunshine and eliminates parallax and time lag, the K-500 responds efficiently to demanding applications and subjects, such as landscapes requiring delicate, high-precision framing, and sports scenes where the timing of the shutter release is critical.

6. Effortless, user-friendly Auto Picture and Scene modes
The PENTAX-original Auto Picture mode automatically selects the most appropriate shooting mode for each scene or subject.  Since the K-500 sets all important camera settings — such as shutter speed, aperture, white balance, saturation, contrast and sharpness — the photographer can concentrate on image composition. The K-500 also offers 19 Scene modes, including Night Scene Portrait, Pet and Backlight Silhouette, to simplify the photographing of  difficult scenes or subjects, which can be challenging for entry level digital SLR photographers.

7. High-precision autofocus
The K-500 features the state-of-the-art SAFOX IXi+ AF sensor module, which assures responsive, high-precision autofocus operation with 11 sensors (including nine cross-type sensors in the middle). It also features a spot beam projector to assist AF operation in poorly lit locations. Its select-area expansion function keeps the sensor module tracking a moving subject, even when it moves out of a pre-assigned auto-tracking area, by assessing distance data collected by neighboring focus sensors. As the result, not only the accuracy and speed of detecting moving subjects during autofocus operation, but also the auto-tracking performance of moving subjects when using a telephoto lens, have been greatly improved.

8. A selection of image-processing tools for creative, personalised expression
The K-500's custom image function allows the user to easily and quickly select the desired finishing touch for a particular image, with a choice of 11 custom images. The K-500 also provides 19 distinctive digital filters to add distinctive visual effects to captured images and produce creative, artistic images without the need for a computer.

9. Choice of two power sources
In addition to the standard rechargeable lithium-ion battery capable of capturing approximately 480 images with a single recharge,*** the K-500 can also be powered by four AA-size batteries with the use of the optional D-BH109 AA Battery Holder. Since AA-size batteries can be easily obtained almost anywhere around the world, there's no worry about battery shortages, even when travelling.
*** Under testing conditions prescribed by PENTAX, using the D-LI109 Rechargeable Lithium-ion Battery with no flash discharges.

10. Other features
I.           Large, wide-view 3.0-inch LCD monitor with approximately 921,000 dots
II.         77-segment multi-pattern metering system for extra-accurate light measurement
III.        DR (Dust Removal) mechanism to shake dust from the surface of the CMOS image sensor
IV.     PENTAX-designed Hyper control system to assure flexible, unfailing response to the photographer's creative intentions
V.       RAW data retrieve function to save an original raw data of a just-recorded JPEG-format image
VI.   Compatibility with Eye-Fi wireless LAN SD memory cards
VII. SILKYPIX Developer Studio 3.0 LE for PENTAX RICOH IMAGING(RAW-data processing engine developed by Ichikawa Soft Laboratory) included, together with the K-500's in-body RAW data processing capability
♦ All other brands or product names are trademarks or registered trademarks of their respective companies.
♦ Designs and specifications are subjects to change without notice.
Image Gallery
Click on a thumbnail to see the full version.
Your Comments