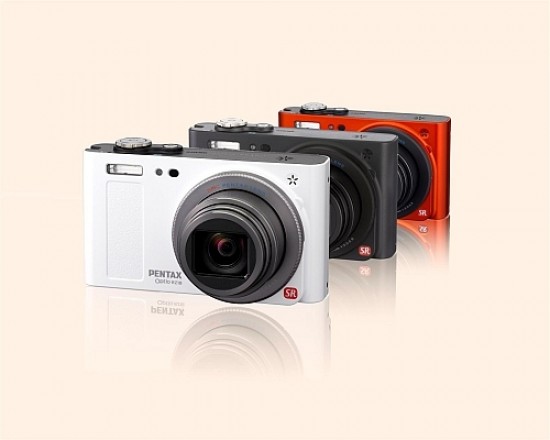 Pentax has announced a 16-megapixel travelzoom camera called the Pentax Optio RZ18. Featuring 18x optical zoom, a slim, lightweight body and a three-inch LCD screen with a resolution of 460000 dots, the Pentax Optio RZ18 also offers sensor-shift image stabilisation, Auto Picture mode and 720p HD movie recording. Available from mid-October, the Pentax Optio RZ18 carries a recommended retail price of £199.99 / $299.95.
Pentax Press Release
ULTRA COMPACT 18x ULTRA ZOOM
A lightweight digital compact camera, combining an extra-powerful 18x optical zoom with simple, user-friendly interface

PENTAX is pleased to announce the launch of the PENTAX Optio RZ18 digital compact camera. Sporting a slim, lightweight body for ultimate portability, the new model offers a host of advanced, user-friendly features, such as an extra-powerful 18x optical zoom and an extra-large 3.0-inch high-resolution LCD screen.
The Optio RZ18 is the latest addition to the popular PENTAX Optio RZ series, which features a high-magnification zoom lens in a compact body.  The all new camera allows photographers to simply and effortlessly shoot a wide variety of subjects and occasions, from travel and landscape to action and spectator sports. While retaining many of the convenient features of its predecessors — including the dependable dual shake reduction for effective reduction of camera shake, and the advanced Auto Picture mode for hands-off selection of the most appropriate shooting mode — the Optio RZ18 newly incorporates a compact, high-performance and very wide-angle smc PENTAX 18x optical zoom to greatly extend the zoom range. The number of effective pixels has also been increased to 16 megapixels to deliver higher-resolution images, while the built-in LCD screen has been upgraded to a larger 3.0-inch version with 460,000 dots to assure a sharper, clearer subject image. As well as its sleek new design, the Optio RZ18 offers both higher performance and simpler operability than ever before.
The Optio RZ18 also offers a choice of body colour — black, pearl white or metallic orange.
Major Features
1. 18x optical zoom with 25mm wide-angle coverage to handle a variety of subjects and scenes
Within its slim, lightweight body, the Optio RZ18 incorporates a high-performance, extra-powerful 18X optical zoom lens covering focal lengths from 25mm wide angle to 450mm super-telephoto (in the 35mm format). Thanks to this extra-wide zoom range, the Optio RZ18 can capture beautiful, lively pictures in a wide range of subjects and scenes — from spectacular landscapes to fast-action sports events. It also offers other advanced features, including: high-quality macro shooting down to just four centimetres from the subject; a digital wide function for an ultra-wide-angle image (equivalent to an image taken with an approximately 19mm lens in the 35mm format) from two separate images; and the Digital Panorama mode to effortlessly create a single panoramic picture from as many as three images.
2. Exceptional image quality assured by latest super-resolution technology
Thanks to the combination of approximately 16 effective megapixels, a high-performance smc PENTAX zoom lens and the advanced image processing system — a system that uses the latest super-resolution technology to optimize image quality through meticulous section-by-section treatment of the captured image — the Optio RZ18 delivers well-defined, high-quality images with extra-fine resolution. Even when images are enlarged to large sizes, the user is assured of sharp, high-resolution prints with edge-to-edge sharpness.
3. Dual shake reduction for sharp, blur-free images
By combining a CCD-shift-type SR (Shake Reduction) mechanism with a Pixel Track SR, the Optio RZ18's dual shake reduction effectively reduces annoying camera shake to a minimum. Thanks to this dependable system, the photographer is assured of sharp, blur-free images even under shake-prone shooting conditions, such as when using a telephoto lens, or when shooting a sunset or indoor scene with incidental light only.
4. Automatic selection of the most appropriate shooting mode
The Optio RZ18 features the PENTAX-original Auto Picture mode, which automatically selects the most appropriate shooting mode for a given subject or scene by accurately assessing various photographic conditions on and around the subject. Since this user-friendly mode instantly selects one of 16 shooting modes (including Blue Sky, Sunset and Pet) and optimizes various camera settings (including sensitivity and shutter speed), the photographer is always assured of the best results with minimal effort.
5. Extra-large 3.0-inch LCD screen
The Optio RZ18 features a high-resolution 3.0-inch colour LCD screen. Because this extra-large screen provides a clear view of images and menus, the photographer can quickly and efficiently check captured images and menu settings. The Optio RZ18 also offers a setting to magnify the letters displayed, so users can further enhance the legibility of the menus and the operability of the camera.
6. High-quality HDTV-proportion movie recording
The Optio RZ18 captures beautiful, high-definition-TV-quality movie clips (1280 x 720 pixels).* It also comes equipped with the sophisticated Movie SR (Shake Reduction) mode,** which automatically compensates camera shake during movie shooting with the help of exclusive software. With the Optio RZ18, everyone can enjoy high-quality movie shooting with minimal effort.
* When the Optio RZ18's AV output terminal is used, movie clips are output as normal image-size data. If the user wishes to play back movie clips at high-definition TV proportions (1280 x 720 pixels), the data must be transferred to a personal computer for playback.
** When the Movie SR mode is selected, the angle of view becomes narrower than normal shooting.
7. Automatic face detection for beautiful, lively snapshots
The Optio RZ18 features the sophisticated Face Detection AF & AE function. This sophisticated feature instantly and accurately detects as many as 32 faces within the image field, then catches them in sharp focus and optimum exposure in a mere 0.03 seconds — even when some of the faces are tilted or turned away from the camera. To assist the photographer in capturing beautiful, lively snapshots, the Optio RZ18 also comes equipped with other user-friendly features, including: the Small Face filter that makes the subject's face appear smaller than actual in recorded images; the Smile Capture mode that automatically releases the shutter the moment the camera detects the subject's smile; and the Blink Detection function that warns the photographer when the subject's eyes close at the time of shutter release.
8. Other features
(1) Upgraded Pet mode for automatic detection of dog and cat faces
This unique mode not only detects the faces of dogs and cats with great accuracy, but it also gives priority to three pre-registered pet faces over unregistered ones, so that users can effortlessly capture the best expressions of their beloved pets
(2) Wireless remote-control shooting using an optional PENTAX remote controllers
(2) Burst shooting of up to 40 images, at a maximum speed of 9 images per second
(3) Digital filters, including Miniature and Toy Camera, to add creative visual effects
(4) Choice of three image sizes (4:3, 16:9 and 1:1) to accommodate different applications
(5) D-Range setting to prevent whitewashed (overexposed) and blacked-out (underexposed) areas in an image
(6) Image viewing, editing and filing software included: MediaImpression 3.1 for PENTAX (Windows version compatible with Windows 7) and MediaImpression 2.1 for PENTAX (Macintosh version compatible with Mac OS X 10.7)
(8) Eye-Fi connected: optimized for use with Eye-Fi wireless memory cards
Your Comments