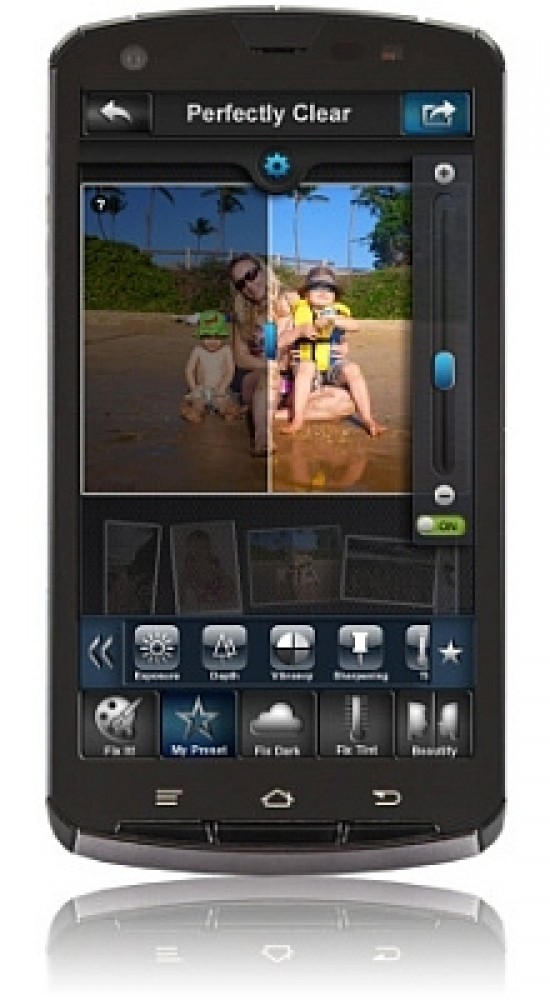 Athentech's Perfectly Clear app is now available for Android devices. The company says the Android version is significantly faster than the iPad and iPhone editions (based on its own tests carried out on an ASUS Transformer Prime T300 running Tegra3 quad cores) and comes packed with a number of extra features such as time-saving presets and a multi-photo workflow that allows for multiple images to be loaded and batch corrected at the same time. Currently available for $0.99 in the Google Play Store, Perfectly Clear is compatible with smartphones and tablets running Android 2.3.3 (or newer).
Athentech Press Release
Athentech Imaging Announces Perfectly Clear for Android!
Intelligent Image Correction Has Arrived for All Android Devices
CALGARY, Alberta—(BUSINESS WIRE)—Perfectly Clear has arrived for the world's most popular operating system, Android. The Perfectly Clear app is Intelligent Image Correction that transforms less than stellar images into stunning memories to keep and share. Perfectly Clear automatically applies 10 patented corrections in a few seconds allowing consumers to share perfect photos from their Android device with confidence.
Consumers will use smart phones to capture more than 200 billion photos this year*. Many of these photos will be uploaded directly from these mobile devices to share memories and experiences. But as convenient and popular as this process has become, smart phones lack the sophistication of image capture found in dedicated cameras and often create photos that have disappointing image quality. Perfectly Clear for Android is the app consumers can use so they no longer have to sacrifice image quality for convenience.
We've taken our award winning iPhone app, and made it even better with the following new features and performance enhancements for Android:
Perfectly Smooth** renders flawless skin for a beautiful look
Eye Enhance/Enlarge** brings out the sparkle and details in the eyes
Teeth Whitening** brings more emotion to your photos through a beautiful smile
Time Saving Presets allow you to tailor the automatic correction for every image independently
Multi-Photo Workflow allows for multiple images to be loaded and batch corrected at the same time, increasing your efficiency
New User Interface for a more efficient workflow
Faster! We've re-engineered our app engine to take advantage of the multiple cores available on Android devices. The result is Perfectly Clear running 1.6 times faster on Android versus iPad(3) and 1.75 times faster than iPhone4***
In addition to the core corrections of exposure, vibrancy, sharpening, contrast/depth, tint correction and skin tone, users now have the ability to purchase the Beautify Preset that includes Perfectly Smooth, eye enhancement, eye enlargement and teeth whitening for only $.99.
Perfectly Clear for Android is $1.99 – but available for only $0.99 during the month of August 2012. Get it at: www.athentech.com/android.html.
"We heard our customers asking for an Android App and we are delivering an awesome product that will exceed their expectations," said Brad Malcolm, President of Athentech Imaging. "The Perfectly Clear technology is proven and patented technology already installed in more than 6 million iPhones Worldwide. In addition, it is being used by our licensees to correct and print more than 20 million photos every day. We are excited for this launch and especially excited to hear the feedback from our Android customers."
The Android library, and the app itself, are also now available for licensing.
Further information can be found on our media site here: http://www.athentech.com/media.html including Reviewer's Guide, brief PowerPoint, before and after images and screenshots for your use.
Like us on Facebook: https://www.facebook.com/PerfectlyClear
About Athentech® Imaging Inc.
Athentech® Imaging Inc. is an entrepreneurial, privately held company headquartered in Calgary, Alberta, Canada. The company is involved in three industries and markets: digital imaging, signal processing (for medical applications), and earth sciences. For more information, please visit http://www.athentech.com.
*2012 Photofinishing News, Inc.
**The Beautify Preset is an in-app purchase for only $0.99. This preset contains Perfectly Smooth, Eye Enhance, Eye Enlarge and Teeth Whitening from our partner DOC (Digital Optics Corporation). (http://www.doc.com/Pages/digitaloptics.aspx).
***Android speed tests were performed on an ASUS Transformer Prime T300 running Tegra3 quad cores. Speed will vary depending on the Android device.
Your Comments