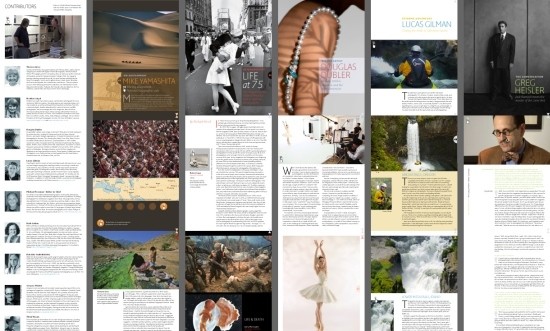 The second issue of the bi-monthly Photographer's i Magazine, which is billed as "the world's first interactive, multimedia tablet magazine for photographers," is out now. This edition - available for $5.99 after downloading the free Android/iOS app - serves up over 150 full "pages" of text, photography, audio and video from internationally acclaimed professional shooters such as: Michael Yamashita, Douglas Dubler, Gregory Heisler, Lucas Gilman, Michael Freeman, Heather Angel and more. To download the magazine app, click one of the links below. (Note that this is strictly a tablet-only app - it won't work on a smartphone.)
Website: Google Play (formerly known as the Android Market)
Website: iTunes
Press Release
If It Wasn't on an iPad, You'd Need a Wheelbarrow!
Issue 2 of Photographer's i Magazine—an interactive, multimedia magazine for photographers—is now available on the iTunes Newsstand.
Yes, it is so chock full of informative and entertaining multimedia content — if wasn't on an iPad, you would indeed need a wheelbarrow. This exciting issue — available for US $5.99 after downloading the free app — serves up over 150 full "pages" of text, photography, audio and video from internationally acclaimed professional shooters such as: Michael Yamashita, Douglas Dubler, Gregory Heisler, Lucas Gilman, Michael Freeman, Heather Angel and many more! Try tackling our fully interactive compositional lesson with Michael Freemen and learn about composition. Then explore lighting and other master techniques from pros who are at the top of their game. Watch Jesse Coombs go over a 100-foot waterfall in a kayak and see the backstory about getting the shot in hazardous conditions. Journey to Japan to photograph snow monkeys, and follow Marco Polo's travels to China. Hear the stories behind the stories, visit photographers in their studio or on the road, and watch and listen as they talk about their most memorable minutes from a lifetime of professional shooting. Discover what inspires them to create, learn how they solve problems on a shoot, and hear their war stories from their many years behind the lens. We invite you to check it out. There is no other photography magazine like this!
Website: www.photographersi.com
Pricing and availability: Photographer's i Magazine is published bi-monthly (every other month). The Pilot issue is available at the introductory promotional price of US $1.99 / UK £1.49. Issue 2 is available for a single-issue price of US $5.99/ UK £3.99 or through money-saving subscription offers. For downloads:
  iPad:
  http://itunes.apple.com/app/photographers-i/id473562803?mt=8&ls=1
  Android:
  https://market.android.com/details?id=air.com.photographersi
Your Comments