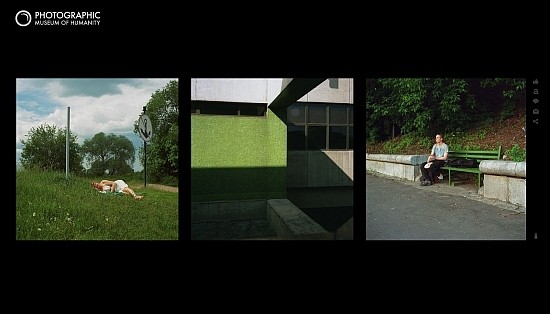 The Photographic Museum of Humanity is the first Internet museum dedicated to high-quality photography. The museum's galleries are curated by a team of editors guided by Giuseppe Oliverio, the project founder, and World Press Photo Award-winning photojournalist Alejandro Kirchuk. On show until 28 February 2013, the inaugural exhibition presents four galleries centered around the theme, "The way we live." The Photographic Museum of Humanity can be accessed at the website below.
Website: Photographic Museum
Photographic Museum of Humanity Press Release
January 21st, 2013: Photographic Museum of Humanity, the first Internet museum dedicated to high-quality photography, has been officially inaugurated today on its online platform
PHOTOGRAPHICMUSEUM.COM/MUSEUM
The Museum features a series of curated individual and collective exhibitions made with a selection of photos and works handpicked among those uploaded by the professional photographers of its community. The galleries are curated by a team of editors guided by Giuseppe Oliverio, the project founder, and Alejandro Kirchuk, photojournalist winner of a World Press Photo 2012.
It will be the first museum actually accessible to everyone from every corner of the world, at any time and always for free. A space for photographers, made by photographers. A place where people regardless of their age, culture, education, religion and nationality, will have the possibility to learn about photography and its language.
ABOUT THE INAUGURAL EXHIBITION
The Museum inaugural exhibition will present four galleries centered around a theme: "The way we live".  It will be online from January 21st to February 28th, 2013, when it will be replaced for a new one.
This is the detailed program for the inaugural exhibition:
I. 7 thousands million | Collective Exhibition
The photographs of 47 artists that have documented life all around the world merge on this collective exhibition. Are we so different, the inhabitants of this planet? What has in common an American teenager with a Namibian one? Why a house in Peru is so different from a building in Spain? This shows explores the way we live. We, the 7 thousands millions people living on this planet.
II. Limousine Porteña | by Myriam Meloni
A luxury emblem used to transport politicians and rock stars in the '80s, nowadays the limousine turned into an icon of the Argentinean popular culture. "Limousine porteña," explores a limited space in which many diverse things can happen.
III. Paper Bag | by Nicolas Ferrando
Why we find so disturbing when we see people but we are not able to se their faces? Why a simple paper bag covering a head can make us think about the human condition? Nicolas Ferrando has been wondering about it, trying to find answers through this beautiful essay.
IV. Tandem Moscow - Buenos Aires | by Fernando Di Sisto & Natalia Pokrovskaya
A visual dialogue between a Russian photographer and an Argentinian one, showing us their two capitals. Their photographs challenge us to see if the differences between these two cities are easily recognizable, or if the borders of Moscow and Buenos Aires are getting blurred through the photographers' point of view.
ONGOING AND UPCOMING EVENT
PMH 2013 GRANT: international photography contest to finance photographers and discover new talents.  USD 4.500 in prizes and a prestigious jury: Martin Parr, Kira Pollack and Sebastián Liste.
Ongoing, until 18th February 2013.
BRAZIL TOUR 2013: to promote the project, the Photographic Museum of Humanity's Blue Magical Van will be on the road again. The van, which has already traveled from Buenos Aires up to La Paz, will be visiting Brazil.
The tour will start on 27th January 2013.
Your Comments