Phottix Umbrella Swivel US-A3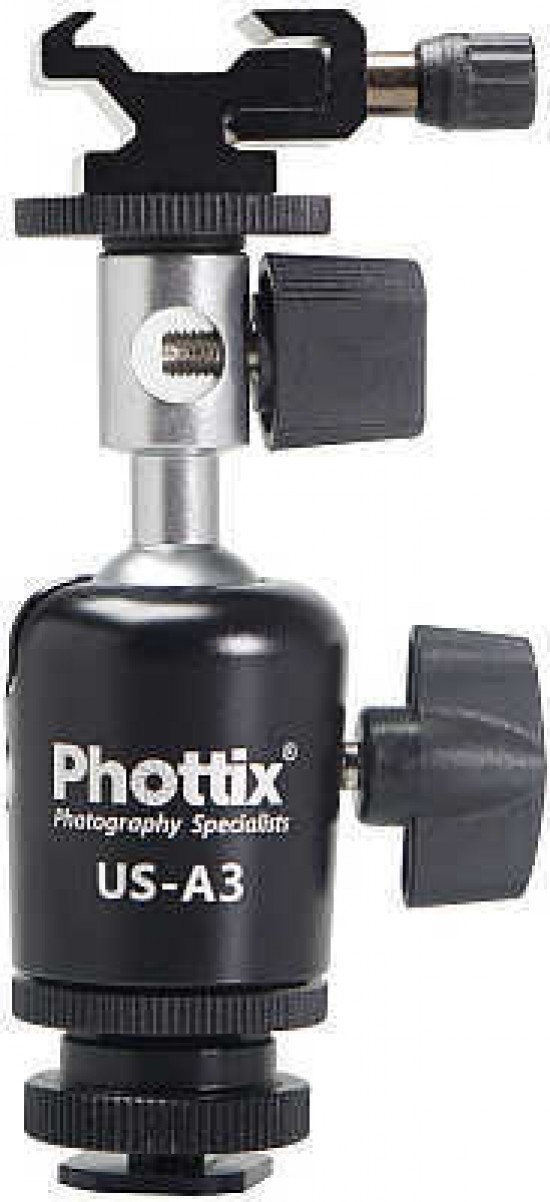 OmegaBrandess has launched the Phottix Umbrella Swivel US-A3 to the U.S. market. The redesigned Phottix US-A3 is an affordable umbrella swivel for off-camera flash units. The ball head design is easy to adjust for fast on-scene lighting changes. With an 8mm locking umbrella mounting hole, the US-A3 will accept most standard sized umbrellas. Included are a locking ring and a metal cold shoe for mounting flashes. The manufacturer's suggested retail price for the Umbrella Swivel US-A3 is $24.99
Phottix Press Release
PHOTTIX AND OMEGABRANDESS ARE PROUD TO LAUNCH THE PHOTTIX UMBRELLA SWIVEL US-A3

Hampstead, Maryland – June 6, 2013 - As the exclusive distributor for Phottix products in the United States, OmegaBrandess is proud to launch the Phottix Umbrella Swivel US-A3.

The redesigned Phottix US-A3 is an affordable umbrella swivel for off-camera-flash. Made from tough and durable quality aluminum alloy and fireproof PA66 plastic, the US-A3 is ready for any photographic situation.

The ball head design is easy to adjust for fast on-scene lighting changes. With an 8mm locking umbrella mounting hole, the US-A3 will accept most standard sized umbrellas. Included are a locking ring and a metal cold shoe for mounting flashes. The US-A3 3/8" threaded female lug (with 1/4" threaded insert) mounts onto many light stands.

A 1/4" to cold shoe adapter is included to mount the US-A3 to a hot or cold shoe accessory. This makes for an excellent solution for mounting small monitors or other accessories to the flash shoe of a DSLR as well, where it is important to be able to position the item at different angles.

Pricing
The manufacturer's suggested retail price for the Umbrella Swivel US-A3 is $24.99 USD.

About Phottix
Phottix is an international company specializing in photography accessories, committed to developing an expanding line of original and innovative products for photographers. Phottix has established a high level of brand name recognition with retailers and customers because of the design, quality, and pricing of their unique accessories.

About OmegaBrandess
OmegaBrandess has manufactured and distributed photographic and imaging products for over 75 years. A privately held company, OmegaBrandess supplies the photography industry with over ten thousand products from dozens of branded lines. For more information about OmegaBrandess and its represented brands, call 410-374-3250 or visit www.omegabrandess.com.
Your Comments