Plustek OpticFilm 8100 , 8200i SE & 8200i Ai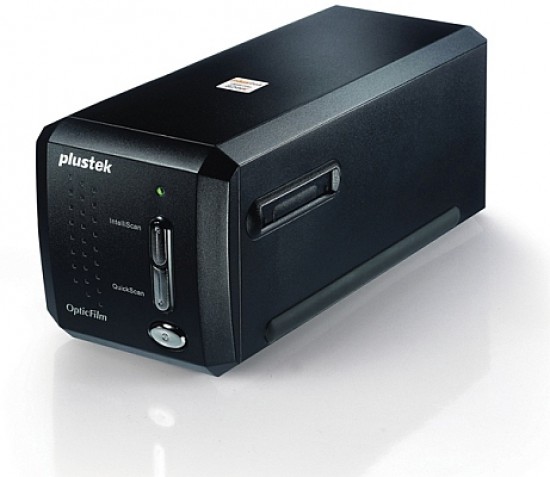 Plustek has announced the OpticFilm 8100 and 8200i SE/Ai 35mm film scanners. Featuring identical hardware as the existing OpticFilm 7400 and 7600i models, respectively, the Plustek OpticFilm 8100 and 8200i offer an optical resolution of 7200dpi, a low-power LED light source, multi-sampling and multi-exposure capabilities; with the 8200i model also boasting infrared scanning technology to combat dust and scratches. What differentiates the OpticFilm 8xxx models from the older range is that they come with Version 8 of LaserSoft Imaging's acclaimed SilverFast scanning software. As before, the SE and Ai designations indicate which SilverFast edition comes bundled with the scanner (SilverFast Ai Studio is more complex and feature-packed than SilverFast SE). Additionally, the Plustek OpticFilm 8200i Ai scanner ships with an IT8 colour calibration target, which is not included with the other two models. The OpticFilm 8100 - which does not feature infrared scanning - is available for £219.99, the OpticFilm 8200i SE for £299.99, and the OpticFilm 8200i Ai for £439.99.
Plustek Press Release
Plustek Launches OpticFilm 8100, 8200iSE, 8200iAi Series Film Scanners
New series brings added dimension to film scanning
TELFORD, February 23rd, 2012 - Plustek Technology Inc. (http://plustek.com/uk/), a manufacturer of consumer, prosumer and professional imaging devices, has expanded its range of award-winning film scanners. With a Plustek OpticFilm 8100, OpticFilm 8200i SEand OpticFilm 8200i Ai, high-quality film scanning has never been so easy and powerful.

The new OpticFilm range comprises three dedicated and versatile film scanners for scanning 35mm slides and negatives.Designed for professional photographers, graphic designers, digital content producers and home enthusiasts, the OpticFilm 8100, OpticFilm 8200i SE and OpticFilm 8200i Ai are ideal for producing high quality images for magazines, photo enlargements, brochures, Web pages, as well as photo albums to share with friends on the Internet.

The main improvements over current Plustek OpticFilm scanners include an internal redesignand enhanced light source, helping to improve colour rendering while using less power. Native 64-bit hardware and software is also supported for better performance.

All three scanners are bundled with the latest version of LaserSoft Imaging's acclaimed scanning software - SilverFast 8. A new graphical user interface reduces the learning curve and the preview mode allows users to immediately see the results of any adjustments made, including the results of complex functions. The flagship OpticFilm 8200i Ai adds further software features including editable scanning profiles, support for layers and masks, 16-bit histogram support and automatic IT8 calibration.

The new WorkflowPilot guides users through all scanning and processing steps and SilverFast's Multi-Exposure feature is especially effective for increasing the dynamic range, adding more shadow details and eliminating noise. SilverFast's NegaFix, now with over 120 profiles for negative film, guarantees best results when converting negatives into brilliant positives. SilverFast 8 now also supports multi-tasking.

Pricing and availability
The OpticFilm 8100 is available for £219.99, the OpticFilm 8200i SE for £299.99, and the OpticFilm 8200i Ai for £439.99. All prices are RRP and include VAT. Plustek OpticFilm scanners are distributed in the UK by Intro 2020 and are available from most good photographic retailers.  Visit www.intro2020.co.uk for full details.
Your Comments