PNY Unveils New High Performance Memory Cards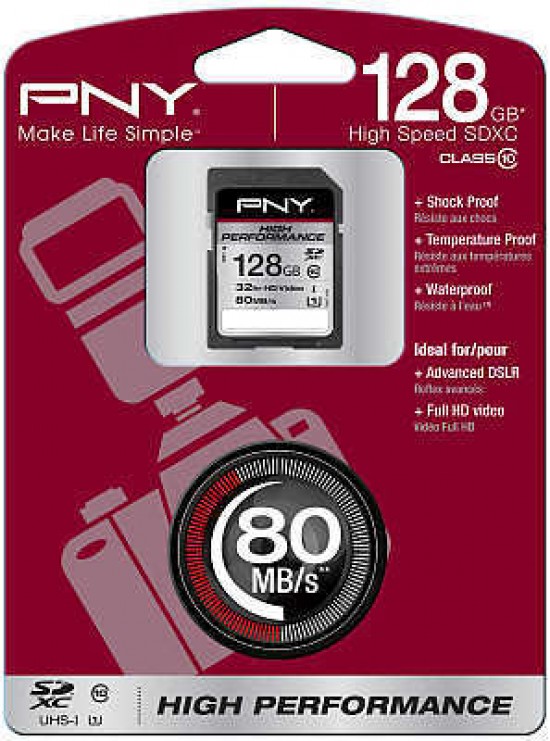 PNY Technologies have introduced its new SDHC/XC High Performance memory cards. Available in four different capacities ranging from 16GB to 128GB, these Class 10 UHS-I cards offer speeds of up to 80MB/s. Prices start at £17.99.
PNY Press Release
PNY unveils new SDHC/XC High Performance 80Mb/s:
For outstanding speed and superior performance
Bordeaux – 18 November 2013 – PNY Technologies, a leading manufacturer and supplier of memory, imaging and graphics solutions, is pleased to unveil its new SDHC/XC High Performance memory card. The high-speed, high-capacity card is the latest solution in PNY's imaging range to meet the demands of the high-end digital imaging market.
Offering exceptional speeds of 80MB per second, these cards are specifically designed for professional and semi-professional photographers who want to maximize thenumber of shots in continuous (burst) mode.
Certified Class 10 UHS-1 (Ultra High Speed), this card is ideal for photographing or filming any subject in Full HD in the most extreme conditions.
Features include:
• Operating Temperature: 0 ° C to 60 ° C
• Storage Temperature: -40 ° C to 85 ° C
• Storage Humidity: 95% max, non-condensing
• Shockproof: 1.000G max use
Price & Availability
The High Performance SDHC/XC 80M/s cards are now available from PNY's usual distribution network in 16GB, 32GB, 64GB and 128GB. The super high capacity allows the most enthusiastic photographers to shoot without limit in high definition.
Product Details
SDHC 16GB High Performance
£17.99
SDHC 32GB High Performance
£25.74
SDXC 64GB High Performance
£52.63
SDXC 128GB High Performance
£98.99
Your Comments