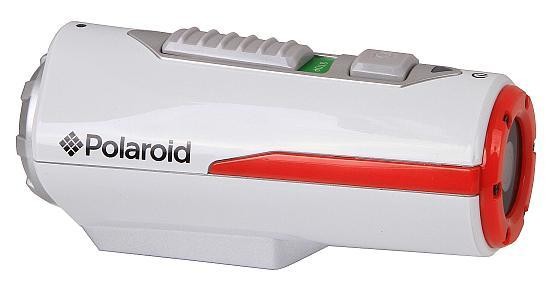 Polaroid is expanding its line of mountable hi-definition action video cameras with an affordable Full HD model called the Polaroid XS80. Capable of recording 1080p movies at 30fps, the Polaroid XS80 is waterproof to a depth of 30 feet and boasts a lens with an ultrawide 120-degree angle of view. Available now, the Polaroid XS80 carries an SRP of $129.99.
Polaroid Press Release
Easily Capture your Extreme Adventures in Stunning HD with the Affordable Polaroid XS80 Mountable Hi-Definition Action Camera
- The perfect accessory for adventures on the mountain, in the water, or wherever the action takes you -
RIDGEFIELD PARK, N.J. -- (BUSINESS WIRE) -- Polaroid, the 75-year-old brand synonymous with instant imaging, sharing and fun, is expanding its line of mountable hi-definition action video cameras with an affordable model that allows consumers to easily capture their every adventure. At only $129.99, the XS80 action camera joins the already extensive Polaroid product offerings, and will provide users with the ability to take 1080p video at 30 frames per second (FPS), guaranteeing that they never miss an instant of the excitement.
Be it biking, surfing, mountain climbing or any other outdoor activity, Polaroid offers the perfect action video camera for action sports enthusiasts and fun-seeking families to capture and share all of life's thrilling adventures – at a price that is very affordable. Built in a tough waterproof housing with anti-shake technology, the Polaroid XS80 is also shock and impact resistant allowing it to be used in all types of daring environments. Additionally a variety of mounts that come standard allow video and still images to be captured virtually anywhere.
"The Polaroid XS80 is an exciting addition to our line of hi-definition sports video cameras, which bring the Polaroid ideal of sharing life instantly to a new level," said Polaroid President and CEO, Scott W. Hardy. "Whatever the sport or activity, the XS80 offers the portability, durability and versatility needed to capture and share life's most exhilarating and memorable moments in an instant, all at an affordable price point."
Offered by C&A Licensing LLC, an authorized Polaroid licensee, the Polaroid XS80 hi-definition action video camera comes standard with a helmet mount and a limited one year warranty.
Polaroid XS80 Specs and Information:
HD 1080p, HD 720p, VGA
Waterproof up to 30'
Motion record (video and photo)
16MP, 5MP, 3MP VGA
3 Photo Modes (single, burst (10), time lapse (1,5,10,30,60))
Micro SD Card up to 32GB
120 Degree field of view
G Sensor (auto rotation)
Anti-Shake
Built in Lithium ion battery
HDMI output
High Impact & Shock Proof
The Polaroid XS80 has a suggested retail price of $129.99 and is currently available at www.polaroid.com, Canadian Tire, Tiger Direct and other select retailers.
Your Comments