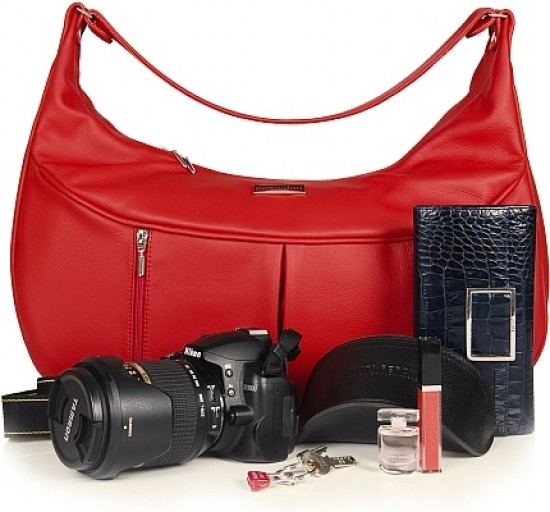 Pompidoo is a new brand for stylish camera bags aimed at female photographers. Made of natural leather, Pompidoo bags sport a modern and elegant design and a well thought-out form, and accommodate an SLR camera with lens and other accessories. The bags are available for €284.99 through the website below.
Website: Pompidoo
Pompidoo Press Release
PHOTO GEAR AND STYLE – IT IS POMPIDOO
A purse, home keys, a mobile phone, a cosmetic bag, an organizer…what else? A DSLR camera on top? Everything in one bag and still stylish? Impossible…you might say.
Not anymore. POMPIDOO is a modern answer to all women who respect style and quality, who are passionate about photography and aesthetics. POMPIDOO is a new brand for stylish camera bags where natural leather and well thought-out form are only a small part of all offered advantages. Modern design and functionality, which form the basis of the brand, creates a perfect tandem for those who value convenience and originality.
The idea of the invention has been developed by a professional photographer from Baltics Irina Kuzmina who knows exactly from her personal experience what a female photographer encounters on her everyday run. POMPIDOO camera bag is an alternative to a usual handbag – stylish, spacious and reliable. It is created to answer numerous issues of a female photographer: are you annoyed of looking like a tourist with a massive rucksack or a professional photo bag? Do you feel shy when carrying a photo rucksack not actually being a professional photographer? Don't you want that thieves would put an eye on your photo bag? Are you tired carrying two bags – everyday handbag and a professional photo bag? Finally, do you want to match your camera bag with a dress and high-heel shoes? In this case a new stylish camera bag POMPIDOO meets all your expectations: for style and functionality.
Not only your mobile phone and notebook deserve a proper and stylish case. Now also your camera can be perfectly and conveniently packed for your everyday application, together with any other things you need and use. Equally cool for modern fashionistas and busy moms, active teenagers and serious business women, with POMPIDOO bags the functional becomes stylish. And POMPIDOO will not stay there – men will also become stylish with a male POMPIDOO model, which is coming soon.
POMPIDOO – we make functional things stylish!
www.pompidoo.com
Read our blog, join us on Facebook!
Your Comments